FedEx Adds More Than 4,000 New, Fuel Efficient Vehicles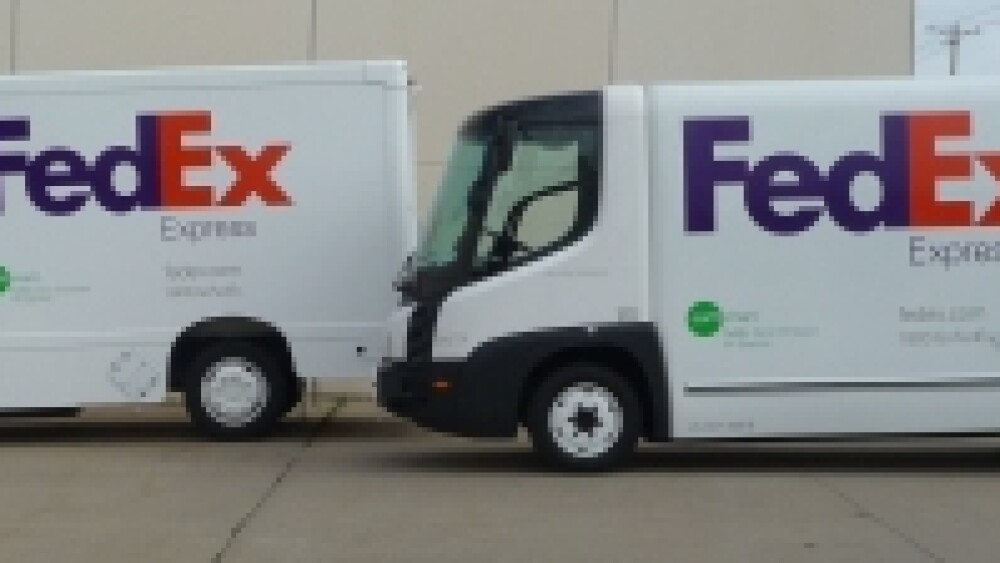 MEMPHIS, Tenn., June 28, 2011—FedEx Express, a subsidiary of FedEx Corp. (NYSE: FDX) and the world's largest express transportation company, continues its holistic fleet approach to fuel efficiency with significant expansion of its lower polluting, energy efficient vehicles.
Within the next two months, FedEx Express will place 24 new all-electric vehicles into service, expanding to three new cities and more than doubling its fleet to 43 all-electric vehicles while growing the diversity of suppliers it uses for electric vehicles.
At the same time, FedEx Express will be adding more hybrid-electrics, using composite vehicles and upgrading over a tenth of its conventional vehicle fleet to more energy-efficient vehicles.
"We are using efficient technologies that are readily available now, while investing in innovative technologies that we hope and believe can be vehicle workhorses for the future," explained Dennis Beal, vice president of Global Vehicles at FedEx Express. "Our goal has always been to optimize and operate our vehicle fleet in an economically and environmentally sustainable manner, so that emissions are reduced while serving our customers in the best possible manner."
FedEx Express is bringing new all-electric delivery vehicles to New York City, Chicago and Memphis, and diversifying the existing Los Angeles fleet. In all, FedEx will add into service 15 Navistar eStar electric vehicles, two Freightliner Custom Chassis Corporation (FCCC) eCell electric vehicles and two FCCC electric vehicle retrofits, and five Ford Transit Connect Electric vans to complement the current 19 all-electric vehicles deployed in Los Angeles, London and Paris.
Not just an expansion in vehicle count, these vehicles will be studied to help evolve all-electric vehicle technology and to establish a foundation of understanding on utility grid needs by modeling impact of future all-electric vehicle growth on the shared energy grid.



In New York, FedEx Express will be working with GE and Columbia University's Engineering School to study energy grid impacts in an effort to project how large vehicle deployments would impact the energy grid.

In Chicago, FedEx Express will be comparing different all-electric vehicle technologies to determine what works best for its fleet needs.

In Memphis, FedEx Express is utilizing Enova Systems flexible drive technology to retrofit existing vehicles to make them all-electrics, saving resources through using existing vehicle bodies. And, FedEx has added five Transit Connect Electric vans from Ford Motor Company and Azure Dynamics to support the corporate Information Technology Asset Disposal program, driving regularly scheduled routes to pick up, recycle, reuse and dispose of IT assets.

In Los Angeles FedEx Express is diversifying its fleet, adding an FCCC eCell to its current four Navistar eStar all-electric vehicles, and is in the midst of adding 45 new FCCC-Eaton hybrid-electric pickup and delivery vehicles to its fleet.
"Different vehicles are appropriate for different routes," explains Keshav Sondhi, manager of Asset Management for FedEx Express Global Vehicles. "The key is to use the right truck for the mission on the right route. FedEx Express is adding all-electric and hybrid-electric vehicles to dense urban routes that have a lot of starting and stopping. This use of regenerative braking and electric motors significantly improves the efficiency of the vehicles on such urban routes.
"On high-mileage routes, FedEx is upgrading vehicles with 4,000 fuel efficient, lower emitting BlueTEC clean diesel Sprinter Vans. Each Sprinter is at least 100% more fuel efficient than the most commonly found alternative it replaces. Since launching our first Sprinter in 2000, we have put close to 1.4 billion miles on these more fuel efficient vehicles, saving over 66 million gallons of fuel compared to their predecessors."
FedEx Express has also been piloting five composite vehicles from Utilimaster in Detroit, Memphis, Jackson, Tenn., and Jonesboro, Ark. Dubbed "The Reach," it is able to achieve 35% better fuel economy than its predecessor and has been performing well. The smaller, more efficient engine and low weight of the composite materials, which includes recycled rubber material, resin, fiberglass and poly core, compared to aluminum, allows the vehicle to achieve these fuel efficiencies.
About FedEx Corp.
FedEx Corp. (NYSE: FDX) provides customers and businesses worldwide with a broad portfolio of transportation, e-commerce and business services. With annual revenues of $39 billion, the company offers integrated business applications through operating companies competing collectively and managed collaboratively, under the respected FedEx brand. Consistently ranked among the world's most admired and trusted employers, FedEx inspires its more than 290,000 team members to remain "absolutely, positively" focused on safety, the highest ethical and professional standards and the needs of their customers and communities. For more information, visit news.fedex.com .