FedEx Adds More Solar-Powered Operations To Facilities in California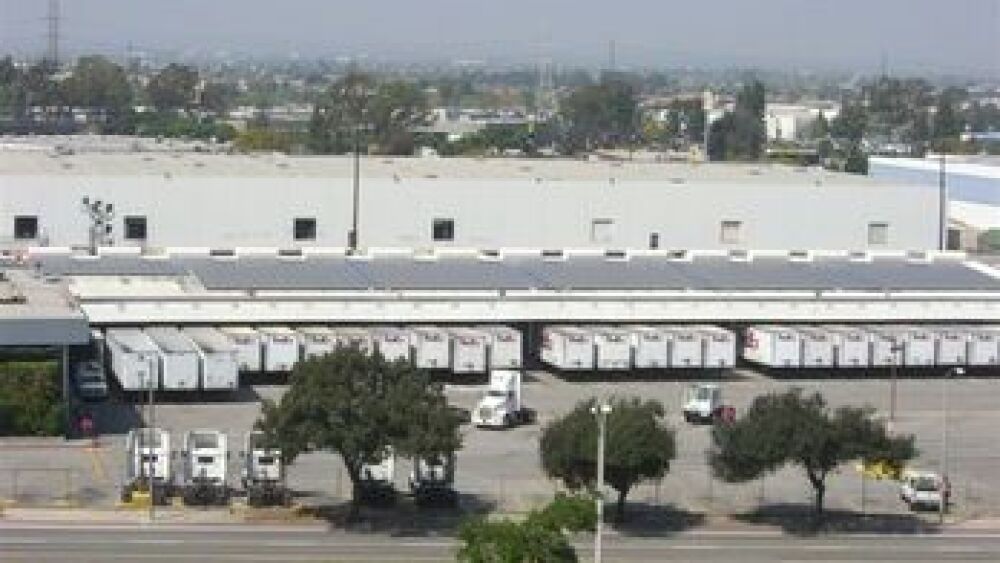 MEMPHIS, Tenn., April 22, 2008 – FedEx Corp. today announced that its operating company FedEx Freight has completed the installation of a solar-electric system in Whittier, Calif., and is nearing completion on a similar solar-powered facility in Fontana, Calif. Both systems will provide a substantial portion of the facilities' peak energy needs.

The 282 kilowatt (kW) solar power system in Whittier has the capacity to produce over 414,000 kilowatt hours (kWh) of electricity each year, providing almost 40 percent of the facility's annual energy needs and significantly reducing the service center's dependence on the electric grid. The Whittier terminal employs about 500 workers and serves the East Los Angeles area.

In 2005, FedEx Express activated a 904 kW system at its Oakland, Calif., hub facility that meets up to 80 percent of that facility's peak energy demand and produces power equivalent to that used by more than 900 homes during the daytime. At the time, the Oakland project was California's largest corporate solar-power roof-top installation.

Employing technologies that reduce energy use and enhance efficiencies at our facilities underscores the value FedEx assigns to doing what's right for the environment now and for the energy security of our company and our country," said Douglas G. Duncan, president and CEO of FedEx Freight.

To complete the Whittier system, 1,445 solar panels were installed on 22,000 square feet of the facility's roof space. BP Solar, part of the global energy major BP, manufactured the panels and served as the project developer.

Bob Malone, chairman and president of BP America said, "BP believes that solar power has an important role to play in expanding US energy supply in a clean, sustainable and carbon-free way. We're pleased to have helped FedEx meet a portion of its power needs in a clean and sustainable way."

FedEx and BP work together strategically to identify, develop and implement a range of solutions to increase FedEx's security of energy supply while improving its environmental performance.

Working closely with FedEx, we've shown that collaboration can deliver great performance," said Richard Bartlett, BP vice president of strategic cooperation. "The FedEx Freight solar installations in California are a great example of where we are making sustained operational, financial and environmental progress together.

FedEx Freight is also installing a similar solar-power generation system at its Fontana, Calif., service center. Set for completion later this spring, this 269 kW sun-powered system is expected to generate over 370,000 kWh a year, approximately 50 percent of the facility's energy needs. The Fontana terminal employs more than 500 workers and serves the area between San Bernardino and Los Angeles.

To complement these solar energy projects, FedEx Freight has completed other energy-efficiency upgrades at both the Whittier and Fontana facilities as yet another way to demonstrate the FedEx commitment to innovative and environmentally responsible energy solutions.

FedEx and its subsidiaries recognize that effective environmental management is one of its most important corporate priorities," said Mitch Jackson, director of environmental affairs and sustainability for FedEx Corp. "As a global transportation industry leader, FedEx believes strongly in progressive environmental stewardship and resource sustainability. These power generation systems represent another step that FedEx companies are taking as we work collaboratively toward these objectives."

Combined environmental benefits from the Whittier and Fontana solar-energy systems, based on a projected annual reduction of 610 metric tons of CO2 emissions, are equivalent to one of the following:



112 passenger cars not driven for one year

69,240 gallons of gasoline not burned

1,419 barrels of oil not consumed

80.8 households' electricity use for one year

15,641 tree seedlings grown for 10 years

4.3 acres of forest preserved from deforestation
Data is derived from the U.S. Environmental Protection Agency Greenhouse Gas Equivalencies Calculator.