"FedEx 400 benefiting Autism Speaks" to be held at Dover International Speedway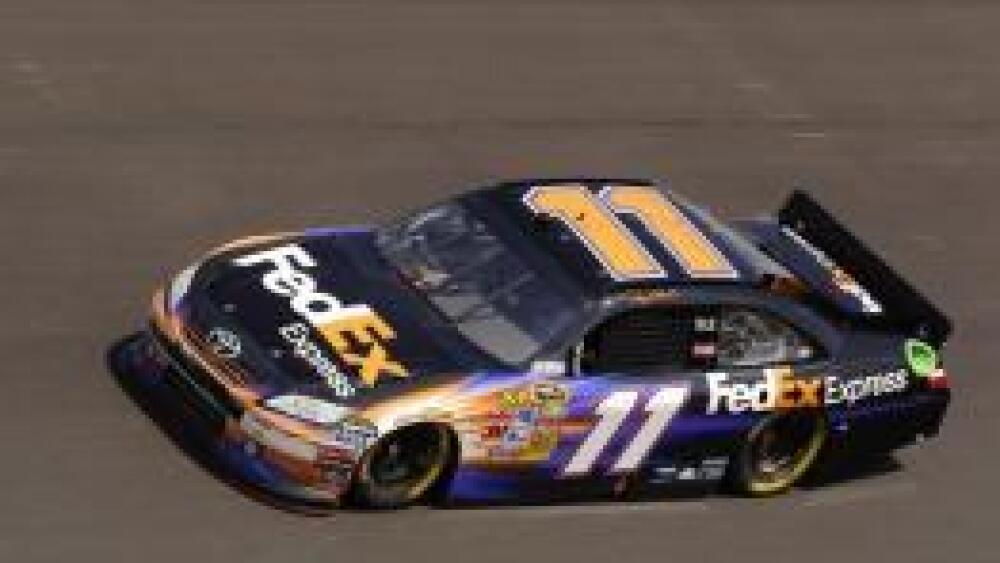 DOVER, Del. (April 20, 2011) – FedEx Corp. (NYSE: FDX), Autism Speaks and Dover International Speedway today announced that the Sprint Cup race at Dover International Speedway on May 15, 2011 will be named the "FedEx 400 benefiting Autism Speaks."

As part of the race sponsorship, and to help increase public awareness of autism and raise funds for continued research, there will be opportunities for fans to show their support through special ticket packages and unique race-weekend experiences. In addition, FedEx will make a donation of $100,000 to Autism Speaks if Denny Hamlin, driver of the #11 FedEx Toyota Camry, wins the race.

"We're honored to be selected by Dover International Speedway and FedEx as the charity choice for the FedEx 400 benefiting Autism Speaks," said Mark Roithmayr, president of Autism Speaks. "Autism affects one percent of the U.S. population and included in that number are many fans of NASCAR. This sponsorship will help raise awareness and much needed funds for those families and our community as a whole."

FedEx has sponsored the #11 NASCAR Sprint Cup Series team of Joe Gibbs Racing since the beginning of the 2005 season and has a long history of supporting sports teams, leagues and franchises. The FedEx 400 benefiting Autism Speaks marks the first time they have sponsored a NASCAR Sprint Cup Series race.

"FedEx has the unique opportunity to help support the mission of Autism Speaks as the official sponsor of the FedEx 400 at Dover International Speedway," said T. Michael Glenn, executive vice president of Market Development at FedEx. "Joining forces for a great cause is a win for both racing fans and supporters of the important work of Autism Speaks. We are extremely proud of Denny and the #11 FedEx Racing team and are also incredibly proud of the commitment to charity that is a hallmark of FedEx and our team members worldwide."

Fans are encouraged to show their support for Autism Speaks by taking advantage of the following opportunities.


Special FedEx 400 Race Charity Ticket Package: The package, priced at $111, offers two tickets (regularly priced at $84 each) to the May 15 event with proceeds going directly to Autism Speaks.

Race Weekend Experience Auctions: The premier package is highlighted by the opportunity to wave the green flag to start the Cup race after joining the Sprint Cup drivers on stage for driver introductions. The package also includes two all-access pit passes, a garage tour, overnight accommodations in the Dover Downs Hotel & Casino, luxury suite passes, and a green flag signed by the starting lineup of the race. A second package features two seats in the unique Monster Bridge. Proceeds from the auction go to Autism Speaks. Visit DoverSpeedway.com and click on the Autism Speaks button to place a bid.

Support Autism Speaks Directly: Fans can text "autism" to "25383" to donate $10 instantly. Standard messaging charges apply and the donation will appear as a charge on your cell phone bill. In addition, donation locations will also be set up during the race weekend for those fans interested in donating on-site to Autism Speaks.
About FedEx
FedEx Corp. (NYSE: FDX) provides customers and businesses worldwide with a broad portfolio of transportation, e-commerce and business services. With annual revenues of $38 billion, the company offers integrated business applications through operating companies competing collectively and managed collaboratively, under the respected FedEx brand. Consistently ranked among the world's most admired and trusted employers, FedEx inspires its more than 290,000 team members to remain "absolutely, positively" focused on safety, the highest ethical and professional standards and the needs of their customers and communities. For more information, visit news.fedex.com.
About Autism and Autism Speaks
Autism is a complex neurobiological disorder that inhibits a person's ability to communicate and develop social relationships, and is often accompanied by behavioral challenges. Autism spectrum disorders are diagnosed in one in 110 children in the United States, affecting four times as many boys as girls. The prevalence of autism increased 57 percent from 2002 to 2006. The Centers for Disease Control and Prevention have called autism a national public health crisis whose cause and cure remain unknown. Autism Speaks is North America's largest autism science and advocacy organization. Since its inception in 2005, Autism Speaks has made enormous strides, committing over $160 million to research and developing innovative new resources for families. The organization is dedicated to funding research into the causes, prevention, treatments and a cure for autism; increasing awareness of autism spectrum disorders; and advocating for the needs of individuals with autism and their families. In addition to funding research, Autism Speaks has created resources and programs including the Autism Speaks Autism Treatment Network, Autism Speaks' Autism Genetic Resource Exchange and several other scientific and clinical programs. Autism Speaks has played a critical role in securing federal legislation to advance the government's response to autism, and has successfully advocated for insurance reform to cover behavioral treatments in 25 states thus far, with bills pending in an additional 12 states. To learn more about Autism Speaks, please visit
www.autismspeaks.org
.
About Dover International Speedway
Dover Motorsports, Inc. owns and operates Dover International Speedway in Dover, Del. and Nashville Superspeedway near Nashville, Tenn. Both concrete tracks are home to some of the most exciting racing in NASCAR. The legendary "Monster Mile" in Dover is known for being tough on drivers and their equipment, and has been hosting two NASCAR Sprint Cup Series race weekends each year for over 40 years. Nashville Superspeedway first opened its doors in 2001 and currently hosts two NASCAR Nationwide Series and two NASCAR Camping World Truck Series doubleheader race weekends each year. For further information, log on to
www.DoverMotorsports.com
.