Faster, Smarter, Greener – FedEx Offers Shipping Tips for Special Holiday Packages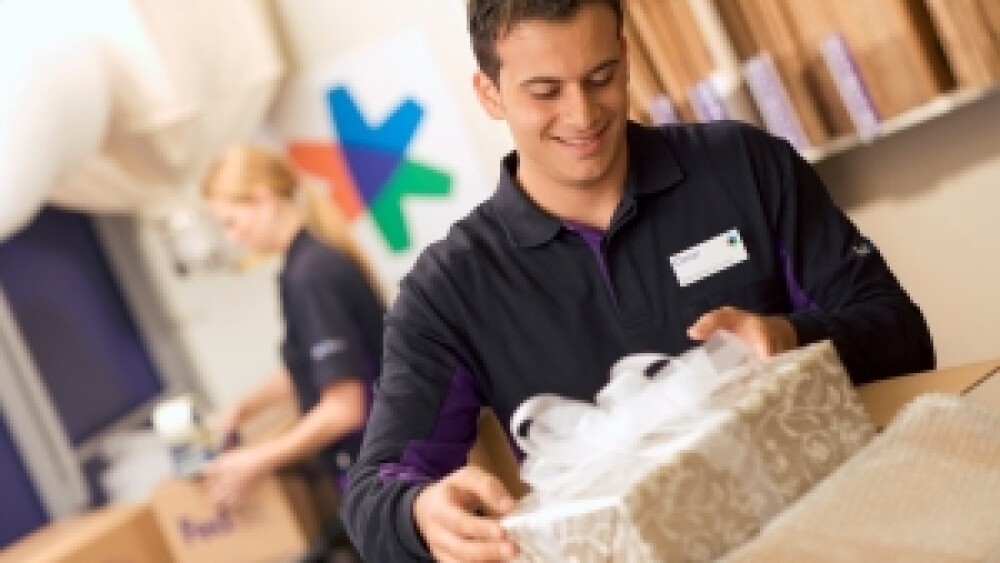 MEMPHIS, Tenn., Dec. 3, 2009 – FedEx Corp. (NYSE: FDX) is offering customers several solutions to pack and ship greener and more efficiently this holiday season.

"FedEx team members are prepared to provide excellent service to our customers this holiday as well as expert shipping advice," said T. Michael Glenn, executive vice president of Market Development at FedEx. "Customers can rest easy and rely on the convenience of FedEx for all of their holiday shipping and packaging needs."

In 2009, the need for proper packaging will become more evident as consumers plan to send more homemade presents than in years past. According to the National Retail Federation, nearly a fifth of consumers surveyed (16.7%) plan to make more of their holiday gifts this year.

Whether shipping homemade cookies or the hottest holiday toy, the professionals at FedEx have the solutions to help consumers ship faster, smarter and greener this holiday season.

Ship it Green with FedEx

FedEx offers the following tips to get your package to its holiday destination while minimizing the environmental impact.

• Use the smallest box possible while adequately protecting your item. For fragile presents, double box the gift for more protection while shipping and reuse a box for the interior box.

• Purchase boxes made from recycled materials. FedEx envelopes are made from 100% recycled content. FedEx 10 kg and 25 kg boxes contain a minimum of 70 percent recycled content and are recyclable.

• If you must reuse an exterior box, make sure it is in good condition with no holes, tears or corner dents. Also remove any old labels.

• Reuse your packing materials or look for ones that are eco-friendly to cushion the box's contents such as shredded paper or biodegradable packing "peanuts."

• Make sure you package your product properly with the correct amount of cushioning material and utilize a sturdy corrugated shipping container. Remember that the less your package weighs, the fewer resources it will use.

• Save a truck stop. While you're running other errands, drop off your FedEx Express shipments at one of more than 53,000 FedEx drop off locations. Both FedEx Ground and FedEx Express packages can be dropped at more than 1,800 FedEx Office locations nationwide.

• Ship with a company that has strong environmental priorities. By the end of 2009, FedEx will operate more than 325 hybrid and electric vehicles around the globe and more than 1,800 alternative fuel vehicles and equipment. The FedEx hybrid fleet has logged more than four million miles of revenue service since being introduced in 2004, reducing fuel use by 150,000 gallons and carbon dioxide emissions by 1,521 metric tons.

Ship it Smart with FedEx

Take the guesswork out of shipping this holiday season. Follow these tips from the experts at FedEx. You can also visit fedex.com/packaging for more helpful advice.

• Choose the right supplies

o Use sturdy boxes with flaps intact. For heavier items, use double-wall boxes. Keep within the weight specifications for your box.


o Make sure your box is large enough to put adequate padding around contents. Position your item in the center of the box and surround by cushioning such as bubble wrap, packing "peanuts," densely packed shredded paper or foam pads. Use enough packing material – ideally one inch on all sides – so the item does not shift during transit.


o Use tape designed for packing, not duct or masking tape. Do not wrap the outer box with paper or string, which can get caught in automated processing equipment.


o FedEx Office offers a variety of the most popular packing supplies, including boxes, tape, bubble wrap and other essentials for purchase. The centers also provide free FedEx shipping supplies for FedEx Express shipments.

• Use smart labeling

o Position the address label squarely on the largest surface, and provide complete sender and recipient addresses, including phone numbers and ZIP codes.


o Put the recipient's address and your return address inside the box as well.

• Call in the experts

o FedEx Office has shipping specialists trained in pack and ship best practices.


o The more than 1,800 FedEx Office locations across the U.S. offer a full range of FedEx Express, FedEx Ground and FedEx Home Delivery shipping options – with 24/7 service in many locations for the next scheduled pick up.

• Set up Shipments Online

o FedEx Ship Manager at fedex.com was the industry's first Internet-based shipping option. To use, customers simply click the "Prepare Shipment Online" option under the "Ship" tab on the fedex.com U.S. home page, register as a user and follow the easy-to-use instructions. No extra software is required.

• Ship early and avoid the lines

o Customers have until December 17, 2009 to find and send that perfect holiday gift via FedEx Ground. Last-minute shoppers have until December 23, 2009 to ship FedEx Express


o Customers can log onto fedex.com to determine shipping options, including rates and transit times to ensure that gifts are shipped in time to arrive for the holidays.

• Track it

o Tracking a package with FedEx is easy and convenient. On average, more than 5.5 million package-tracking requests a day are handled daily on fedex.com.


o Customers can go to the FedEx U.S. homepage, click on the tracking option and supply the tracking numbers for up to 30 FedEx Express and/or FedEx Ground packages. FedEx will then supply real-time information about the delivery status and location of any package in our delivery network. Customers also can get a package status by calling 1.800.Go.FedEx (1.800.463.3339).

• Visit http://news.van.fedex.com/peakcentral09 for more helpful holiday tips.

About FedEx
FedEx Corp. (NYSE: FDX) provides customers and businesses worldwide with a broad portfolio of transportation, e-commerce and business services. With annual revenues of $34 billion, the company offers integrated business applications through operating companies competing collectively and managed collaboratively, under the respected FedEx brand. Consistently ranked among the world's most admired and trusted employers, FedEx inspires its more than 275,000 team members to remain "absolutely, positively" focused on safety, the highest ethical and professional standards and the needs of their customers and communities. For more information, visit news.fedex.com.
# # #