E-Commerce Shipments to Drive Record FedEx Holiday Volume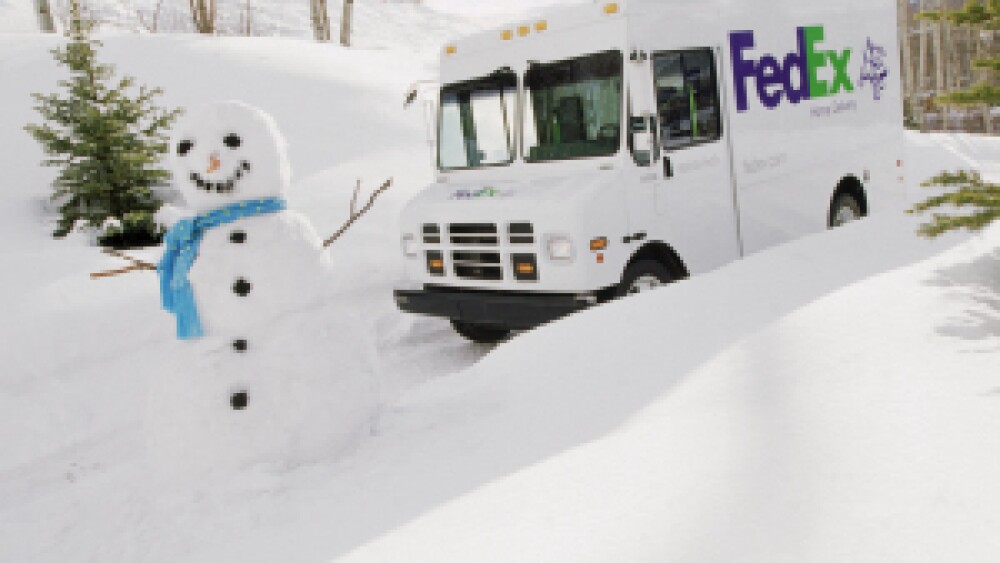 MEMPHIS, Tenn., Oct. 24, 2011 – FedEx Corp. (NYSE: FDX) expects to move more than 17 million shipments – almost double its daily average volume – through its global networks on December 12, the projected busiest day in company history. The 10 percent year-over-year increase will be driven by FedEx SmartPost, a residential shipping service designed for online and catalog retailers, as well as expected increased volume at FedEx Ground and FedEx Home Delivery.
Between Thanksgiving and Christmas, FedEx forecasts more than 260 million shipments to move through its worldwide shipping networks. This is a 12 percent increase for the holiday season over last year when 232 million shipments were processed.
"As e-commerce continues to grow and demand increases with more customers shopping and conducting their business online, FedEx SmartPost is poised to handle the increase in shipments," said Frederick W. Smith, chairman, president and CEO of FedEx Corp. "More than 290,000 FedEx team members also stand ready to deliver the holidays and enable commerce around the globe."
Retail inventory such as apparel, personal consumer electronics and luxury goods as well as books and other items from large, internet retailers will account for a large portion of FedEx holiday volumes.
FedEx will increase its workforce by approximately 20,000 with seasonal positions to help handle the surge in holiday shipments at FedEx Ground, FedEx Home Delivery and FedEx SmartPost.
The impact of the expected higher volumes was included in the company's earnings guidance issued in September.
The Holiday Retail Outlook
Holiday sales are expected to grow 2.8 percent during November and December to $465.6 billion, according to the National Retail Federation (NRF). This is higher than the average increase of 2.6 percent over the last ten years.
The NRF also reports that nearly half of shoppers (46.7%) will buy online as compared to 43.9% in 2010. According to eMarketer, holiday online shopping will increase by 12 percent during the 2011 season.
Poised for E-commerce . . . FedEx SmartPost
The FedEx SmartPost network is designed for online retailers and cataloguers who ship high volumes of low-weight shipments to residential customers. FedEx SmartPost has an integrated national network that picks up, sorts and delivers packages directly to U.S. Postal Service facilities for final delivery to residences.
The service continues to experience significant growth. As reported in first quarter earnings ended August 31, FedEx SmartPost average daily volume increased 29 percent due to growth in e-commerce and gains in market share.
FedEx. Solutions that Matter™ . . . FedEx Ground
FedEx Ground continues to enhance its small package pickup and delivery network to provide faster delivery times and innovative shipping solutions for its customers during the holidays and beyond. FedEx Ground is faster to more overall locations and FedEx Home Delivery is faster to more residential locations than any other ground carrier.
Since 2002, FedEx Ground has opened 11 new distribution hubs featuring the most advanced material handling systems and has expanded or relocated more than 500 FedEx Ground, FedEx Home Delivery and FedEx SmartPost facilities in the United States and Canada.
The direct result of these investments is continuous improvement in the speed, efficiency and reliability of the FedEx Ground network and the ability to provide service faster than ever before. Lane and other technology enhancements have accelerated FedEx Ground delivery by one day or more in more than half of the United States.
· 82% of FedEx Ground packages are delivered in 3 days or less
· 61% of FedEx Ground packages are delivered in 2 days or less
· 23% of FedEx Ground packages are delivered next business day
FedEx Volumes Over the Years
The busiest day of the year at FedEx has continued to grow in volumes over the years. A history of busiest days since 2005 follows:
· Dec. 12, 2005 – 9.8 million shipments
· Dec. 18, 2006 – 10.6 million shipments
· Dec. 17, 2007 – 11.5 million shipments
· Dec. 15, 2008 – 12.0 million shipments
· Dec. 14, 2009 – 14.2 million shipments
· Dec. 13, 2010 – 15.6 million shipments
About FedEx Corp.
FedEx Corp. (NYSE: FDX) provides customers and businesses worldwide with a broad portfolio of transportation, e-commerce and business services. With annual revenues of $40 billion, the company offers integrated business applications through operating companies competing collectively and managed collaboratively, under the respected FedEx brand. Consistently ranked among the world's most admired and trusted employers, FedEx inspires its more than 290,000 team members to remain "absolutely, positively" focused on safety, the highest ethical and professional standards and the needs of their customers and communities. For more information, visit news.fedex.com
Certain statements in this press release may be considered "forward-looking" statements within the meaning of the Private Securities Litigation Reform Act of 1995 with respect to future events and financial performance. These forward-looking statements involve risks and uncertainties. Actual results may differ materially from those contemplated (expressed or implied) by such forward-looking statements, because of, among other things, economic conditions in the global markets in which we operate, the impact of any international conflicts or terrorist activities, disruptions to the Internet or our technology infrastructure, the impact of changes in fuel prices and foreign currency exchange rates and adverse weather conditions or natural disasters, as well as the other risks and uncertainties you can find in FedEx's and its subsidiaries' press releases and SEC filings, including the risk factors in FedEx's most recent annual report on Form 10-K, as updated by FedEx's quarterly reports on Form 10-Q.