Cloud Printing Made Easier by FedEx Office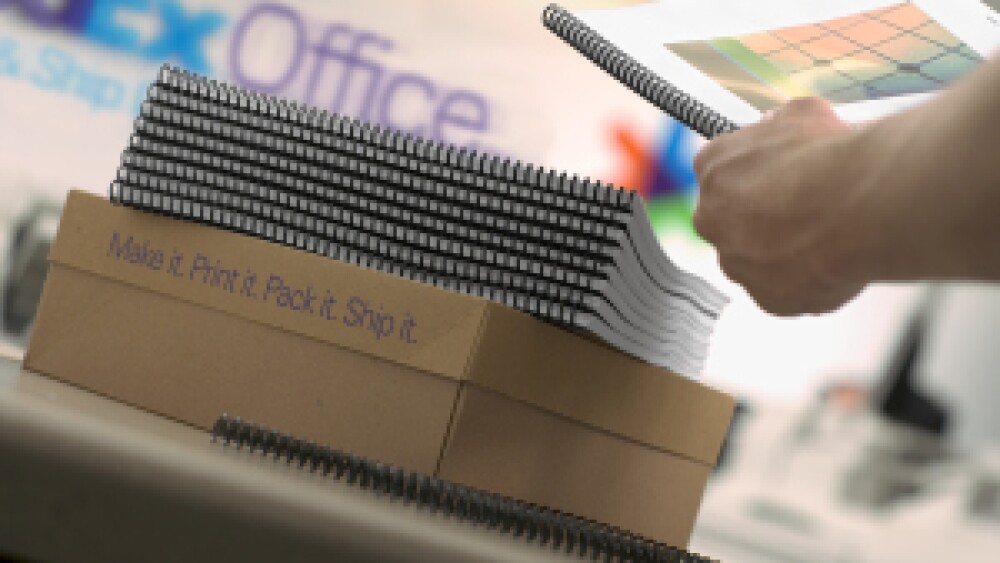 DALLAS, July 31, 2012 —FedEx Office loves a cloudy forecast. Cloud-based file storage allows people to synchronize and share files on different computers, and now FedEx Office is the first national retailer to provide an easier way to print them.
FedEx Office® Print & Go and FedEx Office® Print Online have increased their cloud coverage, but no umbrella will be necessary. These two award-winning products now integrate with cloud-based document storage services Box, Dropbox and Google Drive, which includes Google Docs. These integrations enable on-demand printing of files stored in the cloud online or at more than 1,800 FedEx Office stores nationwide.
"FedEx Office continues to lead the way in making it simple and convenient to print anywhere, anytime," said Anthony Norris, vice president, Product and E-commerce Marketing for FedEx Office. "This integrated solution expands access to valuable documents— presentations, brochures, flyers, oversize prints, signs and more—on demand."
Print Through Copiers with Print & Go
With FedEx Office® Print & Go, access and then print files from the cloud directly to copy machines. FedEx Office® Print & Go also offers the ability to print from smartphones and USB flash drives. Last year, this easy-to-use technology received the "Most Innovative New Tech-Enabled Product" award from InformationWeek.
Place Cloud Print Orders Online
Similarly, access your cloud storage accounts through FedEx Office® Print Online, and pick up printed filesfrom a FedEx Office store or choose to have them delivered to your door. Print Online features preview, archive and reordering features for Microsoft® Word, PowerPoint® and Adobe® PDFs and more. Users can organize filesand sort by name, order date or price.
Stellar Team for Cloud Storage and Printing
Box, founded in 2005, provides a secure content sharing and collaboration platform for more than 120,000 businesses and 92 percent of the Fortune 500. Content on Box can be shared internally and externally within organizations, accessed across mobile platforms, and extended to more than 200 partner applications.
Dropbox allows users to bring their documents, photos, and videos anywhere and share them easily across any device. Dropbox, founded in 2007, has more than 50 million users in 175 countrieswith one billion files saved every 48 hours.
Google Drive launched in April 2012. More than 10 million people use Drive to create, share and keep files online—including Google Docs—so they can access them from any device.
To learn how to pull files out of the clouds and onto paper, visit www.fedex.com/printonline or http://www.fedex.com/us/office/instore-cloud-printing.html.
About FedEx Office
FedEx Office, an operating company of FedEx Corp., has more than 1,800 stores and locations primarily in the U.S. and Canada, providing convenient access to printing and shipping expertise with reliable service. The company's network features retail stores, centralized production centers, corporate on-site print centers, and on-site business centers at hotels, convention centers and universities. Services include copying and digital printing, professional finishing, document creation, direct mail, signs and graphics, computer rental, free Wi-Fi, corporate print solutions, packing services, FedEx Express and FedEx Ground shipping, Hold at FedEx Location and more. In addition, InformationWeek 500 recognized FedEx Office® Print Online and FedEx Office® Print & Go solutions with the 2011 Most Innovative Products award. Products, services and hours vary by location. For more information, please visit www.fedex.com/office.
About FedEx Corp.
FedEx Corp. (NYSE: FDX) provides customers and businesses worldwide with a broad portfolio of transportation, e-commerce and business services. With annual revenues of $43 billion, the company offers integrated business applications through operating companies competing collectively and managed collaboratively, under the respected FedEx brand. Consistently ranked among the world's most admired and trusted employers, FedEx inspires its more than 300,000 team members to remain "absolutely, positively" focused on safety, the highest ethical and professional standards and the needs of their customers and communities. For more information, visit news.fedex.com.
# # #