China-Bound "FedEx Panda Express" Takes Flight from Washington, D.C. with Precious Cargo on Board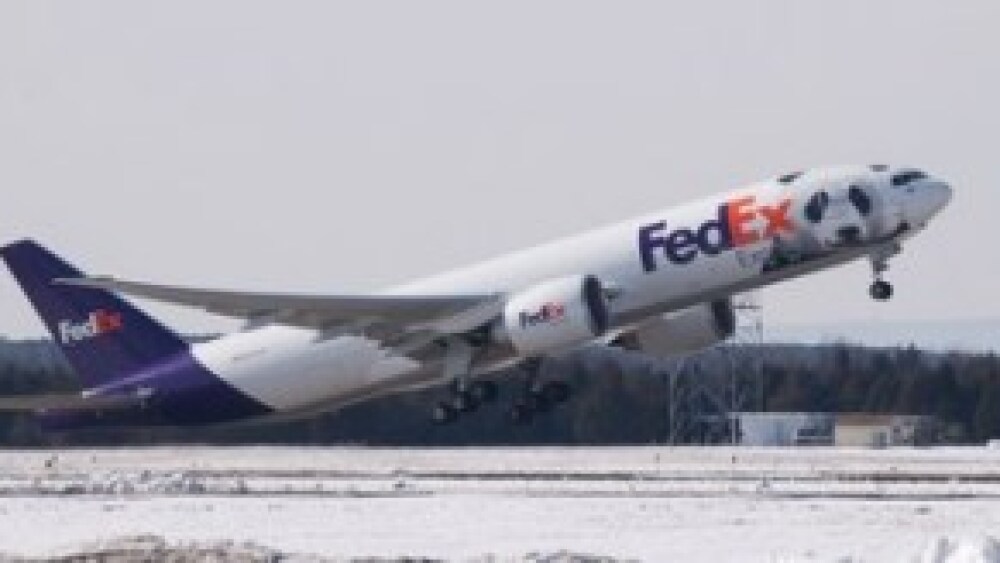 The FedEx Panda Express, a specially-branded 777-Freighter in the FedEx aircraft fleet, took off today from Washington Dulles International Airport bound for Chengdu, China, with two very special passengers on board. FedEx Express, a subsidiary of FedEx Corp. (NYSE: FDX) and the world's largest express transportation company, is providing safe transport for two giant pandas"Tai Shan and Mei Lan"as they are returned home to aid the world's conservation efforts for this endangered species.

Send-off events were held at FedEx Express facilities at Hartsfield-Jackson International Airport in Atlanta and Washington Dulles International Airport today as city officials, zoo representatives and others bid farewell to the pandas before take-off. FedEx has worked closely with representatives from the Smithsonian's National Zoo and Zoo Atlanta to provide for the safety and comfort of both pandas while on board the aircraft. Veterinarians from both zoos were granted special privileges to accompany the pandas throughout the 14 hour non-stop flight, ensuring the animals are well cared for.

"At FedEx, we ship millions of packages each business day, connecting businesses and people across town and around the world," said David J. Bronczek, president and CEO, FedEx Express. "While every package is important to us, we are especially proud to be entrusted the precious cargo on the FedEx Panda Express today. It's an honor to have worked with the National Zoo and Zoo Atlanta to provide Tai Shan and Mei Lan with a safe and secure trip for their return to China."
FedEx is well-known for its reliable and speedy transportation of some of the world's most critical shipments. In addition to the 3.4 million packages it ships on average each business day, FedEx Express also had the privilege of transporting several giant pandas in the past"including Tai Shan's parents Mei Xiang and Tian Tian in 2000. Later, in 2003, FedEx was again called upon to safely deliver Ya Ya and Le Le to the Memphis Zoo.

The company's commitment to providing the safe and secure transport of these rare animals is a testament to the FedEx commitment to business and cultural exchange between the U.S. and China, and its support for the communities in which it does business.

"Our ongoing support for business, community and cultural activities in the U.S. and China"combined with our renowned shipping expertise"make us confident that FedEx is Absolutely, Positively' the right team to make this delivery," said Bronczek.

Outside of its philanthropic commitments in the region, FedEx has a rich business history in China, with more than 25 years of experience serving customers shipping to and from this fast-growing market. FedEx currently employs more than 7,000 employees in China and serves 400 cities throughout the country. FedEx Express is also approaching the one-year anniversary of its new Asia Pacific hub in Guangzhou, China, opened on February 6, 2009.

About FedEx

FedEx Corp. (NYSE: FDX) provides customers and businesses worldwide with a broad portfolio of transportation, e-commerce and business services. With annual revenues of $33 billion, the company offers integrated business applications through operating companies competing collectively and managed collaboratively, under the respected FedEx brand. Consistently ranked among the world's most admired and trusted employers, FedEx inspires its more than 275,000 team members to remain "absolutely, positively" focused on safety, the highest ethical and professional standards and the needs of their customers and communities. For more information, visit news.fedex.com.