Karan Johar Presents "FedEx International Student of the Year" Award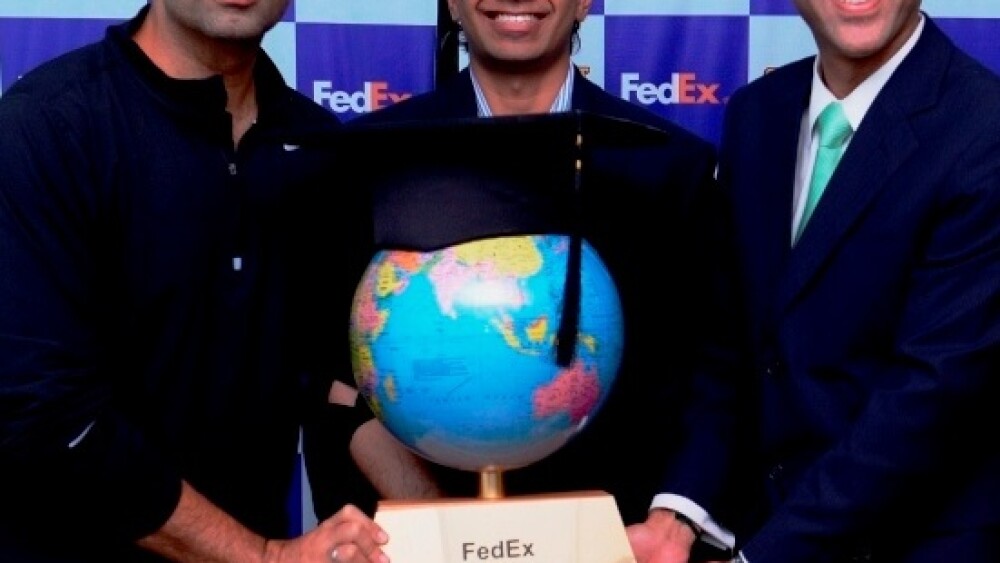 MUMBAI, June 27, 2013 — FedEx Express, a subsidiary of FedEx Corp. (NYSE: FDX) and the world's largest express transportation company, today announced the winner of the 'FedEx International Student of the Year' contest. Anurag Das from Pune was handed the award by the Bollywood director Karan Johar at a ceremony in Mumbai. He emerged as the winner from a competitive field of 5,000 students.
"I feel happy to present the 'FedEx International Student of the Year' award to Anurag Das. I wish him great success for his future endeavors. Similar to my movie, 'Student of the Year,' this contest invoked a competitive spirit among students and it was a pleasure for me to be associated with a brand like FedEx for Student of the Year," said Johar.
"It's a great privilege to be handed this accolade. And it is a bonus that it comes from Karan Johar," said the winning contestant, Anurag Das. "I would like to pass on my thanks to FedEx for organizing this competition. It's fantastic to see brands like FedEx supporting important causes such as education. I would also like to thank my family, friends and mentors for their unwavering faith in my abilities."
The competition was open to Indian students across the country who would like to study at universities abroad. The participants had to respond to multiple-choice questions posted on a specially-designed microsite. In addition, they had to ship at least one application through FedEx. During the contest, which ran from Oct. 8, 2012 until Jan. 15, 11,000 applications were received, of which about half were deemed to be valid.
The winner was then chosen from the valid submissions by an independent panel of judges.
"We got an overwhelming response to our FedEx International Student of the Year contest. At FedEx, we understand the challenges students face when trying to fund their studies overseas. We wanted to provide students with assistance to ease their financial burden. In addition to the INR 500,000 sponsorship money given to the winner, ten runners up will also be given a free counseling session from United States-India Educational Foundation (USIEF)," said Rakesh Shalia, managing director, Marketing, FedEx Express Middle East, Indian Subcontinent and Africa.
The FedEx student offer is a solution to address students' needs for cost-effective reliable service and the contest was devised to provide them with some help that would help them achieve their goals.
About FedEx Express
FedEx Express is the world's largest express transportation company, providing fast and reliable delivery to more than 220 countries and territories worldwide. FedEx Express uses a global air-and-ground network to speed delivery of time-sensitive shipments, by a definite time and date with a money-back guarantee.
About FedEx Corp.
FedEx Corp. (NYSE: FDX) provides customers and businesses worldwide with a broad portfolio of transportation, e-commerce and business services. With annual revenues of $44 billion, the company offers integrated business applications through operating companies competing collectively and managed collaboratively, under the respected FedEx brand. Consistently ranked among the world's most admired and trusted employers, FedEx inspires its more than 300,000 team members to remain "absolutely, positively" focused on safety, the highest ethical and professional standards and the needs of their customers and communities. For more information, visit newsroom.fedex.com/newsroom.
# # #