FedEx Invites Mumbai to Donate Packaged Drinking Water to Drought-Affected Villages in Maharashtra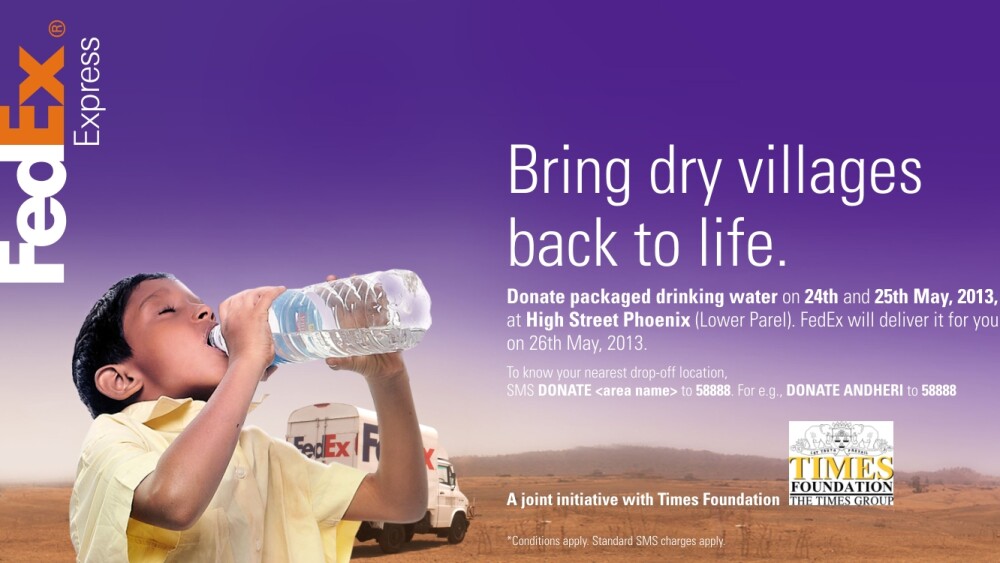 MUMBAI, May 23, 2013 — FedEx Express, a subsidiary of FedEx Corp. (NYSE: FDX) and the world's largest express transportation company, in association with the Times Foundation, today launched the 'Donate Water' initiative in Mumbai. This charitable initiative asks Mumbai residents to donate packaged drinking water on 24th and 25th of May. FedEx will transport the collected water using the company's ground delivery service to four drought- affected villages in the Nasik district: Ambepada, Suktale, Tapupada and Mastemani.
FedEx and the Times Foundation will run the collection drive at designated places in Mumbai. The water bottles can be donated at any one of the seven FedEx retail outlets or the two Times of India Response Centers or at the Phoenix Mills Mall, Lower Parel.
"The drought situation in Maharashtra requires a rapid response. FedEx can bring the much-needed relief to some of the villages in the affected area," said David Canavan, vice president, Domestic Operations and Integration, FedEx Express Europe, Middle East, Indian Subcontinent and Africa. "FedEx employees across India will also donate a part of their salaries to this initiative. The money will be used to buy packaged drinking water on behalf of the employees with the amount collected. The 'Donate Water' initiative is our attempt to deliver hope to the communities we live in."
The drought in Maharashtra is one of the worst in four decades. According to official government figures, 15 districts comprising of 11,801 villages have been officially declared drought areas. There is an acute water shortage in 1,779 villages and 4,709 hamlets.
FedEx Express maintains a longstanding commitment to disaster relief. Over the past 40 years, FedEx has responded to the world's worst disasters and donated in cash and in-kind transportation support to help communities recover.
To know the drop-off locations SMS DONATE 58888. The list of the drop-off locations with their addresses where the packaged drinking water bottles can be donated:
FedEx drop-off locations
Andheri(West):Shop No. 4, Kuber Complex, Andheri link road, opp. Infinity Mall
Andheri(East):Premises No. 9 & 10, Sahar road, Chakala. | Santogen House, 69-A, MIDC.
Chembur: Sanduwadi, 15, S.D. road.
Fort: Ground floor, Friend Union premises, 227, P D'Mello road.
Marine Drive: 145, next to Pizzeria, ground floor- Sea Green hotel.
Navi Mumbai: Shop no. 15 &16, Amoli CHS, plot no.16, sector 30, Sanpada.
Prabhadevi: Ground floor, shop no.6, Siddhi Prabha, New Prabhadevi road.
Times of India drop-off locations
Navi Mumbai: 201, 2nd Floor, Vashi Railway Station Complex.
Thane (W): Bhaskar Colony, Shivanand Co. Hsg. Society.
Mall drop-off location
Phoenix Mills Mall, Lower Parel.