FedEx Express Joins AmCham Abu Dhabi WOMEN ACHIEVE Initiative to Promote Career Progression for Women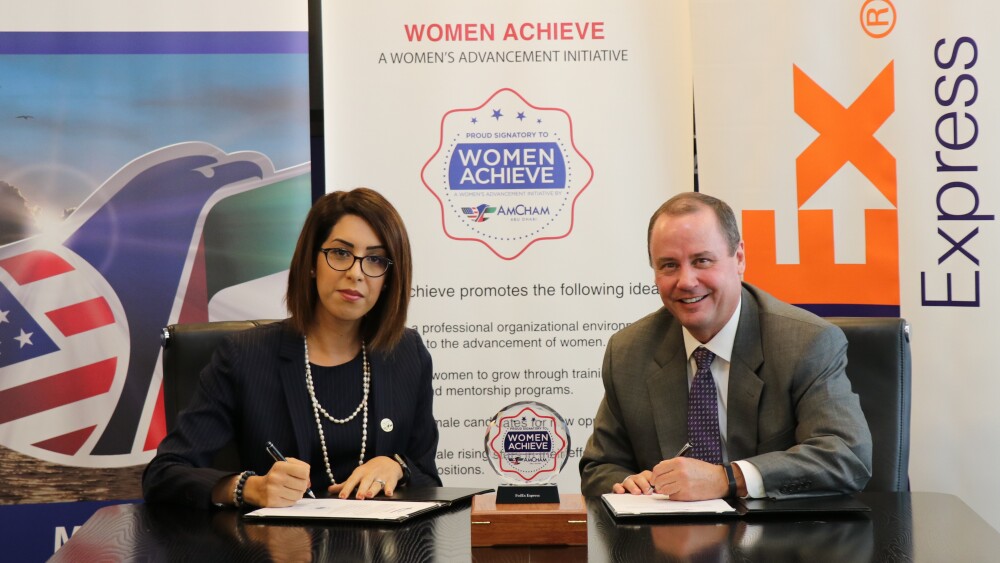 DUBAI, U.A.E., October 17, 2017 — FedEx Express, a subsidiary of FedEx Corp. (NYSE: FDX) and the world's largest express transportation company, has signed a Memorandum of Understanding (MoU) with the Women in Business Committee of the American Chamber of Commerce (AmCham) Abu Dhabi, to encourage the development of women in the workplace through the 'Women Achieve' initiative.
As an existing member of the Women in Business Committee and a corporation committed to workplace equality, FedEx Express is committed to providing opportunities to women throughout its workforce. This aligns with the ideals promoted by the Women Achieve initiative, which include aiming to provide a professional organizational environment conducive to the advancement of women; encouraging women to grow through training, mentorship and more pathways; considering female candidates for new opportunities; supporting female rising stars in their efforts to move into leadership positions; encouraging women to serve on boards; offering fair remuneration, and promoting internship to female candidates.
The MoU was signed on behalf of FedEx Express by Jack Muhs, Regional President of FedEx Express Middle East, Indian Subcontinent & Africa (MEISA). He said: "Our company was founded on a People-Service-profit philosophy, and respect for everyone has always been an everyday business practice. Our diverse workforce, supplier base, and supporting culture all enable FedEx to better serve customers and compete in the global marketplace. We are pleased to join hands with AmCham Abu Dhabi to support the Women Achieve initiative, and help provide more women with the opportunity to pursue the careers of their dreams, without limits."
Sharief Fahmy, Chairman of AmCham Abu Dhabi commented, "Support from companies such as FedEx Express helps us to achieve the ambitions of our WOMAN ACHIEVE initiative. We thank FedEx for joining us in this noble cause, to develop more supportive environments in which women can grow and thrive in the workplace, whether they're just starting their careers or working their way up to the top."
Amongst the women in leadership positions at FedEx is Glenda Garcia. Currently Operations Manager in FedEx Express Abu Dhabi, Glenda began her career as a Customer Service Agent with the FedEx Express Service Provider in the Philippines. She then moved to FedEx Express in Abu Dhabi as a service agent, and her career has progressed ever since. Glenda was promoted later to a station coordinator role, team leader, before entering a management role in 2013. Today she manages a team of 16 colleagues and is responsible for handling ground operations across the entire Abu Dhabi and Western Region area.
"FedEx provides women opportunities to succeed and to grow their careers," said Glenda. "The road to management level has not been easy, but I had a fantastic manager and mentor who provided me with coaching, soft skills training, and empowered me to make decisions that enabled my progress. Being a woman in an express transportation industry has never been a challenge at FedEx – my gender was never seen as a hindrance to being able to do my job, and I have been able to successfully balance career and life to have plenty of quality time with my family."
With a People-Service-Profit philosophy at the heart of the company, FedEx strives to create a balanced work environment in which growth opportunities for all are fundamental everyday practices. The company has been consistently ranked in the top 10 of the Great Place to Work Institute's UAE ranking for the past 7 years.