FedEx Express Expands Presence in Egypt to Serve the Country's Growing Trade Requirements
FedEx direct presence supports the country's vision to foster a competitive and resilient economy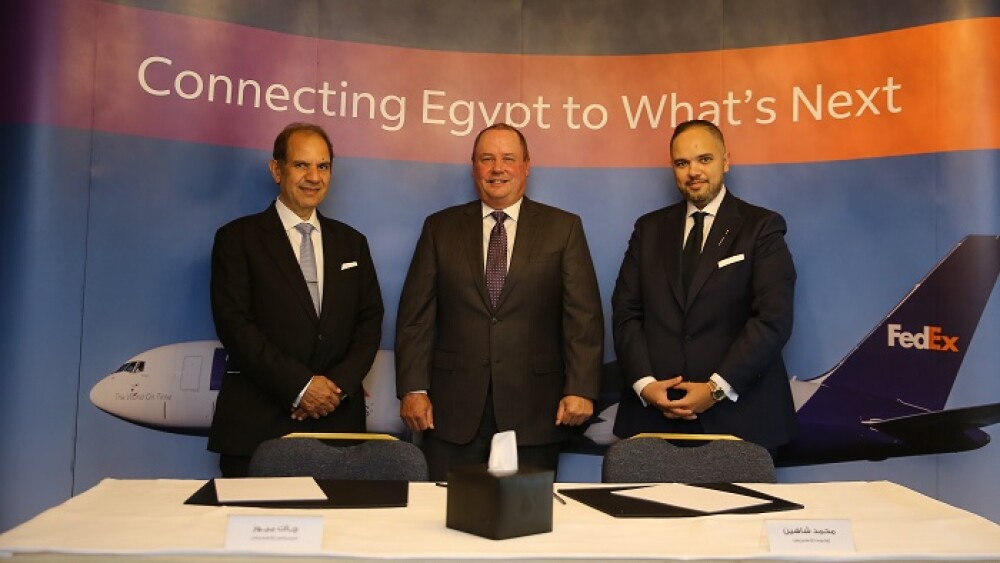 Cairo, Egypt, Feb 21, 2022, — FedEx Express, a subsidiary of FedEx Corp. (NYSE: FDX) and the world's largest express transportation company, has announced its transition to a direct-serve presence in Egypt, to meet the country's growing international shipping demands.
FedEx Express has been facilitating trade in Egypt since 1994, offering its international solutions and connectivity through local service providers, most notably through Egypt Express since 1998.
The company's transition to a direct presence in the country will support a diverse range of customers from across different industries to trade with ease and expand their reach into the more than 220 countries and territories FedEx serves, while Egypt Express continues to provide the local infrastructure for ground operations.
The value of Egyptian exports soared in 2021 amounting to US$ 31 billion, reaching the highest level in history.[1] With nearly 50 years of experience, specialized services, and advanced technology solutions, FedEx will support the trade requirements of the growing e-commerce and tech markets, as well as energy, chemicals, textiles and apparels, food processing, petrochemical, and other sectors.
Jack Muhs, regional president of FedEx Express Middle East, Indian Subcontinent and Africa, said, "Today we are closer to our customers than ever before, offering direct access to a dedicated FedEx support team, an extended portfolio of international services, and digital tools that meet their needs. This strategic expansion in Egypt will help local businesses connect to more markets and customers around the world, supporting Egypt's sustainable development goals under the country's Vision 2030 to diversify the national economy."
"With a GDP of US$ 406 billion in 2021, Egypt is the third-largest market in the MENA and Africa regions[2]. Its strategic location in Africa, and proximity to the Middle East, Europe, and Asia, makes Egypt an ideal gateway for international trade. Thanks to the positive transformations in the country's logistics sector, many companies have reported that they plan to shift their production line or expand their existing production line in the country, providing logistics companies like FedEx a wide range of opportunities," continued Muhs.
FedEx Express will continue to leverage the capabilities and infrastructure of Egypt Express who will provide pick up, delivery, and customs clearance services across the country. Ahmed Shaheen, Chairman of Egypt Express said, "There are several positive indicators towards the growth of the logistics industry in Egypt, contributing towards employment, investment, and overall economic growth in our nation."
"We are proud to see FedEx expand its presence in Egypt. This expansion is a testament to the huge impact that Egypt Express' operational excellence has on the FedEx international services in Egypt since 1998. Egypt Express will continue to support FedEx by providing the state-of-the-art infrastructure of its newly opened 13,000 square-meter Egyptian Cargo Center in Cairo International Airport, operating 51 retail locations in 25 governorates, and utilizing more than 360 vehicles to serve its operations in Egypt," added Shaheen.
FedEx Express services are offered across all governorates in Egypt and are easily accessible through any of the 51 package drop off locations available across the country.
[1] https://arabic.rt.com/business/1311192-%D8%A7%D9%84%D8%B5%D8%A7%D8%AF%D8%B1%D8%A7%D8%AA-%D8%A7%D9%84%D9%85%D8%B5%D8%B1%D9%8A%D8%A9-%D8%AA%D9%82%D9%81%D8%B2-%D9%84%D8%A3%D8%B9%D9%84%D9%89-%D9%85%D8%B3%D8%AA%D9%88%D9%89-%D9%81%D9%8A-%D8%AA%D8%A7%D8%B1%D9%8A%D8%AE%D9%87%D8%A7-%D9%81%D9%85%D8%A7-%D8%A7%D9%84%D8%B3%D8%A8%D8%A8/
[2] CY21 GDP estimate sourced from Global Insight as on Feb 2022