FedEx Express Delivers Tradition this Raksha Bandhan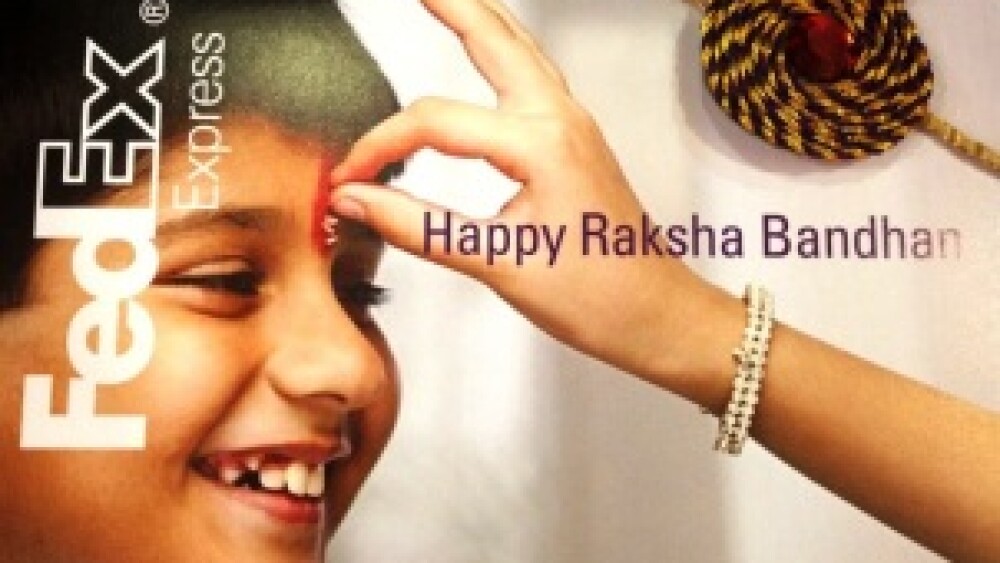 MUMBAI, India, July 19, 2012—FedEx Express, a subsidiary of FedEx Corp. (NYSE: FDX) and the world's largest express transportation company, celebrates the emotional bond between siblings this Raksha Bandhan with a special offer on domestic and international Rakhi deliveries.
As part of the festive offer, customers can send Rakhis to more than 220 countries and territories worldwide and 880 locations within India at a discounted price. Customers will also receive a complimentary Rakhi and card, designed and created by visually challenged women from the National Association for the Blind (NAB).
To bridge the geographic distance between brothers and sisters, FedEx Express is offering sisters the opportunity to send a Rakhi and greeting card at a special 35% discount on its FedEx International Priority® shipping service and domestic FedEx Priority Overnight® service for packages up to 0.5 kg. It is also offering them a 20% discount on packages greater than 0.5 kg. In return, FedEx is offering brothers a 20% discount coupon which will be included in the special FedEx Express Rakhi envelope on domestic deliveries, to send a gift back to their sisters. Customers can take advantage of the special offering by visiting the FedEx World Service Centres (WSCs) from 18th July, 2012 to 14th August, 2012.
For this special occasion, FedEx Express has sourced the beautiful Rakhis and greeting cards from the NAB, an NGO that works to empower the blind through education and training. Each year, women from the NAB are given vocational training to make Rakhis.
Commenting on the FedEx Express Rakhi offer, Rakesh Shalia, Managing Director – Marketing, FedEx Express Middle East, Indian Subcontinent and Africa said, "We at FedEx, firmly believe that our unique understanding of our customers' needs and requirements enables us to provide smart and efficient solutions. On the special occasion of Raksha Bandhan, we are delighted to offer this deal to help eliminate the distance between brothers and sisters and keep the time-honoured tradition of exchanging Rakhis and gifts alive. This year we have also partnered with the National Association of the Blind and look forward to supporting their efforts in empowering visually challenged women."