FedEx Express delivers the UEFA Europa League trophy in Baku
Kenewang Khuta from FedEx Express Botswana delivers one of the most recognizable trophies in the game.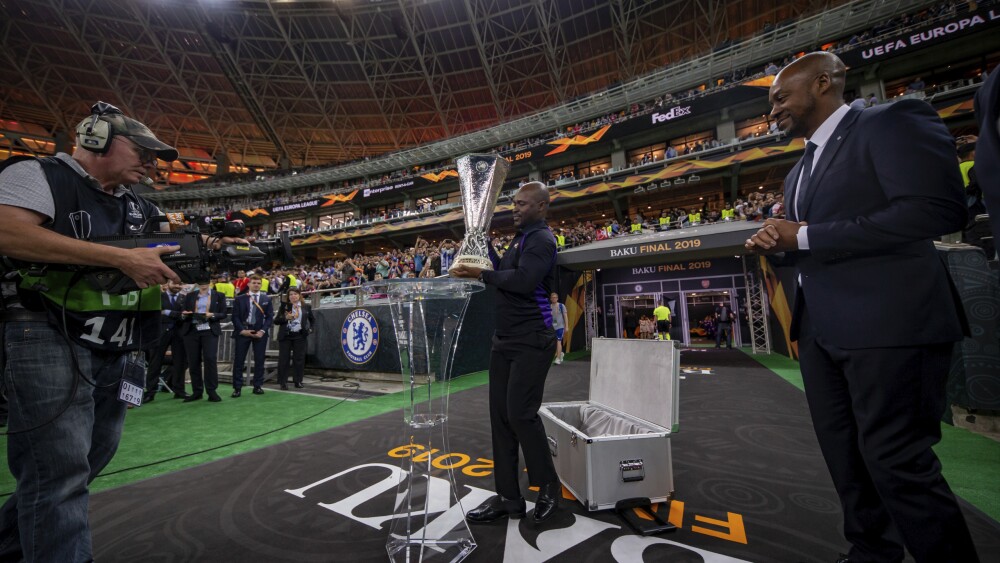 Football fans from across the world gathered in the Olympic Stadium in Baku, Azerbaijan on May 29, 2019, to cheer on the Finalists of the 2018/19 UEFA Europa League. Ahead of the Final, fans observed the delivery of the iconic UEFA Europa League trophy as it arrived onto the pitch side, with Kenewang Khuta from FedEx Express Botswana making the very special delivery.
The UEFA Europa League trophy is the heaviest of all UEFA's silverware. Designed and crafted by the Bertoni workshop in Milan, it tips the scales at 15kg. It is 65cm high, 33cm wide and 23cm deep, and is one of the most recognizable trophies in the game. FedEx Express, an official sponsor of the UEFA Europa League since 2015, provided the secure and on-time delivery of the trophy to the pitch side.
As part of its team member engagement program, FedEx Express launched an internal 'Reward and Recognition Program' to recognize team members who have made an outstanding contribution to the company or customers. Three team members from the FedEx Express Middle East, Indian Subcontinent and Africa region were nominated by their leadership for their exceptional performance in delivering the Purple Promise, to 'make every FedEx experience outstanding'. As their reward the team members were given the opportunity to 'live the UEFA Europa League experience' and attend the Final and celebrations in Azerbaijan.
"I am a football supporter, but never realized how it feels to be the centre of attention with such great multitudes. The feeling was so electric it will never escape my memory. It was a lifetime opportunity and was a strong message that FedEx Express is the employer of choice where team members' efforts are recognized," said Kenewang.
"On behalf of our more than 450,000 FedEx team members around the world, we were thrilled to have one of our African team members deliver this iconic symbol of football to the pitch in Baku. Congratulations to Kenewang for his outstanding service and commitment to both his colleagues and customers," said Nathalie Amiel-Ferrault, VP Customer Experience, Marketing & Communications, Middle East, Indian Subcontinent and Africa.