FedEx Joins Forces with Café Coffee Day to Launch Rakhi Offer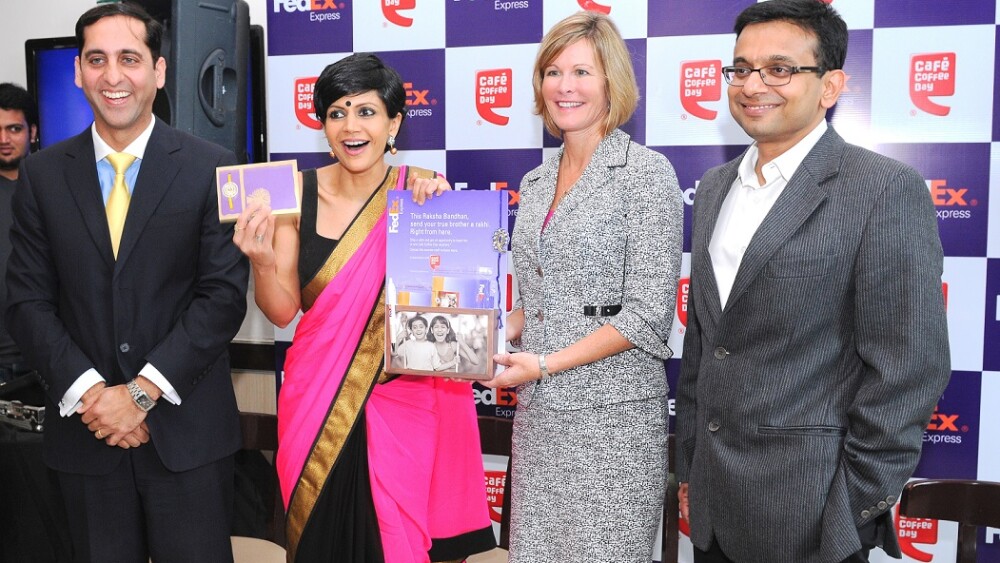 MUMBAI, India, Aug 12, 2013—FedEx Express, a subsidiary of FedEx Corp. (NYSE: FDX) and the world's largest express transportation company, is joining forces with the coffee shop chain Café Coffee Day (CCD) to launch the traditional Rakhi offer. The offer enables a sister to win an opportunity to meet up with her "true brother" (biological or spiritual) anywhere in the world, by just shipping a Rakhi to him using FedEx and by participating in the contest.
A "true brother" is a person who has been with his sister through good and bad times, and could be a friend or a confidant. The contest invites sisters to upload a picture of their most memorable moment spent together with her true brother along with a caption appreciating her brother on the FedEx app on Facebook. Priced at an all-inclusive flat rate of INR 1500 and INR 200 for international and domestic shipments respectively, sisters can send a Rakhi and a greeting card to more than 220 countries and territories worldwide and 880 locations within India using FedEx.
"The Rakhi deal is our attempt to offer convenience and ease to sisters in this fast-paced life. During a coffee break, sisters can connect with their brothers by sending them a Rakhi and a card through FedEx. Our relationship with Café Coffee Day is a perfect fit and will enable us to reach out to sisters through the 100 additional CCD outlets," said Rakesh Shalia, managing director, Marketing, FedEx Express Middle East, Indian Subcontinent and Africa.
"We are delighted to work with FedEx Express to reach out to our customers with an added service offering. This alliance will now ensure that our customers in 100 outlets experience the accessibility and reliability FedEx is known for. Additionally, brothers or sisters can purchase CCD gift coupons and ship them directly to their siblings using FedEx. The Rakhi shipments can also be booked online on the CCD website availing the prices FedEx is offering," said Vejay Anand, president, Café Coffee Day.
Customers can take advantage of the Rakhi offer by visiting the FedEx World Service Centres (WSCs) across India and 100 Café Coffee Day (CCD) outlets in Mumbai, Delhi, Pune, Chandigarh, Ahmedabad, Jaipur and Lucknow. To participate in the contest, sisters have to log on to facebook.com/FedExPromotions. The top 50 participants with the most number of likes on their pictures win CCD vouchers. Additionally, the sister who has shipped the Rakhi through FedEx and has the maximum likes on her picture, wins an opportunity to meet her true brother anywhere in the world.
The Rakhis and the greeting cards are designed and created by Aseema, an NGO, for the underprivileged children working in the field of education. The offer is available before August 22, 2013. The FedEx Express offer can also be availed online on the CCD website http://www.cafecoffeeday.com/shop/gifts/rakhi
Image:(L- R) Rakesh Shalia- Marketing FedEx Express Middle East, Indian Subcontinent & Africa, Mandira Bedi - T.V Celebrity & Anchor, Elizabeth Finch - Vice President, Sales MEIA- FedEx Express Europe, & Vejay Anand -President – CCD at the launch of FedEx Rakhi Offer.