FedEx Express Recognizes Outstanding MENA Youth-Led Innovative Business


Mental health company 'CorteX Wellness' wins the FedEx Global Possibilities Award in the INJAZ Al-Arab's 2021 Annual Youth Entrepreneurship Challenge


The 2021 challenge saw more than 100 students from 13 MENA countries participate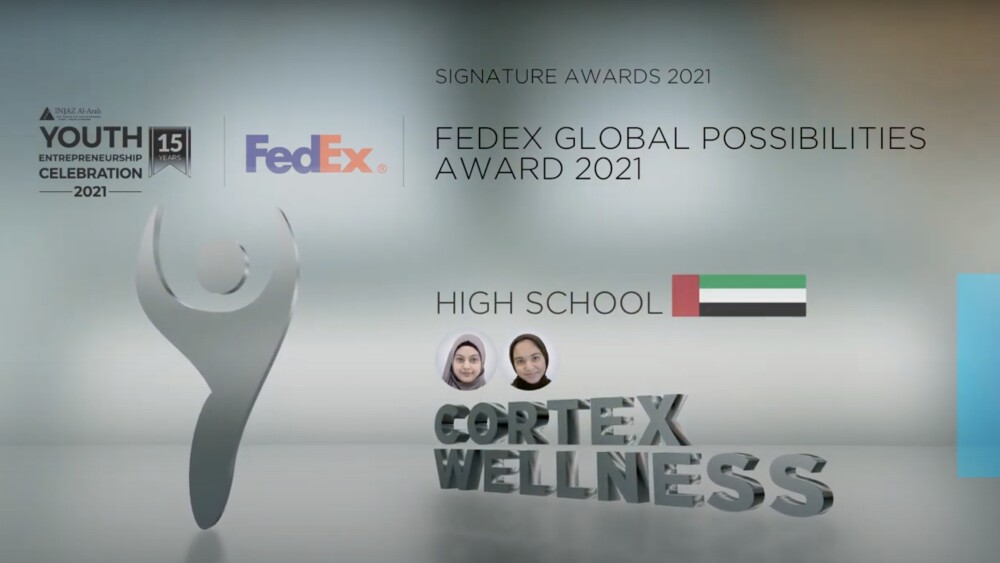 Dubai, U.A.E., December 8, 2021 – FedEx Express, a subsidiary of FedEx Corp (NYSE: FDX) and the world's largest express transportation company, has announced the winner of the FedEx Global Possibilities Award, part of INJAZ-Al Arab's annual Youth Entrepreneurship Challenge. INJAZ Al-Arab is non-profit organization that drives youth education and training and has been a member of the Junior Achievement Worldwide Company Program since 2007.
The 2021 edition was held from November 1 to December 6 and saw the participation of students eager to push the boundaries of creativity and innovation. During the challenge, FedEx team members hosted the 'FedEx Global Possibilities' session, sharing the importance of businesses' access to global markets. Students participating in the Company Program had the opportunity to compete for the 'FedEx Global Possibilities' award, which recognizes student-run businesses that best exhibit the principles of global connectivity.
CorteX Wellness, led by a high school group of students from the UAE, was named the winner of the FedEx Possibilities Award for their development of a social enterprise who aims to advance positive mental health for student populations across the UAE and beyond. The company seeks to promote a happier and healthier world where all children receive adequate mental health support within the school environment, enabling them to thrive both personally and academically.
Jack Muhs, regional president of FedEx Express Middle East, Indian Subcontinent and Africa, said, "The MENA region is home to a dynamic and curious youth population. The opportunity to help prepare young people for the future is one we take seriously, as they hone their entrepreneurial spirit for an exciting future. Congratulations to all students who participated, and to CorteX, the winners of this year's FedEx Global Possibilities award."
FedEx has worked with Junior Achievement Worldwide globally for more than 40 years to ensure students are equipped with the right skillsets and provided the necessary guidance to build a successful future for themselves.
"I'd like to thank INJAZ Al-Arab and Junior Achievement Worldwide for their role in helping to prepare students around the world for what's next," continued Muhs.