FedEx Express Raises Road Safety Awareness amongst More Than 1,400 School children in Dubai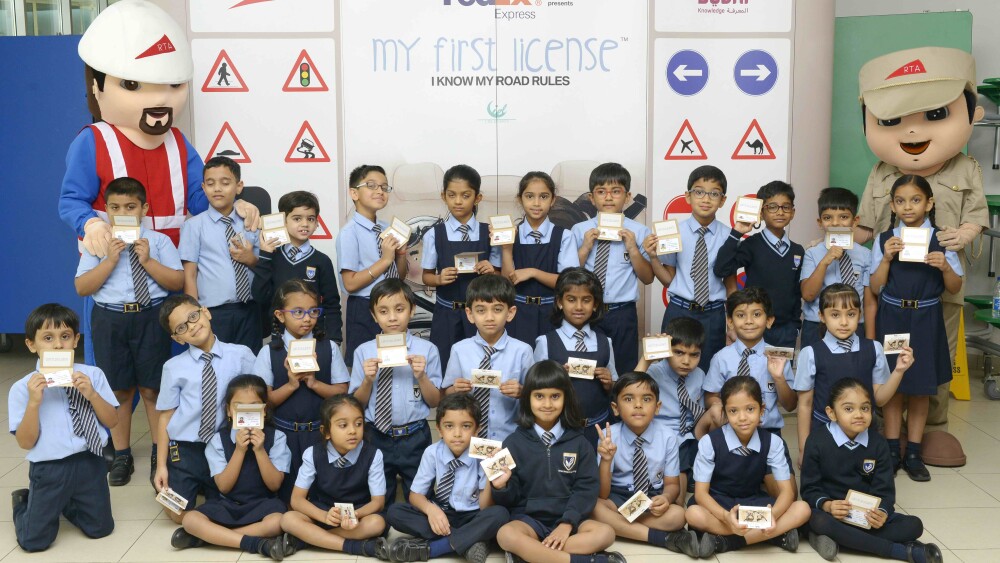 DUBAI, U.A.E, November 11, 2018 - FedEx Express, a subsidiary of FedEx Corp. (NYSE: FDX) and the world's largest express transportation company, is bringing road safety awareness to approximately 1,400 students to nominated schools in Dubai. The 'My First License™ – I Know My Road Rules' campaign will target schoolchildren between five to nine years old, and is endorsed by the Roads and Transport Authority (RTA) and the Knowledge and Human Development Authority (KHDA).
Students from GEMS Modern Academy, Rashid School for Boys, Latifa School for Girls, and GEMS Royal School of Dubai will take part in education sessions designed to educate children on basic road safety rules, focusing on safe practices such as crossing roads, and knowing the traffic signs and signals.
Taarek Hinedi, vice president of FedEx Express Middle East and North Africa Operations said, "As the world's largest express transportation company, we have thousands of our team members across the globe making deliveries every day, which provides us with valuable insights when it comes to addressing the growing challenge of road safety. Nearly half of the world's road casualties are among the most vulnerable road users, including children and pedestrians[1]. "Safety above all" is a guiding principle at FedEx, and supporting road safety activities is an essential part of our Global Citizenship activities. It is important for us to share our knowledge and experience, especially with younger members of the community, since we believe that safe road habits must start early in life."
Deema Hussein, traffic awareness senior manager at the Roads and Transport Authority added, "The main objective of My First License – I Know My Road Rules' initiative is to plant the seed of safety awareness in little minds when they are at that age that everything makes an unforgettable impression. Collaboration is essential to the safety of kids to sustain the achievement of "0" fatality around schools in Dubai. Road safety is a shared responsibility, this is why we welcome and encourage more organizations to be part of such initiatives that benefit the future generation."
As part of its Vision2021 strategy, the UAE's latest traffic regulations[2] aim to further protect the lives of road users and halve traffic casualties from about six per 100,000 people to three per 100,000.
With 85,000 motorized vehicles on the road in more than 220 countries and territories, FedEx Express is an ideal partner to share knowledge and support for safe driving. As a member of the global UN Road Safety Collaboration, FedEx supports the UN Decade of Action for Road Safety in its goal to save five million lives by 2020, sharing safety information with governments, non-profit organizations, and other corporations to help improve road conditions and educate drivers and pedestrians around the world. In addition to supporting road safety organizations, FedEx is a longstanding partner of Safe Kids Worldwide, working closely with them to improve pedestrian safety. In 2017 alone, the Safe Kids program reached more than one million children across 711 cities in ten countries.