FedEx Express Awarded 'Most Woman-Friendly Employer' by Global Women in Leadership Economic Forum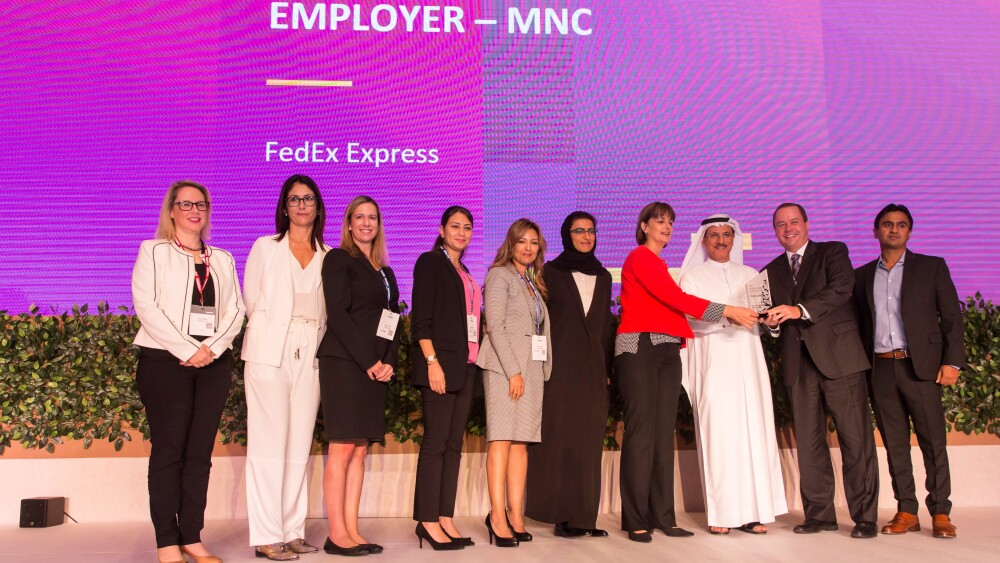 DUBAI, U.A.E., October 25, 2017 — FedEx Express, a subsidiary of FedEx Corp. (NYSE: FDX) and the world's largest express transportation company, has been awarded the 'Most Woman-Friendly Employer (Multi-national Company)' at the 19th Global Women in Leadership Economic Forum Awards ceremony, presented by H.E. Sultan bin Saeed Al Mansouri, UAE Minister of Economy.
FedEx was recognized as the 'Most Woman-Friendly Employer' as a result of its commitment to encouraging workplace diversity, retaining and promoting women.
Nathalie Amiel-Ferrault, Vice President Customer Experience and Marketing FedEx Express Middle East, Indian Subcontinent and Africa (MEISA), accepted the award on behalf of the company. "Diversity and inclusion are essential components of our corporate culture, and ingrained into the way we work every day. FedEx strongly believes that the capacity for a team member to be successful goes beyond gender, nationality, or race. With an unbiased view towards individuals, we have been able to develop a workplace in which every team member has an equal opportunity to thrive. We would like to thank the Global Women in Leadership Economic Forum for recognizing our efforts in enabling women to flourish in our company."
FedEx follows a People-Service-Profit (P-S-P) philosophy, which is based in the belief that a positive working environment will encourage team members to provide better quality service to customers, which in turn will lead to an outstanding customer experience. The company's workplace values and ethics have led it to be ranked as a Great Place to Work in the UAE for seven consecutive years.