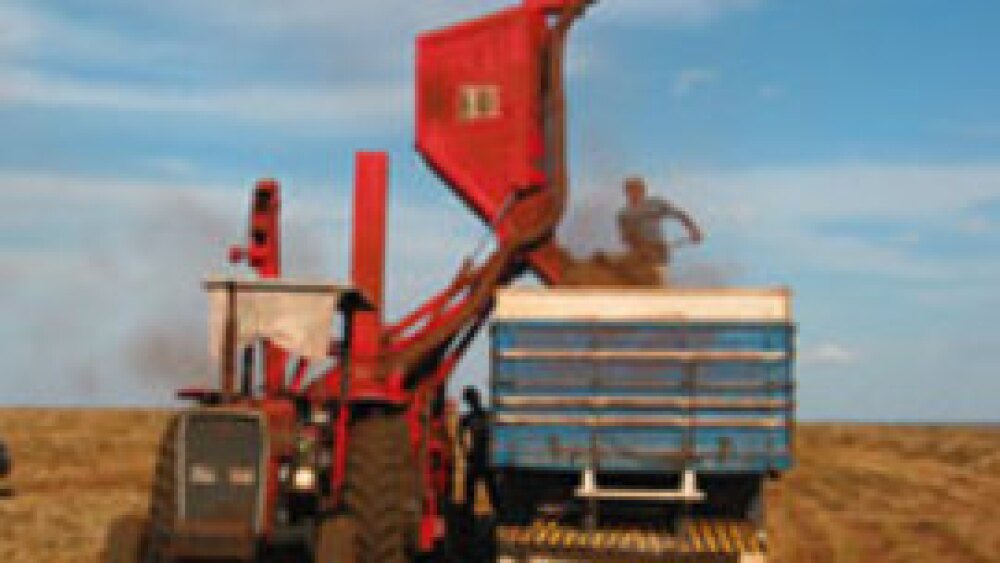 Semillas Papalotla S.A. de C.V. of Mexico was founded in 1992 as a family business with the goal of promoting fodder production technology, marketing, training and distribution of fodder seeds, some of which are unique hybrids made exclusively by the Papalotla Group.The company's primary markets are Mexico , the United States , the Caribbean, Central and South America .The success and operation of the business, as well as its growth, depend in great part on the efficiency of its distribution process.

Papalotla supplies the fodder seed market with new species of highly productive hybrid fodder that is resistant to disease and tolerant to droughts, mainly in tropical and subtropical climates.Technical consulting is part of the wide range of services offered by the company and provides farmers the information tools necessary to compete in the global economy.Papalotla's exports are estimated to be 20 tons per month on average, taking into account the seasonality of the product.

One of these products is the Pasto Mulato.According to the company, it is the first Brachiaria hybrid species in the world—a result of 14 years of natural breeding.Through this breeding, a fodder variety was created with optimum quality levels.This variety was developed by the CIAT (Centro Internacional de Agricultura Tropical – International Center for Tropical Agriculture).Headquartered in Colombia , CIAT gave the company exclusive rights for the use and commercial development of the Pasto Mulato.The Mulato fodder takes root quickly and produces excellent food with healthy leaves.

Semillas Papalotla became a member of the FedEx PyMEx Membership Program in 2006. Ever since joining the program, Semillas Papalotla has taken advantage of various benefits and tools at their disposal as members. Among those benefits is the online tool, "FedEX Ship Manager," that enables the company to keep records of all their completed shipments. By using "FedEX Ship Manager," Semillas Papalotla created its own database to archive valuable information about their clients from their shipping bills, giving the company the option to print out shipping labels and related paperwork in advance, thus saving time and lightening their employees' workload. They also use "FedEx InSight" to check the status of their exports and imports with reliable and timely updates. These tools have made it possible for Semillas Papalotla to save 90 percent of the time that previously had been lost to unforeseen events.

Semillas Papalotla needed a fast and efficient service that would prevent their product from being harmed as a result of remaining next to chemical products for long periods of time. They were looking for a service that would guarantee the on-time delivery of original documents that clients must have in order to receive their merchandise. FedEx offered them exactly what they needed, plus extra support and the ability to consult with their executives about any arising situations. An added benefit of the program is "PyMEx Ship and Save," which gave them access to discounts that significantly reduced their annual shipping costs. Additionally, the FedEx PyMEx Membership Program offers Semillas Papalotla the ability to participate, for free, in the many conferences and seminars that are coordinated throughout the year with Proméxico.

"Thanks to the FedEx PyMEx Membership Program, we achieved very positive results through enhanced tracking services, improved export consulting, better use of technology tools, such as software to input airway bills, and reduced package preparation time.Furthermore, we are enjoying cost efficiencies and reduced delivery times," said Andrei Nicolayevsky Lew, general director of Papalotla.

Since Semillas Papalotla joined the FedEx PyMEx Membership Program, it has increased its export volume by 60 percent.The growth was a result of the company's strong sales and marketing, as well as the high quality of its products.

The company's exports are expanding due in large part to the beneficial programs and services offered by the FedEx PyMEx Membership Program.As a result of its success, in 2006 Semillas Papalotla invested in a production plant in Mexico which enabled the company to enhance its seed product and export it across the world.

"FedEx provides great customer service to its clients, regardless of whether they are small, medium or large," Nicolayevsky said."The seed is a live product, and it should not be placed next to harmful chemical products for long periods of time.With FedEx we do not run that risk due to its fast and reliable service—which gives us great peace of mind.It is because of our quality products and reliable logistics services that we have gained the trust of our customers.We now have 35 people working for Semillas Papalotla in Mexico and we plan on growing."

The FedEx PyMEx Membership Program is an integral concept that seeks to develop a portfolio of services that facilitates the insertion of the small and medium exporters into the global market and as such contribute to its own development and that of the country.

FedEx Express developed the Program in agreement with Small and Medium Businesses Undersecretary, from Secretary of Economics of Mexico.

Since its creation, a little over three years ago, and through various tools, FedEx PyMEx Membership Program has helped more than 28,000 small and medium businesses on average, of which 9,000 companies have received support through diverse methods of consulting or consultancy which the program offers.For example, 6 exporters tradeshows have taken place, both national and regional in 22 cities, 64 seminars as part of the FedEx Tour and more than 300 seminars have taken place together with ProMéxico (formerly known as Bancomext) in different cities throughout the country; on the other hand, the Program's Internet website receives an average of 1,600 visits per month and the FedEx Express Call Center provides help to an average of 9,120 people per year.

Through this unique program, businessmen can develop and direct export projects that contribute to the growth and development of their own businesses, and have access to international business seminars, logistic process consulting, free e-commerce tools and a wide range of support services.