The Orbis Flying Eye Hospital Lands in Trujillo, Peru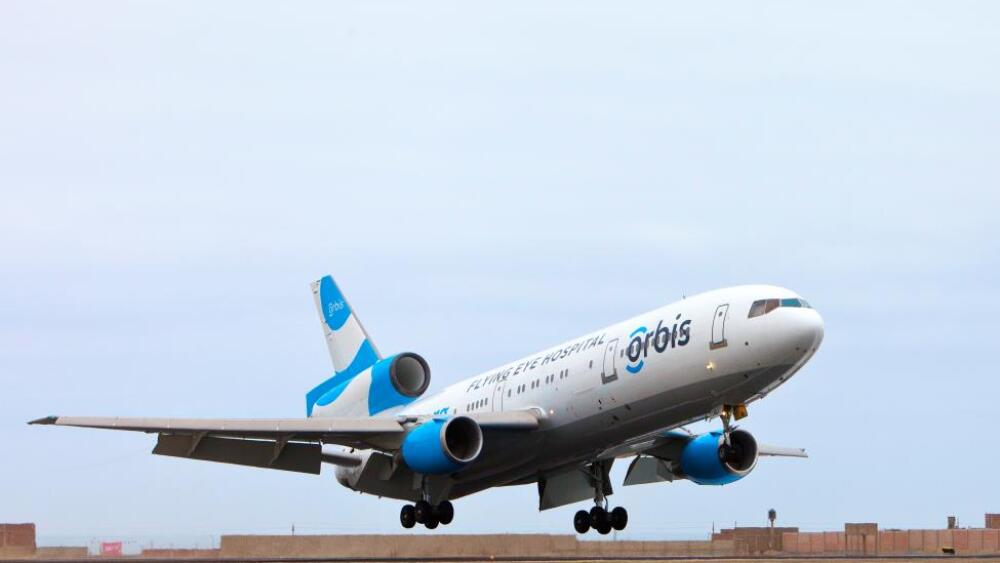 NEW YORK, September 9, 2014 – Orbis, a leading global non-governmental organization (NGO) that works to eliminate avoidable blindness, in cooperation with longtime global sponsor FedEx, is bringing the Orbis Flying Eye Hospital (FEH) back to Trujillo, Peru for a two-week intensive ophthalmic skills exchange program aimed at strengthening subspecialty training of the ophthalmic community throughout the La Libertad region.
In conjunction with Orbis's partner, Instituto Regional de Oftalmologia (IRO) and with support from the La Libertad Regional Ministry of Health, the program will focus on enhancing skills and knowledge within the subspecialty areas of cataract, glaucoma, medical and surgical retina, corneal diseases, oculoplastic and pediatric strabismus.
"Orbis has been working with IRO -Trujillo, Peru for the past 12 years to improve the quality of ophthalmic services through our long-term programs and regular training initiatives on the FEH," said Dr. Ahmed Gomaa, Medical Director, Orbis Flying Eye Hospital. "As part of this long term program, this is the fourth visit by the FEH to Trujillo and we are grateful to our longtime sponsor, FedEx, for helping to make this possible."
Orbis has also carried out other missions in Latin America including Panama City, Panama; San Salvador, El Salvador; Santo Domingo, Dominican Republic; and Kingston, Jamaica.
"As the global sponsor for more than 30 years, FedEx continues to support Orbis's global mission to eliminate avoidable blindness in the developing world and the Orbis FEH Program in Trujillo is one of the ways in the past few years that FedEx has provided additional support," said Julio C. Barrionuevo, Senior Vice President of Operations, FedEx Express Latin America and Caribbean Division. "Supporting programs that address the needs of local communities is a vital component of the FedEx long-term commitment to Orbis."
Orbis has partnered with IRO for 12 years building the Institute's capacity as a regional training, referral and a high quality treatment facility.
"The FEH program compliments our long-term program objectives in the region," explains Joan McLeod-Omawale, Regional Director, Orbis Latin America and Caribbean. 'We have recently launched the next phase of our Diabetic Retinopathy initiative and are excited to use the FEH visit to raise public awareness. The message is clear: If diagnosed with diabetes it is essential to get an annual eye exam. Early detection is the key to treating and avoiding irreversible blindness'.
Dr. Patricia Chirinos, a FedEx Fellow who recently completed a two-year Cornea fellowship in Mexico, will be among the local doctors involved in the FEH hands-on training program. The FedEx Fellows program was initiated in 2006 as part of the FedEx global initiative to combat avoidable blindness. It has sponsored fellowship training to promising ophthalmologists from Orbis programs around the world. To date, three doctors from Peru have been awarded FedEx Fellowships as well as ophthalmologists from China, Cambodia, the Dominican Republic, Ethiopia, India, Indonesia, Kenya, the Philippines and Vietnam.