FedEx to Expand Its Bonded Warehouse Facility in Guadalajara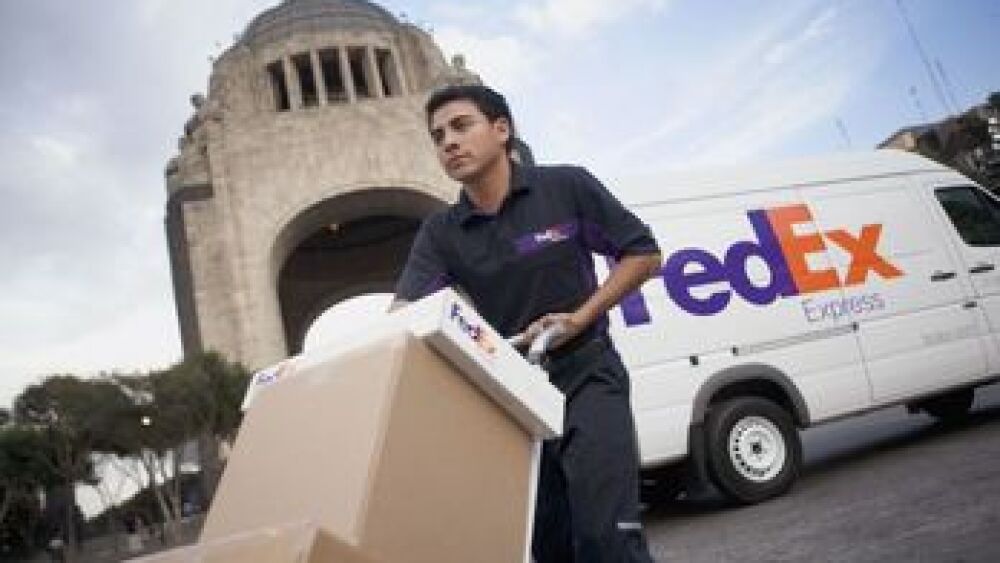 GUADALAJARA, Feb. 10, 2009—FedEx Express, a subsidiary of FedEx Corp. (NYSE: FDX) and the world's largest express transportation company, announced today the expansion of its Air Cargo Terminal and Bonded Warehouse facility at Miguel Hidalgo y Costilla International Airport in Guadalajara, Jalisco, which serves as a principal center of operations for FedEx Express international and domestic shipments in Mexico. The FedEx Guadalajara facility has 7,829 square meters of total work space.
The newly-expanded warehouse will help FedEx manage the growing demand of exports and imports transferred in Guadalajara, which according to the Mexico Institute of Transportation, stands at 90,000 tons every year.
"Mexico continues to show growing trade opportunities, and enabling a faster movement of goods for our customers and Mexico's trade is a priority for us at FedEx," said Juan N. Cento, president, FedEx Express, Latin America & Caribbean Division. "This expansion will help provide a competitive advantage to companies of all sizes and shows our continued commitment to the growth of this key market."
The expansion will add 3,866 square meters of warehouse space. The total area of the new facility will be 7,829 square meters, and will provide increased access for the entry and exit of trucks and general service equipment. Ten new truck docks will be built to enable safe load and unload operations.
The maneuvering area will be extended to 2,291square meters, giving the operation sufficient space to receive and load/unload vehicles and containers. A mechanized sort belt will optimize the warehouse space and will expedite package sorting, with a processing capacity of 4,000 packages per hour. The increased maneuvering area for inspection and handling of FedEx International Priority® Freight shipments will improve safety conditions and productivity. In addition to the increased area for truck maneuvering, storage area will grow by 83 percent. Additional room for package examination by customs inspectors will reduce the time for customs clearance and speed delivery of packages.
Employee safety and work conditions will also be enhanced by adding increased workspace as well as common areas such as restrooms, break and meeting rooms. The expanded operational areas for people, vehicles and equipment will improve safety, and security will also be enhanced by the addition of access control equipment, x-ray inspection and a closed-circuit TV monitoring system. Access control to the warehouse and office by employees and brokers will be strengthened, ensuring greater security for both employees and FedEx customers.
The FedEx Guadalajara Gateway serves 10 of the 32 Mexican states, and handles significant import and export volumes estimated at more than 90,718 kilograms on a daily basis. With the expanded facility, FedEx will be able to process the equivalent of more than 136,078 kilograms daily.
FedEx is currently one of only two companies that hold bonded status at the Guadalajara Airport, and the only private company with an exclusive bonded warehouse there. FedEx built the current site facilities and will also build the new expanded facility. The estimated construction timeline is 18 months.
Supporting FedEx Express Nacional for Domestic Shipping
To support the FedEx Express Nacional service launched in October 2008 for domestic express shipments across the country, the Company will also leverage existing infrastructure throughout Mexico, including operational facilities in Toluca, Monterrey and the recently-opened hub in San Luis Potosí. Toluca has the capacity to process up to 6,000 packages per hour; Guadalajara, currently 2,500 increasing to 4,000 packages per hour; and Monterrey, 1,100 packages and 1,450 documents per hour. The San Luis Potosí facility covers more than 2,000 square meters and has the capacity to process 6,000 shipments per hour.
FedEx customers in Mexico can also take advantage of the newly enhanced interactive service portal, www.fedex.com/mx, which offers simplified navigation, easier to find information and more powerful tools with which to meet their shipping needs. The portal features FedEx Ship Manager®, the free online shipping application which services all countries in the region, which now integrates its order and tracking functionality with the Rate, Transit Time and Pickup tools. This allows for easy sharing of information among them and eliminates time spent re-typing shipment data for each of these tools. From fedex.com/mx, customers can simultaneously prepare both domestic and international shipments. FedEx Ship Manager at fedex.com also allows customers to create labels, print waybills and access all fedex.com online tools quickly and easily.
For more information about FedEx Express Nacional, contact FedEx Customer Service at 01 800 900 11 00 (from within Mexico) or visit fedex.com/mx.
About FedEx Express Latin America & Caribbean Division
FedEx Express Latin America & Caribbean Division services more than 50 countries and territories throughout Latin America and the Caribbean and employs more than 3,400 people committed to total customer satisfaction each business day.
About FedEx
FedEx Corp. (NYSE: FDX) provides customers and businesses worldwide with a broad portfolio of transportation, e-commerce and business services. With annual revenues of $38 billion, the company offers integrated business applications through operating companies competing collectively and managed collaboratively, under the respected FedEx brand. Consistently ranked among the world's most admired and trusted employers, FedEx inspires its more than.290,000 employees and contractors to remain "absolutely, positively" focused on safety, the highest ethical and professional standards and the needs of their customers and communities. For more information, visit www.news.fedex.com.