FedEx Opens Mexico Domestic Hub in San Luis Potosí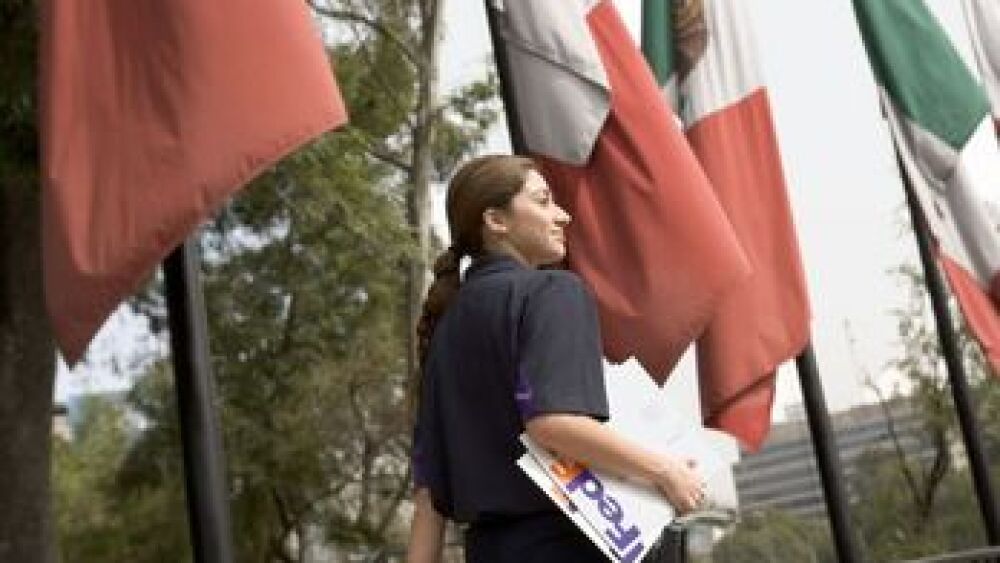 SAN LUIS POTOSI, Feb 9, 2009 - FedEx Express, a subsidiary of FedEx Corp. (NYSE: FDX) and the world's largest express transportation company, announces today the inauguration of the company's second Mexico-based domestic express service hub, located in San Luis Potosí, for FedEx Express Nacional shipments. Mexico is leading our business growth in the region, with the country's express shipping market in Mexico projected to grow to $1.5 billion in the next 10 years," said Juan N. Cento, president, FedEx Express Latin America & Caribbean. "The new state-of-the art facility in San Luis Potosí significantly expands our footprint and enhances the ability of FedEx to serve the country's growing need for world-class domestic express solutions and access to global markets."
The new San Luis Potosí Hub is located in a major commercial and industrial center that lies in an economically advantageous area at the heart of Mexico's "Golden Triangle," making it an ideal geographic location for a FedEx domestic service distribution center hub.
The city of San Luis Potosí is recognized for its political, social and economic stability, making it highly desirable for locating a major FedEx center of operation.
The facility covers more than 2,000 square meters and has the capacity to process 6,000 shipments per hour. FedEx expects the sorting capacity and the number of employees to increase during the next few years.
Like its sister hub in Toluca, the new San Luis Potosí facility is 100 per cent automated and leverages leading-edge technology that allows for faster operation and accuracy. To increase package processing speed, the new facility operates state-of-the-art conveyor and sorting systems, featuring 18 truck docks with hydraulic platforms, 51 meters of automated roller bed system and 21 meters of gravity roller bed for package sorting. The new hub also supports real-time package tracking technology.
FedEx customers in Mexico can also take advantage of the newly-enhanced interactive service portal, fedex.com/mx, which offers simplified navigation, information that's easier to find and more powerful tools with which to meet their shipping needs. The portal features FedEx Ship Manager®, the free online shipping application that services all countries in the LAC region, and which now integrates its order and tracking functionality with the Rating, Transit Time and Pickup tools. This allows for easy sharing of information among them and eliminates time spent re-typing shipment data for each of these tools. From fedex.com/mx, customers can simultaneously prepare both domestic and International shipments. FedEx Ship Manager at fedex.com also allows customers to create labels, print air waybills and access all fedex.com online tools quickly and easily.
FedEx Express Nacional covers all 32 Mexican states with the support of two centers of operations: in Toluca (Multiplex) and the new San Luis Potosí facility. Services include:
FedEx Express Nacional 10:30 a.m.
Next-business-day shipping service for time-critical documents and parcels up to 68 kg each. Service reaches all Mexico address codes by 10:30 a.m. the next business day.
FedEx Express Nacional Día Siguiente
Next-business-day shipping service for documents and parcels up to 68 kg each. Service reaches all Mexico address codes by end of the day the next business day.
To support the FedEx Express Nacional service, the Company will also leverage existing infrastructure throughout Mexico, including operational facilities in Toluca, Guadalajara and Monterrey. Toluca has the capacity to process up to 6,000 packages per hour; Guadalajara, 2,500 packages per hour; and Monterrey, 1,100 packages and 1,450 documents per hour.

For more information about FedEx Express Nacional, contact FedEx Customer Service at 5228-9904 (from within Mexico) or visit fedex.com/mx.
About FedEx Express Nacional
As part of the broad FedEx portfolio of shipping solutions, FedEx Express Nacional offers customers in Mexico the convenience of working with a single provider for both their domestic and international shipping needs. This service expansion builds on the success of FedEx domestic service offerings in key markets such as China, India, the UK and the U.S.
About FedEx Express Latin America & Caribbean
FedEx Express Latin America & Caribbean Division services more than 50 countries and territories throughout Latin America and the Caribbean and employs more than 3,400 people committed to total customer satisfaction each business day.
About FedEx
FedEx Corp. (NYSE: FDX) provides customers and businesses worldwide with a broad portfolio of transportation, e-commerce and business services. With annual revenues of $39 billion, the company offers integrated business applications through operating companies competing collectively and managed collaboratively, under the respected FedEx brand. Consistently ranked among the world's most admired and trusted employers, FedEx inspires its more than 290,000 employees and contractors to remain "absolutely, positively" focused on safety, the highest ethical and professional standards and the needs of their customers and communities. For more information, visit www.news.fedex.com.