FedEx Launches Domestic Service in Mexico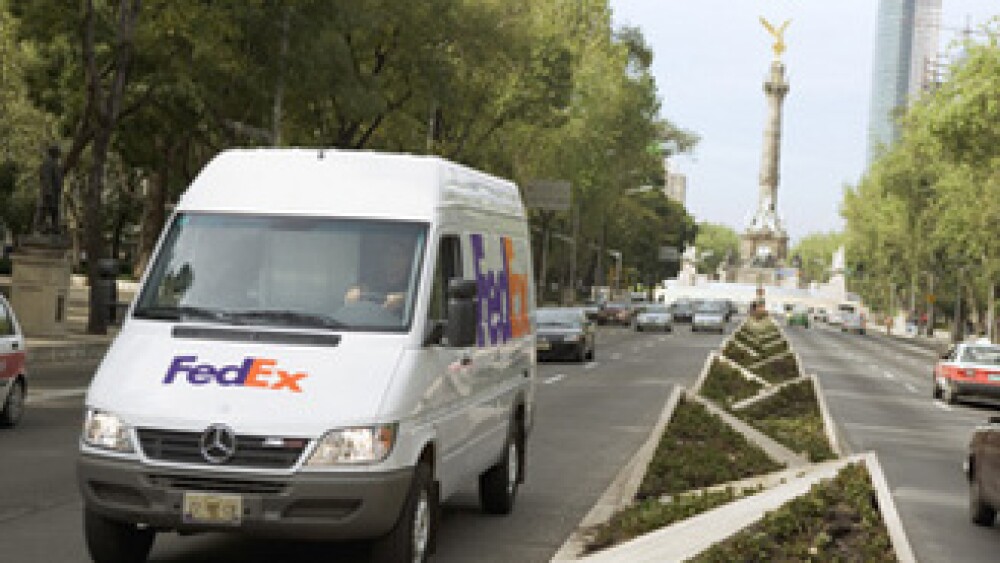 Memphis, Tenn., Aug. 27, 2008—FedEx Express, a subsidiary of FedEx Corp. (NYSE: FDX) and the world's largest express transportation company, announced today the introduction of FedEx Express Nacional, a domestic next-business-day service that provides highly reliable, convenient and quality express shipping solutions across Mexico. This follows the Company's domestic service launches in China, India and the UK, and is the first FedEx domestic service offering in Latin America.

"We are responding to an opportunity in the market for a domestic service in Mexico, delivering the same high-quality service, reliability and unparalleled transportation expertise FedEx provides in 220 countries and territories around the world," said Juan N. Cento, president of FedEx Express, Latin America and Caribbean Division. "Adding domestic service to our broad portfolio of international products increases our ability to further facilitate commerce for customers doing business in Mexico, demonstrating our continued commitment to the market and our confidence in its future growth."

FedEx Express Nacional begins operations on Oct. 6, 2008. The service features delivery to any address in Mexico, online tracking and tracing, and is backed by the FedEx money-back guarantee*. It includes:

•FedEx Express Nacional 10:30 AM (FedEx Priority Overnight® ): Next-business-day delivery in Mexico for documents and parcels weighing up to 68 kg, by 10:30 a.m.

•FedEx Express Nacional Día Siguiente (FedEx Standard Overnight® ): Next-business-day delivery by the end of the business day. Also for packages weighing up to 68 kg.

* Conditions apply

As part of the broad FedEx portfolio of shipping solutions, FedEx Express Nacional offers customers in Mexico the convenience of working with a single provider for both their domestic and international shipping needs. This service expansion builds on the success of FedEx domestic service offerings in key markets such as China, India and the UK.

"Mexico continues to be one of the fastest-growing markets in the express industry and a key part of FedEx international growth and profitability," said Michael L. Ducker, president International, FedEx Express. "Our established presence in Mexico throughout the past 17 years has provided Mexican businesses with unmatched access to the global economy. Now, with FedEx Express Nacional, customers also have world class domestic express solutions to reliably ship within the country's 32 states."

FedEx Express Nacional will initially create more than 180 jobs in operations, planning, engineering, sales and customer service, adding to the 1,000 currently employed at FedEx Express Mexico. The operational hubs for FedEx Express Nacional will be located in Toluca and in San Luis Potosí.

FedEx Express Nacional services will be available at all existing FedEx facilities in Mexico beginning Oct. 6, 2008, as well as through its network of FedEx Authorized ShipCenters® across the country. For more information about FedEx Express Nacional, contact FedEx Customer Service at 5228-9904 (from within Mexico) or visit http://fedex.com/mx.

About FedEx Express

FedEx Express is the world's largest express transportation company, providing fast and reliable delivery to more than 220 countries and territories. FedEx Express uses a global air-and-ground network to speed delivery of time-sensitive shipments, by a definite time and date with a money-back guarantee.

About FedEx

FedEx Corp. (NYSE: FDX) provides customers and businesses worldwide with a broad portfolio of transportation, e-commerce and business services. With annual revenues of $38 billion, the company offers integrated business applications through operating companies competing collectively and managed collaboratively, under the respected FedEx brand. Consistently ranked among the world's most admired and trusted employers, FedEx inspires its more than 290,000 employees and contractors to remain "absolutely, positively" focused on safety, the highest ethical and professional standards and the needs of their customers and communities. For more information, visit news.fedex.com.