FedEx Introduces Economic Alternative for Less Urgent Shipments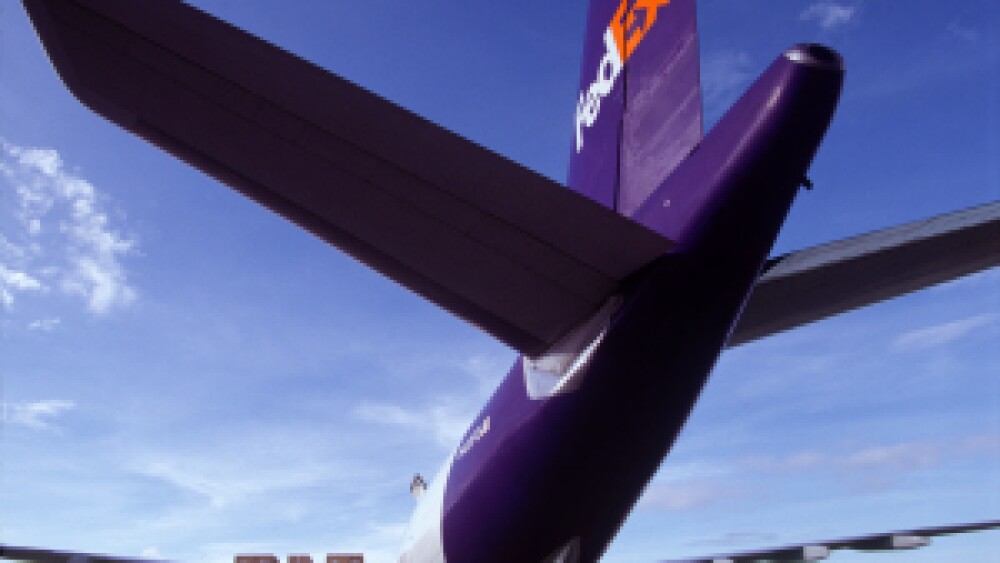 SÃO PAULO, November 4 , 2009 — FedEx Express, a subsidiary of FedEx Corp. (NYSE: FDX) and the world's largest express transportation company, today announced the expansion of its international shipping portfolio with a suite of economy services. This expansion provides customers in Brazil with more choices for their less urgent shipments, to more destinations around the world, at lower costs.

Effective October 31, 2009, FedEx Express offers Brazilian exporters FedEx International Economy® to 203 destination countries and territories, and FedEx International Economy® Freight to 83 destination countries and territories. These services provide door-to-door, customs-cleared, time-definite delivery, and are an economical alternative for less urgent shipments, characterized by the same quality, service and reliability expected from FedEx.

FedEx International Economy services feature competitive rates that can range up to 28% less than FedEx International Priority® rates. In addition, small and medium exporters can benefit from further savings through the FedEx PyMEx program, designed to help these companies successfully penetrate the global marketplace fedex.com/br/pymex. Key features of the FedEx Economy services include:


Delivery typically in 4-6 days

24-hour real time shipment status tracking at fedex.com and via e-mail

Customs clearance

Money-back guarantee
"Businesses around the world are seeking cost-effective alternatives to keep their competitive edge and still reach new market opportunities," said Carlos Ienne, managing director for FedEx Express in Brazil. "Our new economy services provide more choices and cost savings, all with the same reliability that FedEx is known for around the world."

With the new FedEx economy services, customers doing business internationally now have more opportunities to improve their global supply chains, a strategic imperative for businesses large and small. "Industry studies and entrepreneurs themselves are telling us about the impact today's global economy is having on supply chains and the urgent need to reduce costs," said Ienne. "At FedEx, we listen to our customers and believe that FedEx International Economy services are perfect for small and medium businesses in Brazil that are striving to compete in the global market."

Receita Federal indicates that small and medium businesses (SMBs) represent more than 98% of Brazilian firms, confirming how crucial they are for the country's economic development. In 2010, according to the latest research from SERASA, a financial services and information firm, Brazil will increase its exports by 1.25 percent. Further, the research indicates that 13,000 small and medium companies will take part in this trend, up from 10,000 in 2009. The new FedEx International Economy services will help these SMBs continue to participate in international markets with competitive costs and services.

FedEx International Economy and FedEx International Economy Freight services complement the existing FedEx Express international portfolio, which includes FedEx International Priority®, FedEx International Priority® Freight and FedEx International First®, designed for more time-sensitive shipments.

Economic Express Exports and National Entrepreneurship Week
As part of its efforts to support SMBs in Brazil, FedEx also provides education on cost-effective ways to take advantage of trade opportunities. During National Entrepreneurship Week, FedEx will hold a free webinar on November 17, entitled "Economic Express Exports" (Exportação Expressa Econômica), via Terra's portal. Dr. Nelson Luvico, from the Ludovico Institute of International Trade and special consultant to FedEx, will address critical subjects like customs, strategic planning, reliable and cost-effective transportation solutions, as well as safety and security. To register for "Economic Express Exports" please visit www.exportacaoeconomica.com.br.

More information about FedEx international shipping services can be found by visiting fedex.com/br.

About FedEx Express Latin America & Caribbean
FedEx Express Latin America and Caribbean division services more than 50 countries and territories throughout the region and employs more than 3,400 people committed to total customer satisfaction. FedEx Express LAC has acted as a pillar of growth for the region and continues its commitment through the FedEx PyMEx program, the first initiative to partner with small and medium exporters by offering innovative ways to access the global marketplace.
About FedEx Corp.
FedEx Corp. (NYSE: FDX) provides customers and businesses worldwide with a broad portfolio of transportation, e-commerce and business services. With annual revenues of US$34 billion, the company offers integrated business applications through operating companies competing collectively and managed collaboratively, under the respected FedEx brand. Consistently ranked among the world's most admired and trusted employers, FedEx inspires its more than 275,000 team members to remain "absolutely, positively" focused on safety, the highest ethical and professional standards and the needs of their customers and communities. For more information, visit news.fedex.com.