FedEx Improves International Shipping Experience in Mexico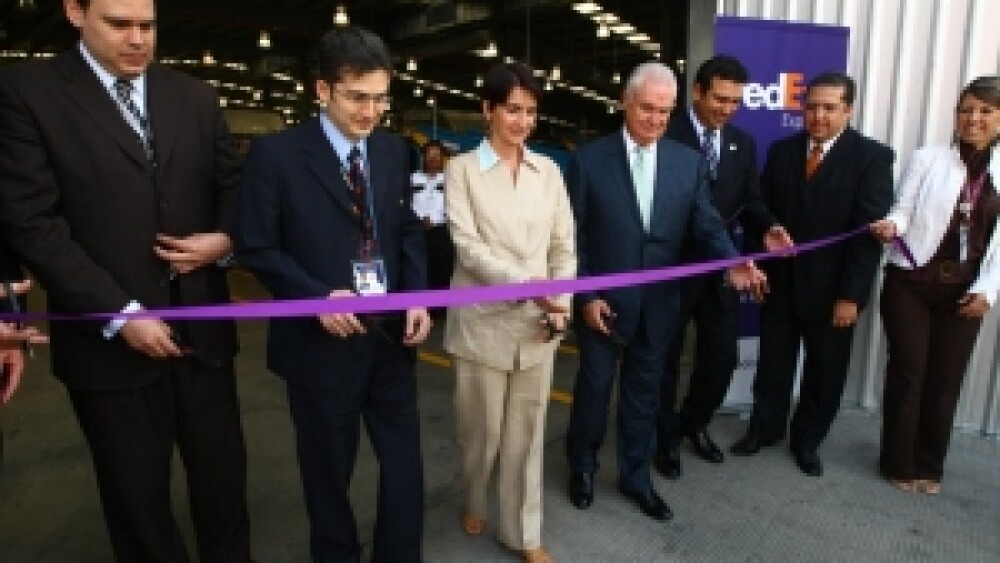 GUADALAJARA, October 15, 2009 - FedEx Express, a subsidiary of FedEx Corp. (NYSE: FDX) and the world's largest express transportation company, announced today the opening of its expanded Bonded Warehouse at the Guadalajara International Airport in Jalisco. With this expansion, FedEx will further support businesses of any size, shipping internationally to and from 10 Mexican states, with larger and faster shipment processing capacity and custom clearance efficiencies.

The newly expanded FedEx Bonded Warehouse adds 3.907 square meters to the original 3.963 square meters, reduces shipment processing time by up to 40 percent with a capacity of 4,000 packages per hour, and increases storage capacity by 83 percent. The additional space for package examination by customs brokers improves the efficiency of the customs clearance process and speeds availability of urgent shipments to customers. State-of-the-art technology also speeds processing, with same-day delivery of inbound shipments and faster outbound freight delivery.

"We have added a larger processing capacity and faster customer clearance process to our bonded warehouse in Jalisco to allow us to further strengthen our Mexico operations and offer our customers better control over their own international commerce operations," said Juan N. Cento, president of FedEx Express, Latin America and Caribbean Division. "FedEx helps ease their way through many of the complexities of international trade." FedEx is the only express carrier that has been authorized by the relevant authorities to operate a bonded warehouse in Guadalajara, which greatly enhances security for FedEx shipments, also.

Importers and exporters in Jalisco, Guanajuato, Aguascalientes, Colima, San Luis Potosí, Michoacán, Zacatecas, Sinaloa, Baja California Sur and Durango will enjoy benefits of:


Faster clearance and delivery of urgent shipments to certified businesses,

Faster availability of inbound shipments to selected brokers, and

Earlier transmission of the Electronic Manifest Notification to selected brokers.
Additionally, FedEx increased its capacity to process same-day-arrival clearance and delivery of shipments to cities like Guadalajara, Leon, Aguascalientes and San Luis Potosi by 20 percent. FedEx customers will further enjoy these additional service features:


Pre-selection and screening of customs broker

Simplified shipment management process

Hazardous materials management

Immediate shipment accessibility

Refrigeration Services

Special high-value items area
FedEx expands international shipping options
FedEx also announced new FedEx International Economy ® services as part of its portfolio of international shipping solutions in Mexico. The new services will offer Mexican customers more choices for their less urgent shipments to more destinations around the world, at lower costs.

Effective October 31, 2009, FedEx Express will start offering a more economical alternative for less urgent shipments. From Mexico, FedEx International Economy® to 204 destination countries and territories, and FedEx International Economy® Freight to 83 destination countries and territories, will provide a door-to-door, customs-cleared and time-definite delivery solution at lower cost, but with the same quality, service and reliability expected from FedEx.

In this economy businesses are looking for cost effective solutions without the loss of strong reliability. With these new service and cost options and the improved efficiencies at our bonded warehouse in Guadalajara, we are showing our commitment to helping customers take advantage of their global commerce opportunities," added Cento. "The FedEx International Economy services are also excellent options for small and medium businesses interested in exporting their goods."
Service features include delivery typically in 4-6 days, 24-hour shipment status tracking at fedex.com/mx and via e-mail, customs clearance and the FedEx money-back guarantee.
Expansion benefits national service
The expanded Guadalajara facility now has a total area of 7,870 square meters, which includes 3,866 square meters of warehouse space, a maneuvering area of 2,291 square meters for loading and unloading vehicles and containers and, 10 new truck docks to enable safe load and unload operations. While the expansion benefits customers who ship internationally, the larger capacity will also add efficiencies to the FedEx Mexico network and services, including the FedEx Express Nacional portfolio.

"FedEx Express Nacional customers will notice more flexibility and efficiency in our shipments within Mexico," added Cento.

About FedEx Express Latin America & Caribbean
FedEx Express Latin America and Caribbean services more than 50 countries and territories and employs more than 3,400 people committed to total customer satisfaction. FedEx Express LAC has acted as a pillar of growth for the region and continues its commitment through the FedEx PyMEx Membership program, the first initiative to partner with small and medium exporters by offering innovative ways to access the global marketplace.

About FedEx Corp.
FedEx Corp. (NYSE: FDX) provides customers and businesses worldwide with a broad portfolio of transportation, e-commerce and business services. With annual revenues of $34 billion, the company offers integrated business applications through operating companies competing collectively and managed collaboratively, under the respected FedEx brand. Consistently ranked among the world's most admired and trusted employers, FedEx inspires its more than 275,000 team members to remain "absolutely, positively" focused on safety, the highest ethical and professional standards and the needs of their customers and communities. For more information, visit news.fedex.com.

# # #