FedEx Express Provides Customers Location Information at Their Fingertips with Interactive Online Locator Tool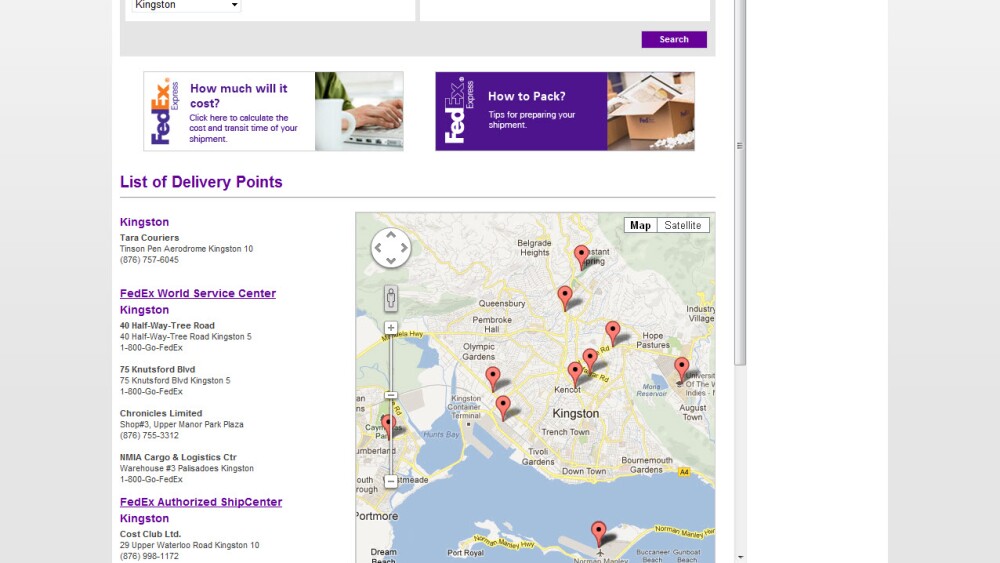 MIAMI, January 9, 2013 – FedEx Express, a subsidiary of FedEx Corp. (NYSE: FDX) is now offering a new Interactive Online Locator Tool that provides pinpointed information on FedEx locations to its customers throughout Latin America and the Caribbean.
The Interactive Online Locator Tool, with versions available in English, French, Spanish and Portuguese, helps customers find the most convenient drop-off locations in their markets. Its advanced search capabilities filter searches by state, city, district or postal code where applicable, while allowing them to search by location type and hours of operation, depending on their specific needs.
Additionally, the Interactive Online Locator Tool provides interactive maps of 46 countries, so users can view graphical information on drop-off points throughout Latin America alongside complete location information.
"The Latin American and Caribbean region is one of high growth and is key for FedEx long term success," said Donald J. Miller, vice president of Marketing for FedEx Express Latin America and Caribbean. "We've taken several initiatives over the past few years to strengthen our presence and network specifically in Latin America, and our Online Locator Tool is another testament to our commitment to provide our customers in this region with the best tools and technology to better serve them."
Specifically designed with the small and medium business customer in mind who mostly ship from FedEx retail locations, the Interactive Online Locator Tool is mobile friendly and can easily be accessed via smartphone for customers on the go. No installation is necessary for this intuitive, interactive tool.

*Customers should input their country code to access their local market site