FedEx Express Inaugurates Logistics Center in Panama to Strengthen Supply Chain Services in Latin America and the Caribbean
The New Center Uses Cutting-Edge Technology to Expand Portfolio of Business Logistics Solutions in the Region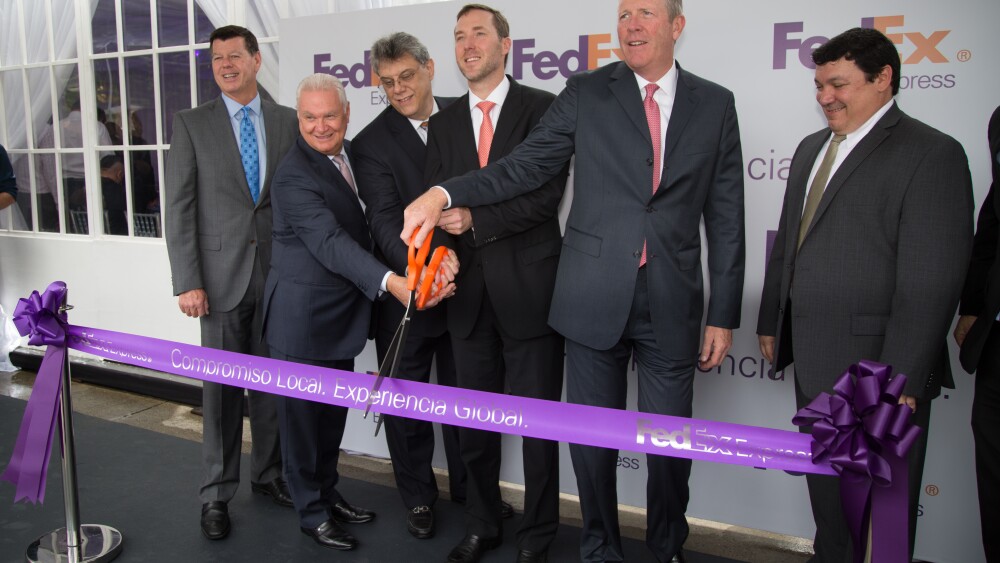 PANAMÁ, April 19, 2017 — FedEx Express, a subsidiary of FedEx Corp. (NYSE: FDX) and the world's largest express transportation company, today announced the inauguration of the new FedEx Logistics Center in Panama Pacifico. The opening is part of the company's plan to deliver a broader portfolio of solutions and expand its presence in the Latin American and Caribbean region.
FedEx has made a series of improvements and advancements to its supply chain network in markets across Latin America and the Caribbean, which reflect the company's commitment to the region, generated by the growth of these markets and the evolving needs of customers seeking comprehensive and reliable logistics solutions.
FedEx maintains a vast global shipping and information network that provides customers with a portfolio of diverse and customized logistics solutions that help their businesses grow. Working hand-in-hand with customers, FedEx engages with customers to understand their business requirements in order to develop optimal logistics solutions, enabling them to operate more efficiently and deliver exceptional benefits.
"FedEx offers clients global access backed by local experience in an effort to promote international and domestic trade in Latin America and the Caribbean," said Juan N. Cento, president of FedEx Express Latin America and Caribbean. "For this reason, we drive the growth of our markets, connecting companies with global opportunities. We carefully match each of our programs to the business requirements of each individual customer in order to improve supply chain performance. At FedEx, we are excited to incorporate Panama to our global network, which delivers innovative and tailored solutions."
The Panama facility reinforces the company's 20-year commitment to markets across Latin America and Caribbean with state-of-the-art infrastructure and an experienced team to strengthen the local portfolio of integrated solutions.
The FedEx Logistics Center features the following:



Strategic location in the rapidly-expanding condominium zone in Panama

Temperature-controlled capabilities of 15ºC-25ºC and 2ºC-8ºC

Capability for modular expansion and flexible enough to expand under the same roof

A free-trade zone

Regional coverage for Central American clients, with transportation services such as less-than-truckload (LTL) shipping and full-truck-load (FTL) shipping needs
In addition, the center offers specialized logistics operations services for warehouses capable of optimizing receiving, storage, product and customer care, and product transfers. The services are targeted to specialized sectors such as technology, healthcare (medical devices and pharmaceuticals), the automotive industry, telecommunications, electronics and retail.
FedEx has also extended its network of logistics solutions in countries such as Puerto Rico, Chile, Costa Rica, Guatemala, Mexico and Brazil with services that include:



Managing critical inventory with proactive monitoring and visibility

Accessing inventory and order information in real-time

Utilizing world-class warehouse space

Delivering all offerings on par with FedEx quality and service standards
Thanks to the FedEx Latin America and Caribbean network, customers will have access to the best local logistics services and the most knowledgeable working professionals in the industry.
About FedEx Express Latin America and Caribbean Division
FedEx Express Latin America and Caribbean "FedEx Express LAC" serves more than 50 countries and territories and employs more than 19,000 people committed to total customer satisfaction. FedEx Express LAC offers a broad portfolio of transportation and logistics solutions, acting as a pillar of growth for the region, and continues its commitment to small, medium and large exporters by offering innovative ways to access the global marketplace.
About FedEx Express
FedEx Express is the world's largest express transportation company, providing fast and reliable delivery to more than 220 countries and territories. FedEx Express uses a global air-and-ground network to speed delivery of time-sensitive shipments by a definite time and date supported by a money-back guarantee[1] .
About FedEx Corp.
FedEx Corp. (NYSE: FDX) provides customers and businesses worldwide with a broad portfolio of transportation, e-commerce and business services. With annual revenues of $58 billion, the company offers integrated business applications through operating companies competing collectively and managed collaboratively, under the respected FedEx brand. Consistently ranked among the world's most admired and trusted employers, FedEx inspires its more than 400,000 team members to remain "absolutely, positively" focused on safety, the
highest ethical and professional standards and the needs of their customers and communities. To learn more about how FedEx connects people and possibilities around the world, please visit about.fedex.com.
NOTE TO EDITORS: FedEx Express press releases are available on the World Wide Web at www.fedex.com.
For further information, please contact:
FedEx Express, LAC Division Burson-Marsteller
Anylda Morales Maria Isina Areco
anylda.morales@fedex.com mariaisina.areco@bm.com
Phone: +1-786-388-2757 Phone: +1-305-347-4325
Mobile: +1-305-310-5531 Mobile: +1-646-266-4770
# # #
[1] Subject to relevant terms and conditions