FedEx Express Enhances Express Freight Service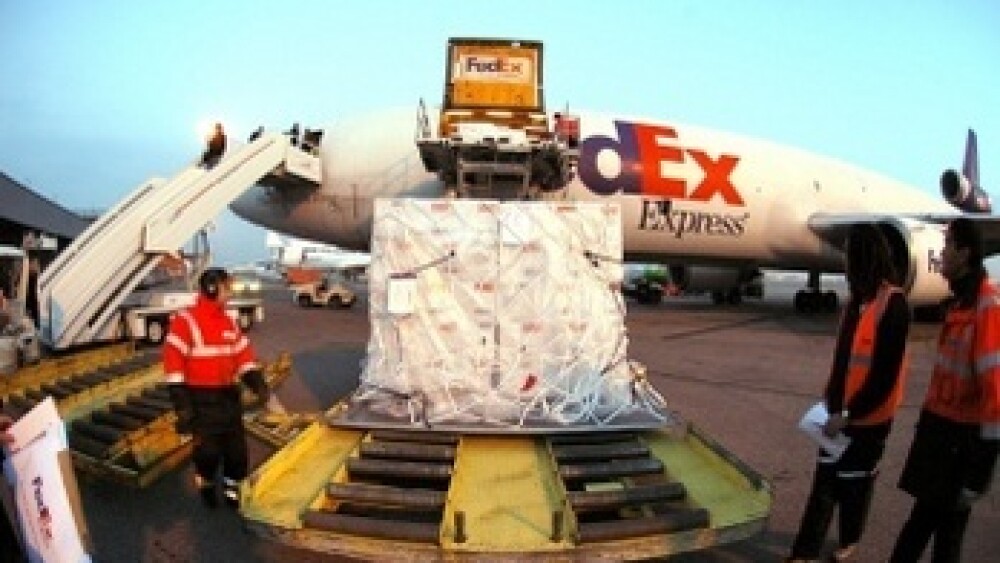 MEMPHIS, Tenn., March 5, 2007—FedEx Express, a unit of FedEx Corp. (NYSE: FDX), is increasing the reach of its FedEx International Priority Freight service to cover more than 130 countries and is significantly enhancing its domestic FedEx Express Freight service.

FedEx Express Freight is a time-definite, premium airfreight service for domestic and international palletized shipments weighing more than 150 lbs. It also is available for shipments exceeding normal size restrictions. All FedEx Express Freight services are backed by the FedEx Money-Back Guarantee.

After launching an additional 64 markets in Europe, Latin America, Africa, the Middle East and the Caribbean beginning in August 2006, FedEx International Priority Freight is now offered in more than 130 countries. FedEx international services connect areas representing more than 90 percent of the world's GDP in one to three business days.

"With these enhancements to FedEx International Priority Freight, FedEx continues to open the world to our customers—from small business owners to multinational companies," said Rajesh Subramaniam, senior vice president of international marketing for FedEx Express. "FedEx also offers the broadest portfolio of freight services in the transportation industry, ranging from the highly-specialized services of FedEx Custom Critical to less-than-truckload solutions from FedEx Freight."

In Latin America and the Caribbean, 10 countries and territories including Argentina, Bermuda, Brazil, Chile, Colombia, Dominican Republic, Mexico, Panama, Puerto Rico and Venezuela now enjoy both inbound service as well as outbound services to 130 countries covered by the new expansion.

In addition, after a two-phase worldwide rollout, 27 new countries and territories in the Latin America and Caribbean region will now enjoy inbound FedEx International Priority Freight services. The full list of new destinations includes Antigua, Aruba , Bahamas , Barbados , Belize , Bermuda, Cayman Islands, Costa Rica , Curacao , Ecuador , El Salvador , Grenada , Guatemala , Guyana , Haiti , Honduras , Nicaragua , Nigeria , Peru , Uruguay , Trinidad & Tobago, St. Croix, St. Kitts , St. Lucia , St. Maarten, St. Thomas and the Turks & Caicos Islands.

FedEx offers a full portfolio of freight services for almost every customer need and time frame:


FedEx Custom Critical provides specialty freight delivery for urgent shipments in the contiguous U.S. , Canada and Mexico with air solutions available worldwide.

FedEx Expedited Freight Services offer multiple services for time-critical shipments requiring faster service in the contiguous U.S. and worldwide by air.

FedEx Express Freight provides customers with time-definite, guaranteed delivery in one, two or three days in the U.S. and now in more than 130 countries worldwide.

FedEx Freight has several day-definite solutions with less-than-truckload freight delivery within the U.S. , Canada , the Caribbean, Central and South America, Europe, Mexico , Puerto Rico and inbound from Asia .

FedEx Ground offers FedEx Ground Multiweight shipping in the U.S. , Canada and Puerto Rico with day-definite delivery.

FedEx Trade Networks provides brokerage of ocean freight and air cargo for all major world markets.
About FedEx Express

FedEx Express is the world's largest express transportation company, providing fast and reliable delivery to every U.S. address and to more than 220 countries and territories. FedEx Express uses a global air-and-ground network to speed delivery of time-sensitive shipments, by a definite time and date with a money-back guarantee.

FedEx Express Latin America & Caribbean Division services more than 50 countries and territories throughout Latin America and the Caribbean and employs more than 3,400 people committed to total customer satisfaction each business day.

About FedEx

FedEx Corp. (NYSE: FDX) provides customers and businesses worldwide with a broad portfolio of transportation, e-commerce and business services. With annual revenues of $35 billion, the company offers integrated business applications through operating companies competing collectively and managed collaboratively, under the respected FedEx brand. Consistently ranked among the world's most admired and trusted employers, FedEx inspires its more than 275,000 employees and contractors to remain "absolutely, positively" focused on safety, the highest ethical and professional standards and the needs of their customers and communities. For more information, visit fedex.com.