FedEx Continues to Evolve and Strengthen Offerings Portfolio in Mexico with New, Advanced Logistics Center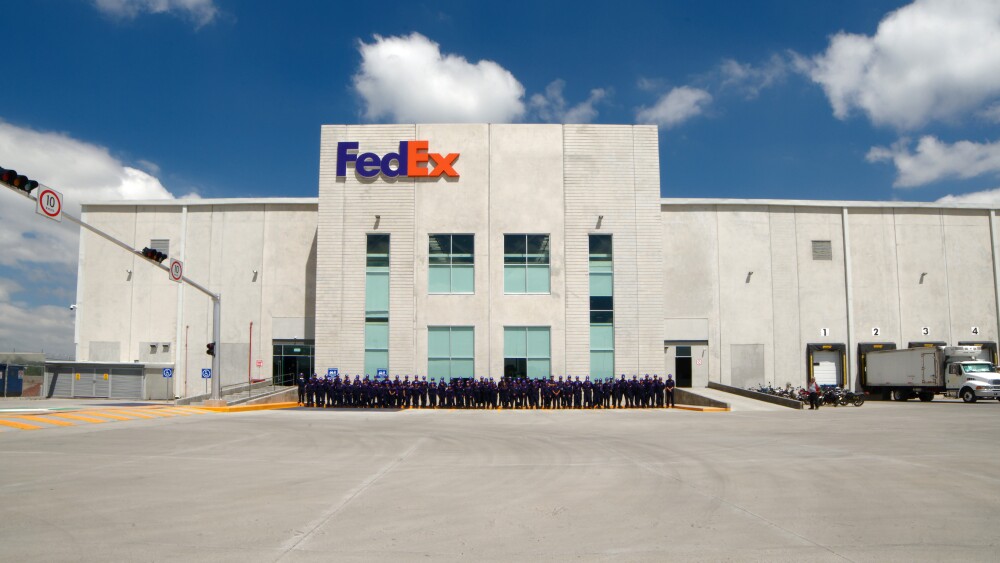 As part of an expansion plan begun in 2011, the new FedEx Logistics Center in Mexico will occupy a 270,000 sq. ft. facility.

In this way, FedEx combines state-of-the-art installations with the talents of a highly professional logistics team to offer a complete service offering to its clients in the region.
State of Mexico, Nov. 3, 2016—FedEx Express, a subsidiary of FedEx Corp. (NYSE: FDX) and the world's largest transportation company, today began operations at a new FedEx Logistics Center located in the El Peral Industrial Park in the municipality of Cuautitlan Izcalli in the State of Mexico.
The new center combines the capabilities of an advanced facility with a talented team of logistics professionals to provide a comprehensive service offering to its many customers, which now includes unloading, storing and transferring of products and packages.
The center is part of a five-year expansion plan by FedEx in Mexico, as the company seeks to meet customer needs and expand its service offerings.
"Having an advanced facility in the area of supply chain is critical to promoting international trade. That's why we at FedEx continue to drive growth in our Latin American markets, connecting companies with global opportunities through alliances and investments and always aiming to meet the current needs of each country or territory in which we operate," said Juan Cento, president of FedEx Express Latin America and the Caribbean.
The new 270,000 sq. ft. facility will allow the company to consolidate all logistics operations in one place, providing better control of inventory with real-time visibility and traceability of all shipping and movements. Highlights of the new center include:



26 loading and unloading platforms

More than 86,000 sq. ft. of storage space in selective rack systems of up to seven levels with 12,734 available positions

Mezzanine with three levels of 15,000 sq. ft. each

Maquila added-value station

Post-sale reverse logistics customer care area

Control tower for monitoring critical deliveries throughout the country

Inventory administration operated by state-of-the-art WMSs

Modulated growth capacity
Grand opening event attendees included Lic. Eruviel Ávila, governor of the State of Mexico; Adrian Villalobos Fuentes; secretary of Economic Development; Juan Cento, president of FedEx Express Latin America and the Caribbean, Julio Barrionuevo, senior vice president, Operations for FedEx Express Latin America and the Caribbean, and Jorge Luis Torres, president of FedEx Express Mexico. They were joined by FedEx team members and customers.
"The opening of the FedEx Logistics Center reflects the company's commitment to Mexico in all aspects and our interest in promoting national growth by providing a larger supply chain network for small, medium, and large Mexican enterprises to have access to a comprehensive, first-class solutions portfolio that meet trade and the local market needs," said Jorge Torres, president of FedEx Express Mexico. "In this way, FedEx continues to grow and expand its portfolio of services, creating business opportunities for its clients in Mexico and offering greater support to Mexican companies in all sectors and industries."
FedEx is currently one of the largest and most important logistics companies in Mexico, having a strong market share in the country's courier and parcel industry with more than 1000 local outlets, five air cargo terminals, one logistics center, 12 warehouses, 45 forwarding stock locations, 84 stations, more than 1,300 ground vehicles, and three aircraft supporting both domestic and international operations.
FedEx Express continues to expand its infrastructure and services in Latin America and the Caribbean to meet the needs of customers in the entire region.
For more information visit: www.fedex.com
About FedEx Express Latin America and Caribbean Division
FedEx Express Latin America and Caribbean serves more than 50 countries and territories and employs more than 19,000 people committed to total customer satisfaction. FedEx Express LAC offers a broad portfolio of transportation and logistics solutions, acting as a pillar of growth for the region, and continues its commitment to small, medium and large exporters by offering innovative ways to access the global marketplace.
About FedEx Corp.
FedEx Corp. (NYSE: FDX) provides customers and businesses worldwide with a broad portfolio of transportation, e-commerce and business services. With annual revenues of $58 billion, the company offers integrated business applications through operating companies competing collectively and managed collaboratively, under the respected FedEx brand. Consistently ranked among the world's most admired and trusted employers, FedEx inspires its more than 400,000 team members to remain "absolutely, positively" focused on safety, the highest ethical and professional standards and the needs of their customers and communities. To learn more about how FedEx connects people and possibilities around the world, please visit about.fedex.com.
# # #