FedEx Delivers COVID-19 Vaccines in U.S Virgin Islands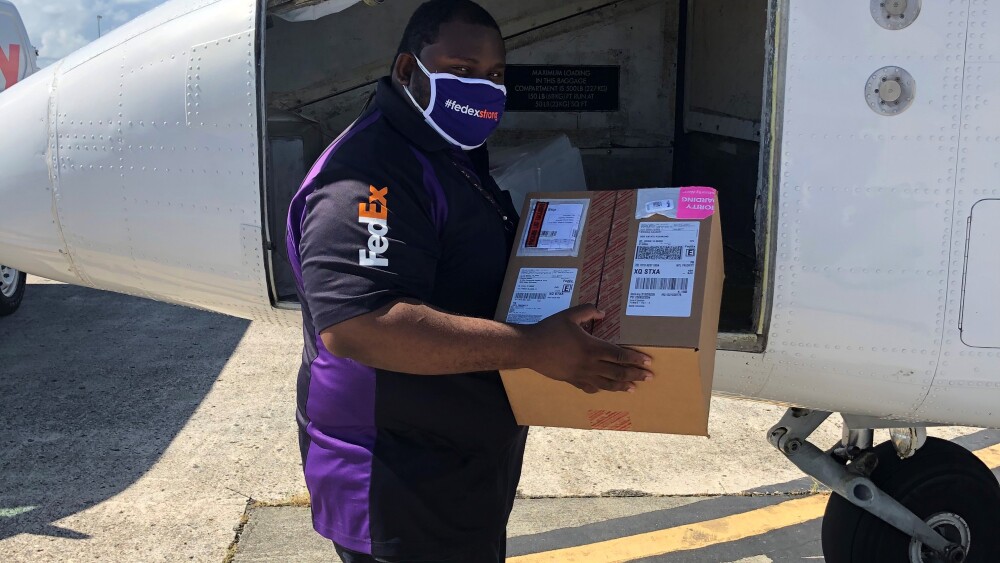 CHARLOTTE AMALIE, U.S. Virgin Islands, December 22, 2020 –FedEx Express announces the delivery of the first shipment of Pfizer-BioNTech COVID-19 vaccines in the United States Virgin Islands on December 17. This initiative is part of the company's commitment to safely distribute the critical COVID-19 vaccines across the United States and around the world.
Juan N. Cento, regional president of FedEx Express Latin America and Caribbean, stated that the corporation's top priority is to deliver vaccines safely and on time. "FedEx has begun shipping COVID-19 vaccines in the United States, and now we are proudly transporting them to the U.S. Virgin Islands. This is among the most important work in the history of our company. We have a long history of supporting relief efforts when disasters strike, and we see it as our purpose and responsibility to use our network and expertise during this time of global need."
"Time-definite express transportation of critical shipments is exactly what our FedEx Express network was built to do when it launched in 1973", said Richard W. Smith, regional president of the Americas and executive vice president of global support, FedEx Express. "Almost five decades later, we are proving true to our founding mission by delivering critical COVID-19 vaccines."
The FedEx network is well-positioned to handle COVID-19 vaccine shipments worldwide with temperature-control solutions, near real-time monitoring capabilities, and a dedicated healthcare team to support the express transportation of vaccines and bioscience shipments.
About FedEx Express in Latin America and the Caribbean
FedEx Express Latin America and Caribbean serves more than 50 countries and territories and employs more than 26,000 people committed to total customer satisfaction. FedEx Express LAC offers a broad portfolio of transportation and logistics solutions, acting as a pillar of growth for the region, and continues its commitment to small, medium, and large exporters by offering innovative ways to access the global marketplace.
About FedEx Corp.
FedEx Corp. (NYSE: FDX) provides customers and businesses worldwide with a broad portfolio of transportation, e-commerce and business services. With annual revenue of $71 billion, the company offers integrated business solutions through operating companies competing collectively, operating collaboratively and innovating digitally under the respected FedEx brand. Consistently ranked among the world's most admired and trusted employers, FedEx inspires its nearly 600,000 team members to remain focused on safety, the highest ethical and professional standards and the needs of their customers and communities. To learn more about how FedEx connects people and possibilities around the world, please visit about.fedex.com.