St. Jude Children's Research Hospital® Patient Honored by FedEx Express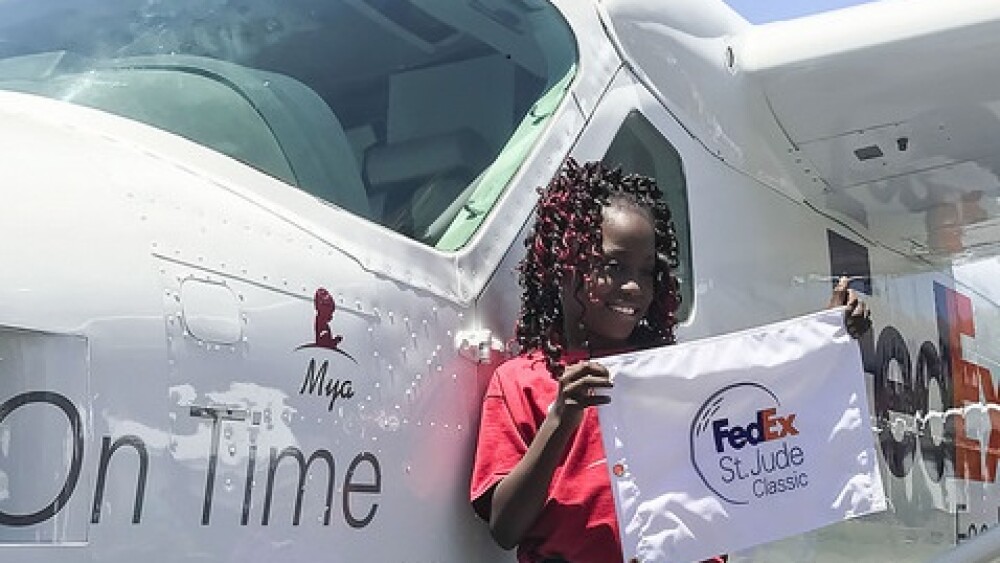 MEMPHIS, Tenn., June 7, 2018 — For the seventh consecutive year, a St. Jude Children's Research Hospital patient's name will be displayed on a FedEx Express (NYSE: FDX) Cessna Caravan airplane as part of the Purple Eagle program, which honors a St. Jude patient who is the child or grandchild of a FedEx team member.
This year's Purple Eagle honoree is 10-year-old Mya, the granddaughter of 24-year FedEx team member Susie Rounds. Mya, who is undergoing treatment for sickle cell disease at St. Jude, was honored yesterday at an unveiling ceremony at TPC Southwind, home of the 61st Annual FedEx St. Jude Classic. The cargo plane, bearing the St. Jude logo, will be on display throughout the tournament and Mya's name will travel along the North Central region of the United States as a permanent fixture on the FedEx Cessna Caravan at the conclusion of the FedEx St. Jude Classic.
"The Purple Eagle program is a special way for FedEx to honor a St. Jude patient who is the child or grandchild of a FedEx team member and bring attention to the life-saving work being done by the hospital every day," said Bill West, Jr., Vice President of Supplemental Air Operations for FedEx Express. "It's been a privilege getting to know Mya and learn about her inspirational story, and we're honored to add her name to our Purple Eagle fleet."
"Mya was ecstatic when she learned that FedEx was naming the Purple Eagle plane after her," said Susie Rounds. "We are so thankful for the care she has received at St. Jude and appreciate all that they do in helping families like ours overcome this disease.
Sickle cell disease has been a research and treatment priority at St. Jude dating back to the founding of the hospital in 1962. Today, St. Jude has one of the largest pediatric sickle cell programs in the country with more than 850 patients, and will support World Sickle Cell Awareness Day on June 19 to help increase public knowledge and raise awareness about sickle cell disease.
"Thank you to FedEx and its employees for providing this unique opportunity to honor Mya, who represents all of the patients at St. Jude who are courageously battling life threatening diseases like sickle cell disease and cancer," said Richard Shadyac Jr., President and CEO of ALSAC, the fundraising and awareness organization for St. Jude Children's Research Hospital. "FedEx employees have whole-heartedly embraced the lifesaving mission of St. Jude and are helping us raise the critical funds and awareness to find cures for some of the world's sickest children."
FedEx first became the title sponsor of the FedEx St. Jude Classic in 1986. The tournament has raised more than $38 million for St. Jude since 1970, when the hospital became the sole beneficiary. Because of dedicated supporters like FedEx, families never receive a bill for treatment, travel, housing or food—because St. Jude believes that all a family should worry about is helping their child live.