Raj Subramaniam: Positioning FedEx for 2020 and Beyond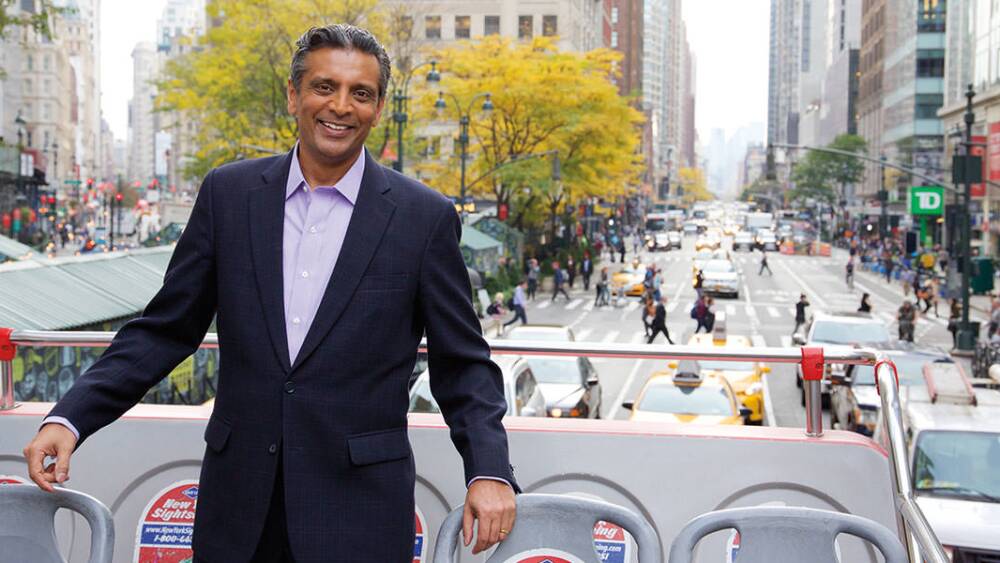 Raj Subramaniam, President and COO of FedEx Corporation, is as global as e-commerce itself, having held positions from Memphis, Tenn., to Hong Kong, to Canada over the course of his 28 years with the company. Charged with driving success for FedEx in the age of e-commerce, which is predicted to account for more than 90% of the incremental growth in the U.S. Domestic parcel market between 2018-2026, Subramaniam is a key player in evolving the strategy to handle this growth.
In 2019, you were named President and COO of FedEx. What challenges do you face and how are you overcoming them?
Business has been completely revolutionized by e-commerce. Consumers want speed, convenience and visibility, and we have to meet those demands by creating new solutions. People shop online all day every day, expecting their items to arrive as quickly and conveniently as possible, with a seamless returns experience.
Since I took this role last year, our company has implemented digital and physical innovations that allow businesses to meet and exceed growing customer expectations, all while keeping their own brand and marketplace.
These include:


Adding Dollar General stores to the FedEx Retail Convenience Network bringing the total to more than 62,000 retail locations, including FedEx drop boxes.

Making returns easier by rolling out FedEx Returns Technology at Walgreens, enabling people to print return shipping labels in the store.

Expanding Freight Direct, the first FedEx service to make deliveries through the door and into residences and businesses

Delivering residential packages every day of the week through FedEx Ground

Offering dynamic route optimization technology – near-real-time data that can be used by FedEx Ground service providers to plan efficient delivery routes and make decisions about vehicle mix and workforce to accommodate the volume associate with e-commerce growth

What's around the corner for FedEx? Can you give a preview of what's next?
As one of the initial disrupters in this space, we are not afraid to disrupt. That's why we continue to pursue and try innovative solutions to meet the customer where they are.
Right now, we are testing innovations that could revolutionize how the goods we buy are delivered. For example, Roxo, the FedEx SameDay Bot, represents a new market for FedEx and is undergoing rigorous real-world testing to obtain critical feedback about customer needs and expectations; and FedEx Express and Wing launched a pilot program for drone deliveries with a goal of enhancing last-mile service for urgent same-day deliveries and for customers in rural or semi-rural areas, a new opportunity for growth for local businesses.
Additionally, we're using vast amounts of data to drive operational efficiencies, investments in new products and services, and experiences tailored to the individual. Data has allowed us to introduce innovations like dynamic route optimization and enhanced user notifications. The more we use this information to enhance our services, the better experience we're delivering for our customers – and our customers' customers.
We're always working on ways to exceed customer demands. Watch this space — there's much more to come.
Earlier this month, FedEx announced that FedEx Express would contract with FedEx Ground to transport and deliver certain packages. Tell us about this decision and why you did it.
In this new model, FedEx Express will contract with FedEx Ground for the transport and delivery of select residential Express shipments. These packages will enter the FedEx Ground network as any other customers' packages would – to be sorted in our stations and delivered by service providers and will meet the original delivery commitment date.
This is another step in our Compete Collectively, Operate Independently, Manage Collaboratively strategy, aimed at optimizing the transportation and last mile of residential deliveries. With FedEx Ground handling certain Express shipments, FedEx Express is able to focus on the business-to-business and premium business-to- consumer shipments that its integrated air-ground network was designed to serve. We'll begin in March with select residential shipments that originate in the Greensboro, North Carolina, market, and it will be expanded to shipments in other markets in April and beyond.
[addvideo video_id="https://vimeo.com/394004057/e55e6b6574" video_name="Last Mile Optimization in Action" image_url="/wp-content/uploads/2020/02/FedExWorker.jpg" video="Vimeo"]
What makes FedEx different from its competition?
One of our biggest competitive advantages is the culture we have at FedEx. Our more than 490,000 people around the world are committed to the Purple Promise: "I will make every FedEx experience outstanding." We're all working toward a common goal of connecting people and possibilities around the world, helping businesses grow and communities prosper, and the commitment our team shows sets us apart from the competition.
I recently wrote a LinkedIn article about this very subject. In it, I talk about Steve and Angela, two FedEx team members who helped a small business customer clear his product through customs after his supplier made an error. In a rented van, the customer drove from his home in Boise, Idaho, to the FedEx facility in California where his products were scheduled to arrive from China, just in time for a trade show. However, when he arrived, he learned the products in which he had invested thousands of dollars were stuck in customs, and FedEx was his only hope.
This is where our team members' commitment to the Purple Promise comes in. Steve and Angela jumped into action, correcting the customs clearance, handling the paperwork, forklifting the boxes, bringing them down the freight elevator, and loading them into his van. They knew that this was this difference between small business success and failure. Stories like Steve and Angela's happen all the time because our team members are committed to outstanding customer service.
What are you most excited about as we move into 2020?
Where do I begin? FedEx is at the intersection of the world's digital and physical networks – which is an extraordinary opportunity for innovation. There will always be something new that can shift consumer expectations or the way we do business. FedEx was born through innovation and innovation has been at the heart of our operations since we began in 1973.
We constantly evolve to meet changing expectations and to meet customers wherever they need it, in whatever form they need it, as seamlessly as possible. We're looking for opportunities to make life easier for our customers, to develop solutions that consider customers' desires, expectations, and behaviors for today and for the future.
Innovation excites me and it's part of our DNA at FedEx. We continuously assess market trends and the needs of our customers to determine where we go next.
I cannot wait to see where innovation will take us this year and beyond.