National Fish and Wildlife Foundation and FedEx Team Up to Protect the Environment
Team Members Volunteer for Urban Conservation Projects as Part of FedEx Cares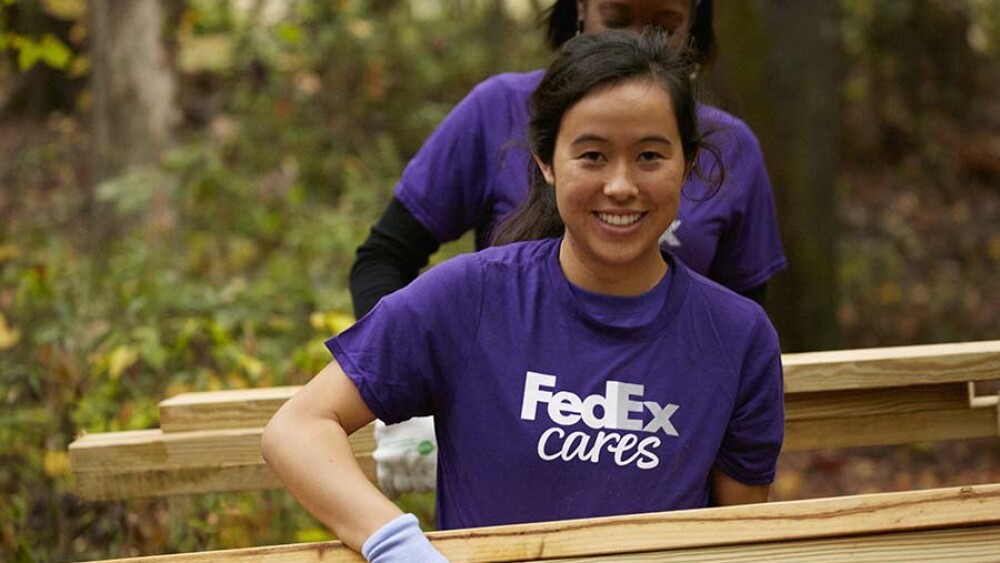 MEMPHIS, Tenn., April 18, 2016 — FedEx Corp. (NYSE: FDX) is teaming up with the National Fish and Wildlife Foundation (NFWF) to protect and restore plants, fish, wildlife and habitats in communities across the nation for the seventh consecutive year. More than 500 FedEx team members across 16 cities will participate with local nonprofits this spring to address pressing urban environmental challenges.
"Our collaboration with NFWF is a shining example of FedEx Cares in action," said Jenny Robertson, director of Citizenship and Reputation Management at FedEx. "A significant portion of our operations, people and facilities are based in metropolitan centers, and our team members have always valued helping to create positive change and making their hometowns cleaner, healthier and more sustainable."
The projects were chosen and funded by grants from FedEx Cares, NFWF and the other partners of the Five Star and Urban Waters program, totaling more than $592,000 to support these 16 critical conservation projects.
FedEx Cares is the company's new global giving platform through which FedEx will invest $200 million in more than 200 global communities by 2020 to create opportunities and deliver positive change.
"The FedEx relationship supports efforts in cities throughout the nation to enhance habitat for wildlife, people and future generations," said Jeff Trandahl, executive director and chief executive officer of NFWF. "Since 2009, FedEx has supported 107 projects through this relationship, and hundreds of FedEx employees have volunteered each year to assist in completing many of these conservation efforts. This remarkable track record shows a deep commitment to community stewardship of local natural resources."
This year's volunteer projects include:



Restoring endangered forest habitat in Oregon

Paddling the Mystic River in Massachusetts to remove invasive plants

Preventing pollution from stormwater runoff and trash debris in New York

Establishing school-based learning gardens in North Texas
The 16 cities participating this year are: Atlanta, Boston, Colorado Springs, Dallas, Indianapolis, Los Angeles, Memphis, Miami, Milwaukee, New York, Philadelphia, Phoenix, Pittsburgh, Portland, San Francisco, and Seattle.