FedEx Freight Technicians Dominate at TMCSuperTech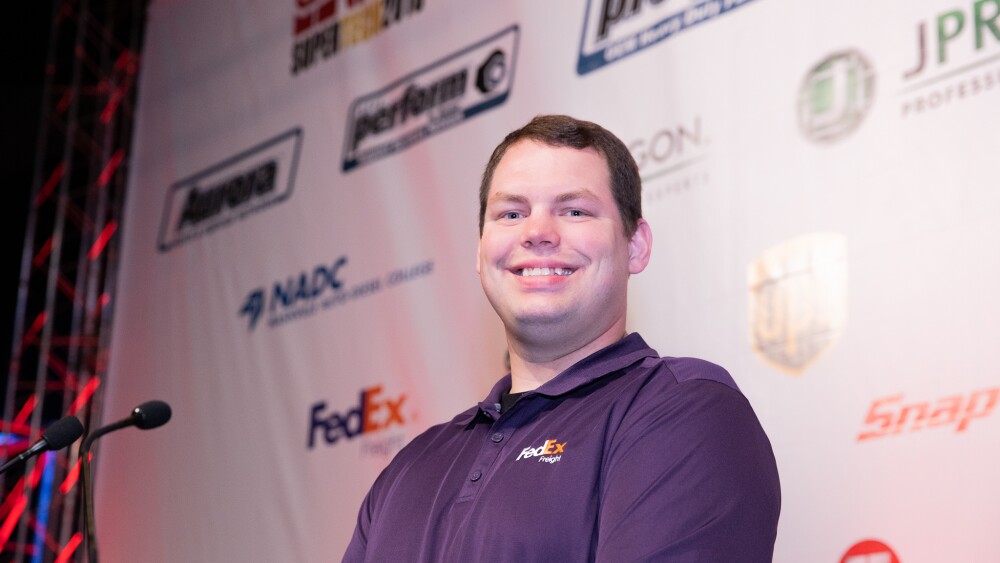 Led by Phillip Pinter, who captured the Grand Champion title, fleet maintenance technicians from FedEx Freight, a subsidiary of FedEx Corp. (NYSE: FDX), swept eight of the top 10 finishes at the 2018 TMCSuperTech competition held in Orlando, Fla.
TMCSuperTech is the American Trucking Associations' premier skills competition for professional commercial vehicle technicians.
This is the sixth straight year FedEx Freight had a technician win the Grand Champion title. Pinter, a technician at the Detroit service center, joins Mark McLean Jr. (2013, 2014, 2017) and Eric Vos (2015, 2016) as Grand Champions over the past six years. Pinter also won two skills test stations – 5th Wheel and Drive Train.
Kelby Bentley (Greensboro, N.C.) finished as the national runner-up. Doug Nickles (Rock Island, Ill.) earned the third-place title. Philip Barlow (Jacksonville, Fla.) placed fourth. Fifth-place went to Matt Sloan (Jacksonville, Fla.).
Three other FedEx Freight technicians finished in the top-10.
Larry Coatney (Harrison) placed sixth. Joseph Paul (Des Moines, Iowa) placed seventh. Marc Place (Orlando, Fla.) was 10th.
FedEx Freight also captured the team trophy for the sixth consecutive year, thanks to the combined scores of Nickles and Sloan. FedEx Freight remains the only fleet to ever win the team competition since its inception in 2013.
FedEx Freight technicians also had the top two finishes in the new Light and Medium Duty Truck competition track.
Troy Rispoli (Pocono Summit, Pa.) became the inaugural Light and Medium Duty Truck competition champion. James Fagan (Hermiston, Ore.) was the track runner-up. The tandem combined to win 11 of 17 stations during the competition.
More than 150 technicians from across the industry faced off in the competition. They were challenged with a written exam and hands-on skills tasks which tested each technician's knowledge of shop safety, precision measuring, safety and environment, brakes, trailer lighting systems, torque, electrical, preventative maintenance and more.
"We continue to be amazed by the true team effort set forth by the FedEx Freight technicians," said Joe Oleson, managing director, equipment and maintenance support. "They continue to push each other and make each other better. The rewards received are a by-product of what they do each and every day at FedEx Freight to support the service product we provide. It goes to show the value of qualified, capable technicians and the role they play in a major fleet."
As part of its support of STEM/Employment Pathways, FedEx Freight sponsored six student technicians who competed at FutureTech, TMC's National Student Technician Competition, which was held in conjunction with SuperTech.
Four of the students sponsored by FedEx Freight won skills stations, while two finished among the top three. Daniel Hibl (WyoTech, Laramie, Wyo.) finished second. Cody Bryan (Vermont Technical College, Randolph Center, Vt.) finished third.