FedEx Works with US DOE, PlugPower Inc. & CharlatteAmerica to Rollout World's First Zero Emissions, Hydrogen Fuel Cell Ground Support Equipment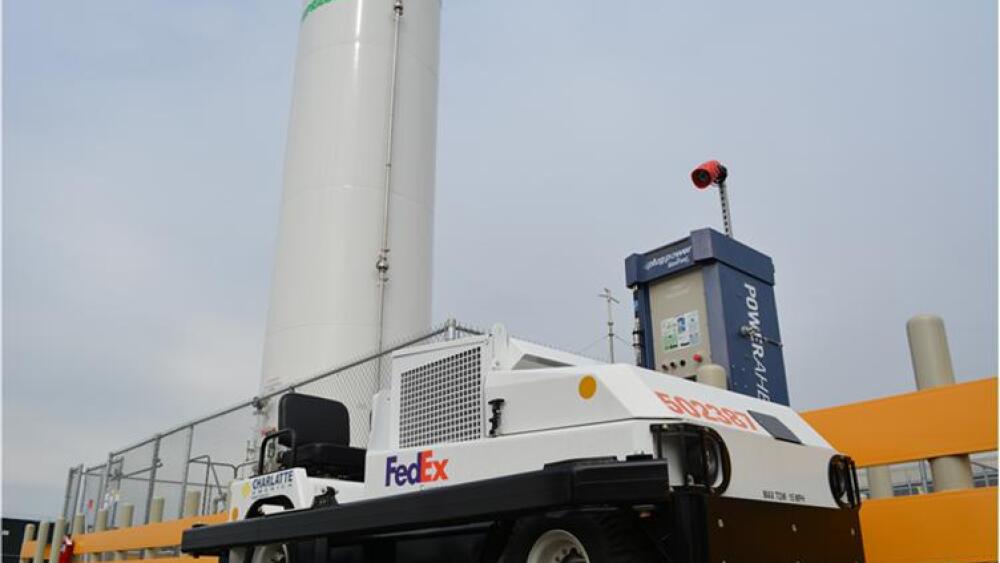 Congressman Steve Cohen Applauds Innovation and Environmental Sustainability Efforts at FedEx World Hub
MEMPHIS, Tenn., April 9, 2015 — FedEx Corp. (NYSE: FDX) in collaboration with the U.S. Department of Energy, Plug Power Inc. (NASDAQ: PLUG), and CharlatteAmerica, today rolled out the 'world's first zero emissions, hydrogen fuel cell ground support equipment (GSE).' Under a $2.5 million grant awarded from the Department of Energy, FedEx is operating 15 hydrogen fuel cell-powered Charlatte GSEs and a Plug Power Inc. hydrogen fueling station.
U.S. Congressman Steve Cohen joined the project team for a test drive demonstrating the capabilities and performance attributes of the GSE tractors.
"Whether helping secure the $15 million TIGER grant that is funding the Main2Main project or promoting forward-looking clean energy programs, I have long worked to make Memphis a more sustainable and innovative community," said Congressman Cohen. "I am pleased that FedEx and Fred Smith share these goals, not just with their cutting edge air cargo and distribution efforts, but with environmentally advances projects like these that improve our environment by reducing carbon footprints while bolstering our economy. I was proud to vote for the American Recovery and Reinvestment Act which provided the start-up funds for the fuel cell industry and other forward-looking technologies."
The 15 hydrogen fuel cell powered GSE cargo tractors are now part of a fleet of more than 1,500 gas, diesel, and electric cargo tractors at the FedEx World Hub that move an average 20 million pounds, approximately 2 million shipments, every day. The units are fueled by hydrogen, dispensed directly into the fuel cell systems by the truck driver from a 15,000 gallon liquid hydrogen fueling infrastructure located on the airport ramp.
"While these hydrogen fuel cell powered cargo tractors may not look big, they are capable of pulling 40,000 lbs. of cargo on airport dollies in even the harshest weather conditions; and they embody our strong commitments to innovation and to reducing our environmental footprint," said John Dunavant, vice president of the FedEx Express World Hub in Memphis, Tennessee.
This is not the only project that FedEx has worked on with Plug Power and the Department of Energy. Recently, FedEx worked with Plug Power and the Department of Energy to install and test GenDrive brand hydrogen fuel cells in 35 forklifts at a FedEx Freight facility in Springfield, MO.
"GenDrive hydrogen fuel cell-powered equipment offers significant values - they are incredibly efficient and have zero emissions, only producing heat and water as by-products," said Plug Power Inc. CEO, Andy Marsh, whose company installed the GenFuel hydrogen fueling station and retrofitted the GSEs for GenDrive hydrogen fuel cell-power. "We are proud to be working with FedEx and US DOE on innovative applications that are expanding the use of hydrogen fuel cells across the country."
According to the Annual FedEx Global Citizenship Report released on April 2, FedEx Express has improved its overall vehicle fuel efficiency by an additional 2.5%, bringing the cumulative improvement to 29.5% from a 2005 baseline. Having nearly achieved its goal of 30% by 2020, the company expects to surpass and then revisit that goal in 2015.
"We believe that we can decrease our environmental footprint while simultaneously expanding our business – and the data backs that up," said Mitch Jackson, vice president of Environmental Affairs and Sustainability, FedEx Corp. "This year, we continued to reduce our emissions even as our revenue and the number of items we deliver have gone up."