FedEx Logistics Opens Global Headquarters in Downtown Memphis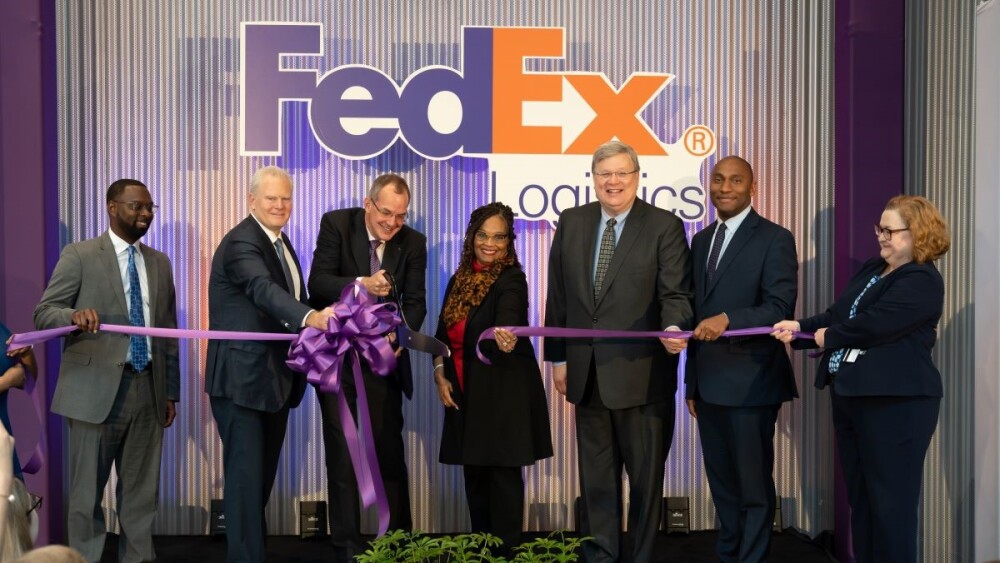 MEMPHIS, Tenn. Tuesday, April 5, 2022 – FedEx Logistics, Inc., a subsidiary of FedEx Corp. (NYSE: FDX), today held an opening event at its new Global Headquarters in Downtown Memphis — a new focal point for the company's global operations in 34 countries and territories.
"Great cities have great buildings. From this magnificent facility, our employees will collaborate, innovate, and serve our global customers," said Udo Lange, president & CEO, FedEx Logistics. "The FedEx Logistics Global Headquarters is a vision for the future of global commerce, or as we like to say at FedEx: it's where now meets next."
FedEx Logistics — which invested more than $50 million to sustainably renovate the building and help rejuvenate downtown — offers air and ocean cargo, warehousing and distribution, customs brokerage, and trade solutions that attract additional customers, and add incredible value, to the FedEx portfolio.
At the press conference, FedEx Logistics announced a donation of $20,000 to Boys & Girls Clubs of Greater Memphis at the event.
"With the opening of this fantastic new headquarters and a generous donation to a worthy cause, FedEx Logistics has made a clear statement of its intent to benefit and serve the local community," said Richard W. Smith, former president and CEO of FedEx Logistics and current president and CEO-elect of FedEx Express. "FedEx is dedicated to diversity, and we are actively investing in Downtown Memphis to bring jobs to the heart of our diverse city. This facility serves as another visible demonstration of our continued commitment to these principles as well as to our hometown for nearly 50 years."
The move to the nearly 200,000-square-feet former guitar manufacturing facility, which is located across the street from the FedExForum and one block from the historic Beale Street, will create a landmark site within the FedEx family of notable company locations.
Tennessee Governor Bill Lee said, "A global leader with a reputation for excellence, FedEx continues to invest in our state and provide high-quality jobs for Tennesseans. We are proud of this latest investment by FedEx in Downtown Memphis and the prosperity it will bring."
Memphis Mayor Jim Strickland said, "Having a world-renowned industry leader like FedEx Logistics locate its headquarters downtown is a huge win for our city. FedEx is such a great partner in so many ways and we're extremely fortunate to have them call Memphis home. I've looked forward to this day since the project was originally announced and am so glad it's finally here."
Shelby County Mayor Lee Harris said, "We are pleased to see FedEx Logistics locate its global headquarters in an iconic location, near Beale Street in Downtown Memphis. FedEx has a long history of partnership and investment in our community and our residents. This investment represents one of their latest and boldest commitments to our county."
###