FedEx Ground Names Entrepreneurs of the Year
Three Small Businesses Recognized For Excellence in Business Development, Customer Service, Safety, and Community Support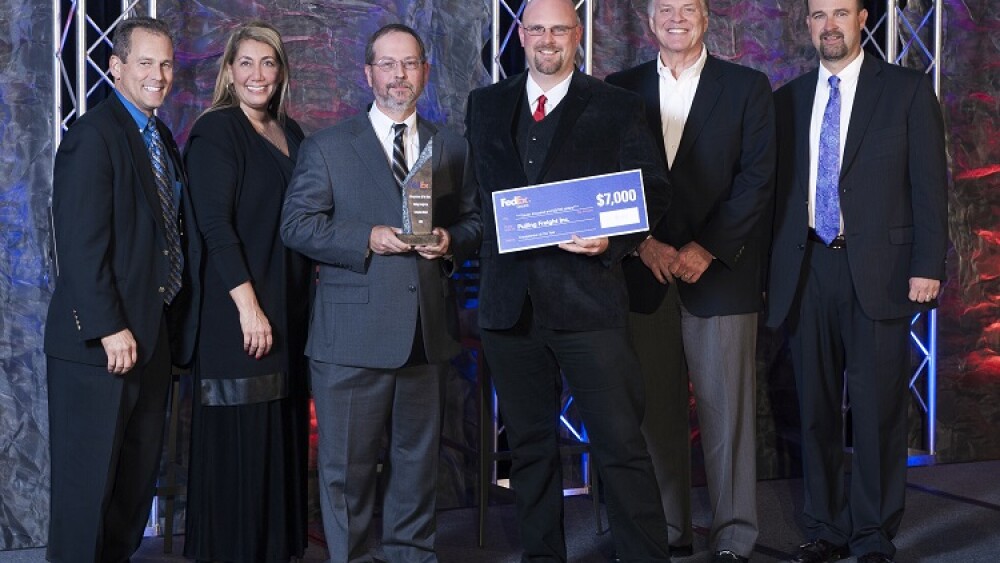 PITTSBURGH, Oct. 21, 2016 – FedEx Ground, a leader in fast, reliable and cost-effective package ground shipping, has named three businesses that provide outstanding transportation services as FedEx Ground Entrepreneurs of the Year: A. Jacobs, Inc. (owner Andrew Jacobs), Lerma Transport, Inc. (owner Saul Lerma), and Pulling Freight, Inc. (owner Ben Pulling).
The distinction recognizes these businesses for their growth and development, customer service, safety record, community involvement, and business ethics. FedEx Ground contracts with 6,600 service providers throughout the United States and Canada, and A. Jacobs, Inc., Lerma Transport, Inc., and Pulling Freight, Inc. were selected from the 17 regional winners representing the best of those companies for the fiscal year ending May 31, 2016.
"Since 2007, FedEx Ground has recognized the exceptional businesses that deliver reliable, safe, cost-effective, and professional service," said Henry J. Maier, president and CEO of FedEx Ground. "The entrepreneurs who own these companies have built lucrative and thriving businesses alongside FedEx Ground, while also making substantial contributions to their local communities."
The following are brief company profiles of the businesses recognized:
A. Jacobs, Inc., Columbus, Ohio – Andrew Jacobs, Owner
A service provider for 17 years, A. Jacobs, Inc., has a workforce of 25 people and operates 29 vehicles. Under the leadership of Andrew Jacobs, the company has emerged as a leader in safety and service performance.
"I encourage my team to take pride in what they're doing and to be the best they can be while they're doing it," Jacobs states. The company's team-oriented approach to safety and service is positive, empowering and the result of 25 different employees who are focused on the same goal: Doing their jobs well.
In addition to recruiting good candidates and training drivers to operate safely and professionally, the business holds daily and weekly team "huddles," where they discuss safety and service, seek everyone's input and provide positive feedback that focuses on improving processes. A. Jacobs, Inc. also offers its drivers a monetary incentive to participate in Ohio's annual truck driving competition as a showcase for their skills.
The company offers its employees paid time-off, healthcare and 401(k) plans, and strives to create a positive atmosphere that trickles down to the customer.
"A positive attitude and good effort make a big impact on the customer experience," explains Jacobs. With an unblinking eye on improving that experience and increasing efficiency, the A. Jacobs, Inc.'s management team is a long-time advocate of overlapping routes and has restructured its company accordingly. As a result, service percentages are higher and mileage is lower.
A. Jacobs, Inc. is also a leader in the community. Its employees support local businesses, started an annual Toys for Tots drive, and plan company outings to assist Columbus organizations and sports teams.
"Our company isn't just about jobs," Jacobs says. "It's also about engaging in all the good those jobs provide."
Lerma Transport, Inc., Yuma, Arizona – Saul Lerma, Owner
Lerma Transport, Inc. was founded 16 years ago with a focus on quality. Saul Lerma inspires the company's 11 employees to address every operational area — safety, service and sustainability — with a passionate, can-do attitude that also won Lerma Transport the 2014 Entrepreneur of the Year award.
Lerma Transport's safety program teaches, inspires and rewards safe driving. Weekly safety meetings stress the importance of using proven methods, making seasonal adjustments and operating professionally. Backing cameras help drivers avoid the number-one cause of accidents. Telematics technology in each vehicle helps Lerma Transport's managers track each driver's progress. The business conducts ride-alongs that encourage drivers to fine-tune their safety and service methods and also network with customers. Safety bonuses provide an incentive for achieving goals.
Lerma Transport's purchase of a safety training video series from the Federal Motor Carrier Safety Administration has added value and credibility to their safety meetings. The company also took a lead role in an annual Yuma Safety Day, where local law enforcement members share their safety experience and drivers participate in a driving competition. Lerma's relationship with a local truck driving school, whose employees set up the road course event, is especially well received. Lerma Transport employees also participate in Arizona's truck driving competition.
Attention to customer service is equally conscientious. Lerma Transport's goal is to resolve any delivery issues that arise same-day, and a driver performance report tracks service metrics and ranks drivers weekly.\ Drivers who consistently achieve Lerma Transport's service goals can look forward to Driver of the Month designations, which include monetary incentives.
A sustainability advocate, Lerma Transport promotes recycling, pays its salaries electronically and promotes the development of local clean natural gas (CNG) stations.
In terms of its investment in the local community, the company supports the Harley Owners Group (HOG) Association, which participates each year in a breast cancer run that raises funds and awareness. Other charitable outreach focuses on the Yuma Community Food Bank, United Way, March of Dimes and the Crossroads Mission of Yuma, including an annual Thanksgiving turkey drive.
Pulling Freight, Inc., Peoria, Illinois – Ben Pulling and David Dick – Owners
Operating 10 tractors and employing 17 people, Pulling Freight, Inc., has a busy schedule that's more than doubled since the company was founded in 2011. Thanks to careful planning and the wise use of resources, business partners Ben Pulling and David Dick, president and stepfather to Pulling, have built a business that not only accommodates growth, but also relies on contingency planning that incorporates spare tractors and safe, experienced part-time drivers who are available any time.
"We have a great relationship with FedEx Ground's Peoria station management and staff," says Pulling. "We've also built relationships with other service providers in Peoria and surrounding stations and can assist with increased volume or hardships."
Pulling Freight's safety program is as impressive as its competent and friendly culture. Extensive driver training includes pre-and post-trip inspections, dropping and hooking and route information. Attendance is required at Pulling Freight's fety meetings and drivers are encouraged to brainstorm and discuss safe-driving techniques and procedures that will help Pulling Freight meet customers' needs in the safest way possible. Individually, drivers are required to maintain a safe-driving record and watch out for others.
To minimize breakdowns and lessen the chance of an accident, equipment is kept in outstanding condition. Pulling and Dick are also developing a safety incentive program that rewards drivers' skills behind the wheel.
Pulling notes that as Pulling Freight began to grow and flourish, he and his partner felt the need to give back to the community. The business started Naomi's Fund, a charity that benefits local widows, providing them with a monthly stipend to supplement their income.
Pulling Freight also supports a local church's Purity International charity, benefiting orphans and widows in Kenya, and makes an annual donation to the Central Illinois Memorial Kidney Fund, which offers financial assistance to kidney patients for expenses not covered by insurance or other agencies. This year, Pulling Freight also made its first donation to St. Jude Children's Research Hospital.