FedEx Donates $3.5 Million to Orbis in Support of Sight-saving 'Flying Eye Hospital'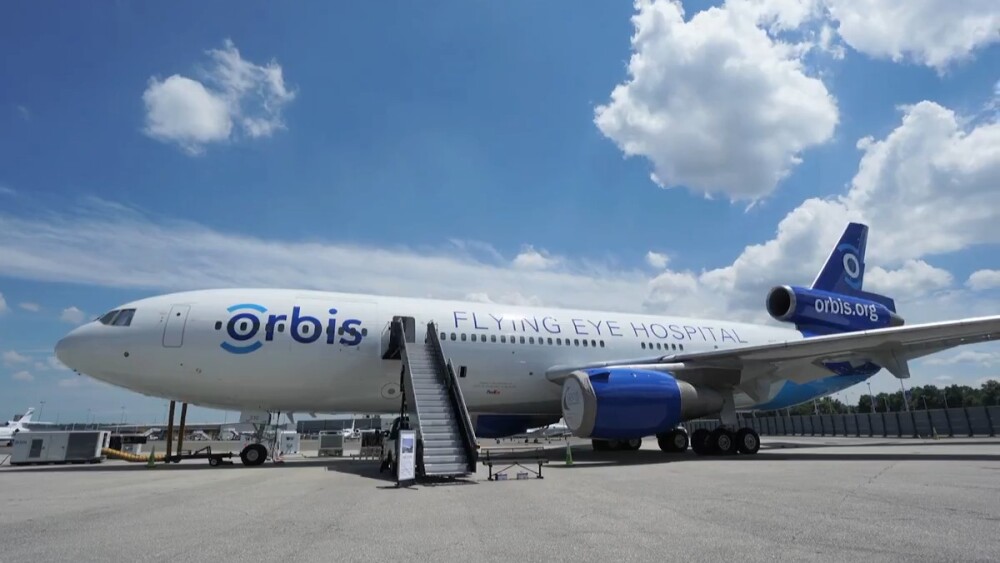 MEMPHIS, Tenn., October 8, 2021 – FedEx Corp. (NYSE: FDX) announced today its renewed commitment to Orbis International's sight-saving mission with a US$3.5 million donation to help provide financial, logistics and operational support to the organization and its Flying Eye Hospital over the next five years.
The Orbis Flying Eye Hospital is a mobile teaching hospital that travels the world providing vision-saving eye surgeries and training to local eye care teams. Orbis's cadre of more than 400 volunteer medical experts – including doctors, nurses, and others – carry out the trainings and procedures free of charge. FedEx donated the MD-10 aircraft and provides aircraft parts, maintenance, and pilot training at no cost to Orbis. The aircraft is flown by FedEx Express pilots who volunteer during their time off to navigate the plane around the world on Orbis missions. FedEx has supported Orbis for more than 33 years through more than US$27 million in donations and in-kind shipping.
"Orbis's mission to fight avoidable blindness around the globe is very near and dear to us at FedEx and we are proud to continue our support today," said Justin Brownlee, Senior Vice President, Aviation Safety, Technology & Business Operations, FedEx Express. "Orbis has made great strides in breaking the vicious cycle of blindness and poverty, and the impact of the organization's work has changed countless lives around the world."
Onboard a FedEx-donated MD-10 aircraft, Orbis's iconic Flying Eye Hospital is the world's only fully equipped ophthalmic teaching and training hospital. Orbis is a global organization that brings people together to fight avoidable blindness, restore vision, and help ensure no one loses their sight to preventable or treatable conditions. For nearly four decades, the Flying Eye Hospital has traveled the world delivering best-in-class training for eye care professionals in areas with the greatest need.
"For more than 30 years, FedEx has demonstrated an unwavering commitment to our mission, and we are deeply proud of and grateful for this partnership," said Derek Hodkey, President & CEO, Orbis International. "The renewed commitment by FedEx will help us to train even more eye care professionals around the world so that they in turn can help more people to see."
Last year, Orbis's virtual Flying Eye Hospital projects had over 850 enrollments by participants from nine countries. Orbis expects to reach 20 countries through its virtual Flying Eye Hospital projects this year
These efforts are part of the FedEx Cares 50 by 50 campaign to positively impact 50 million people around the world by our 50th anniversary in 2023. More information about the FedEx Cares 50 by 50 campaign can be found here. You can find more information about Orbis International here.
About Orbis
Orbis is an international nonprofit that has been transforming lives through the prevention and treatment of avoidable blindness for nearly four decades. With its network of partners, Orbis mentors, trains and inspires entire local eye care teams – from health workers in rural clinics to eye surgeons in urban centers – so they can work together to save and restore vision, ensuring no one must face a life of avoidable blindness. Working in collaboration with local partners, including hospitals, universities, government agencies and ministries of health, Orbis provides hands-on ophthalmology training, strengthens healthcare infrastructure and advocates for the prioritization of eye health on public health agendas. For the past ten consecutive years, Orbis has achieved Charity Navigator's coveted four-star rating for demonstrating strong financial health and commitment to accountability and transparency, placing Orbis in the top 3% of U.S. charities. In 2021, Orbis earned GuideStar's platinum Seal of Transparency.
About FedEx Express
FedEx Express is the world's largest express transportation company, providing fast and reliable delivery to more than 220 countries and territories. FedEx Express uses a global air-and-ground network to speed delivery of time-sensitive shipments, by a definite time and date with a money-back guarantee [1].
[1] Subject to relevant terms and conditions
About FedEx Corp.
FedEx Corp. (NYSE: FDX) provides customers and businesses worldwide with a broad portfolio of transportation, e-commerce and business services. With annual revenue of $87 billion, the company offers integrated business solutions through operating companies competing collectively, operating collaboratively, and innovating digitally under the respected FedEx brand. Consistently ranked among the world's most admired and trusted employers, FedEx inspires its 560,000 team members to remain focused on safety, the highest ethical and professional standards and the needs of their customers and communities. FedEx is committed to connecting people and possibilities around the world responsibly and resourcefully, with a goal to achieve carbon-neutral operations by 2040. To learn more, please visit about.fedex.com.