FedEx, Direct Relief, Heart to Heart Int'l, Miami HEAT and Golden State Warriors Team Up For Hurricane Irma Critical Relief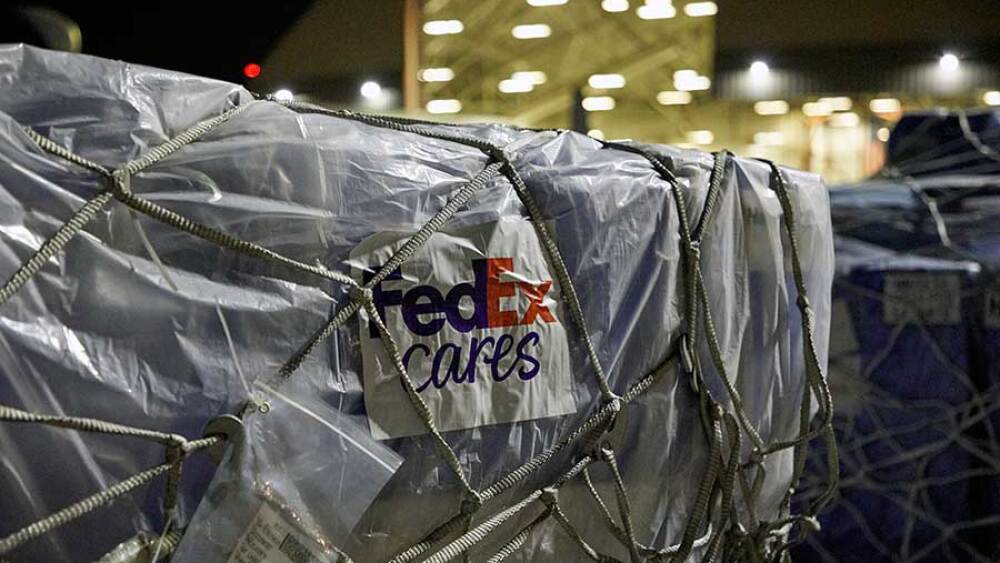 MEMPHIS, Tenn., September 15, 2017—More than $11 million worth of critical aid is in the hands of relief workers in Florida and more than 150 dogs and cats are in a no-kill shelter in San Francisco thanks to FedEx, Direct Relief, Heart to Heart International, the Miami HEAT and the Golden State Warriors. FedEx Corp. (NYSE: FDX) dedicated a special flight to make the emergency response possible.
The FedEx Express MD-10 was loaded today in Memphis with medicines and medical supplies to assist Direct Relief's humanitarian efforts for the people and communities affected by Hurricane Irma. The resources will be delivered to community health centers and clinics throughout Florida, in close coordination with the Florida Association of Community Health Centers, as well as to hospitals in Anguilla, Haiti, the Dominican Republic, U.S. Virgin Islands, and British Virgin Islands. The cargo jet was also carrying more than 4,000 hygiene kits for Heart to Heart International as well as employee relief supplies and generators.
The relief supplies were unloaded upon arrival in Miami, and more than 150 dogs and cats from Miami-area shelters were loaded on board the MD-10. The animals were then flown to Oakland, Calif., where they were delivered to no-kill shelters in the San Francisco area.
"On behalf of our 400,000 FedEx team members, we take great pride in using our global network to deliver hope and help in times of crisis," said David J. Bronczek, president and chief operating officer of FedEx Corp. "We are inspired by the passion of these organizations and their drive to make a difference in the world. All of us at FedEx remain committed to working closely with humanitarian and disaster relief organizations to provide support and deliver supplies to assist those hardest hit by these storms."
Direct Relief for Those Who Need It Most
FedEx has worked with Direct Relief for more than a decade to deliver medical resources during times of disaster. "Hurricane Irma's toll on lives and livelihoods in Florida and across the Caribbean has been steep, while at the same time damaging to the health facilities and infrastructure that are essential for recovery," said Thomas Tighe, president and CEO, Direct Relief. "That's why the leadership of FedEx in logistics and transportation is critically important and serves as a lifeline to the people and communities still at risk."
Teaming Up to Save Shelter Animals
Hurricane Irma also created a pet emergency, with shelters becoming quickly overcrowded due to displaced dogs and cats in hard-hit areas. Members of the Miami HEAT heard about the overcrowding crisis at local shelters and collaborated with the Golden State Warriors to come up with a plan. The NBA teams reached out to FedEx to assist.
"As residents of South Florida, we have experienced our fair share of hurricanes through the years and we are keenly aware of the challenges before, during and after a storm," said Eric Woolworth, president of The HEAT Group's Business Operations. "Displaced or abandoned pets are helpless and heart-breaking casualties of a hurricane's aftermath. This cross-country airlift wouldn't be possible without the generosity of our friends at FedEx and the Golden State Warriors. I speak for everyone at the HEAT and AmericanAirlines Arena when I say our hope is two-fold: to reunite lost pets with their owners and to encourage South Floridians to consider adopting a furry friend who is in desperate need of a new home."
"It's been eye-opening to learn about all the animals affected by natural disasters like Hurricane Irma, so when I heard about this event, I knew I wanted to be involved," said Warriors center Zaza Pachulia. "I'm proud to represent my teammates and the Warriors organization as a part of this great collaboration, and I'm looking forward to hearing about all these dogs and cats finding loving homes in the Bay Area."
Providing Shelter
As part of their efforts to assist animals impacted by Hurricane Irma, the ASPCA is providing Miami-Dade Animal Services with sheltering assistance and helped facilitate the transport of hundreds of displaced homeless animals from Miami area shelters to the West Coast. The ASPCA is providing ground transportation for approximately a hundred animals upon their arrival at the Oakland International Airport to the Marin Humane Society and the Humane Society for Southwest Washington, where they will eventually be made available for adoption. In total, the ASPCA has helped transport more than 1,000 animals out of communities impacted by Hurricanes Harvey and Irma, and continues to provide search-and-rescue and sheltering assistance in Florida and Texas.
"The ASPCA is pleased to be in a position where we can assist animal shelters in Florida by helping move homeless cats and dogs out of impacted communities to free up much-needed space for owned pets displaced by the storm," said Dick Green, senior director of Disaster Response for ASPCA Field Investigations and Response. "The animals transported to the West Coast today will have a second chance to find safe and loving homes thanks to destination shelters opening their doors for Florida cats and dogs in need."
This special relief flight is part of the company's FedEx Cares initiative, through which FedEx will invest $200 million in more than 200 global communities by 2020 to create opportunities and deliver positive change around the world.
For more information on the relief effort, please visit our blog: https://newsroom.fedex.com/blog/2017-hurricane-season
About FedEx Corp.
FedEx Corp. (NYSE: FDX) provides customers and businesses worldwide with a broad portfolio of transportation, e-commerce and business services. With annual revenues of $60 billion, the company offers integrated business applications through operating companies competing collectively and managed collaboratively, under the respected FedEx brand. Consistently ranked among the world's most admired and trusted employers, FedEx inspires its more than 400,000 team members to remain "absolutely, positively" focused on safety, the highest ethical and professional standards and the needs of their customers and communities. To learn more about how FedEx connects people and possibilities around the world, please visit about.fedex.com.
About Direct Relief
Established in 1948 with a mission to improve the health and lives of people affected by poverty or emergencies, Direct Relief delivers lifesaving medical resources throughout the world—without regard to politics, religion, ethnic identities, or ability to pay. With operations spanning more than 70 countries and all 50 states in the U.S., Direct Relief is the only charitable nonprofit to obtain Verified Accredited Wholesale Distributor (VAWD) accreditation by the National Association of Boards of Pharmacy. Among other distinctions, Direct Relief earns a perfect score of 100 from independent evaluator Charity Navigator, was listed among the world's most innovative nonprofits by Fast Company, and has received the CECP Directors' Award, the Drucker Prize for Nonprofit Innovation, and the President's Award from Esri for excellence in GIS mapping. For more information, please visit https://www.DirectRelief.org.