FedEx Awards More Than $250,000 to Winners Of the Eighth Annual FedEx Small Business Grant Contest
Pledges Additional $1 Million in New Initiative to Support Small Business Amid COVID-19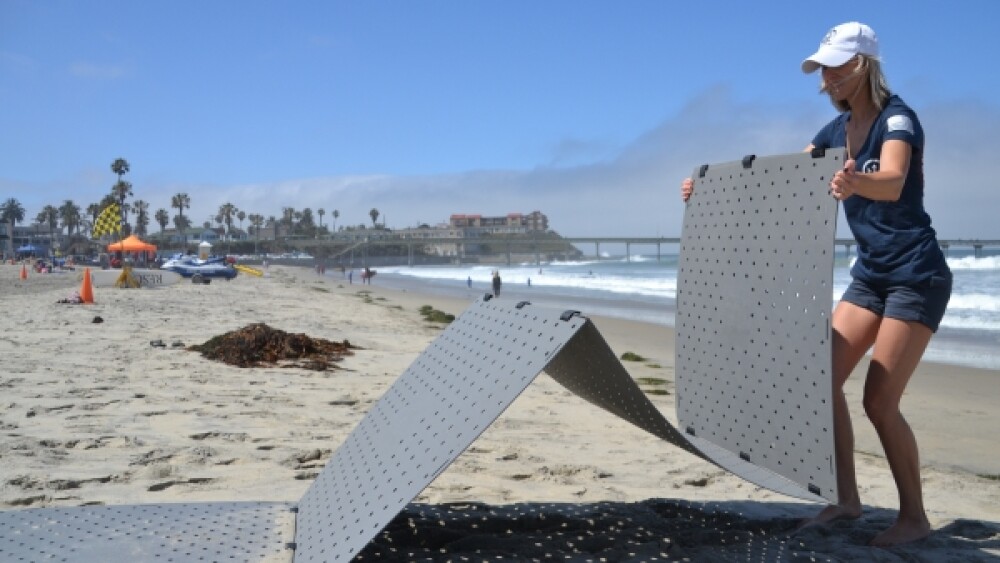 MEMPHIS, TN, May 4, 2020 — FedEx announced today that Access Trax– a California based company that manufactures a foldable pathway that allows people with physical disabilities to access outdoor terrain– is the grand prize winner of its eighth annual FedEx Small Business Grant Contest. Access Trax will receive a $50,000 grant, plus $7,500 in FedEx Office® print and business services to help with its mission to empower people of all abilities to access the outdoors.
To further support small businesses at this time, FedEx is committing $1 million to help small businesses that are struggling to stay in business during the COVID-19 global pandemic. The #SupportSmall grant will offer relief to entrepreneurs working to keep their businesses afloat. Whether that is paying staff, business rent, starting their online store or enhancing their online presence, we want to help keep their business thriving and surviving.
"Nearly 50% of Americans are employed by small businesses, which is why it's critical we provide a lifeline," said Brie Carere, executive vice president, chief marketing & communications officer, FedEx. "From the Small Business Grant Contest, to our shipping services, to the #SupportSmall grant, FedEx understands when small businesses succeed, we all succeed, and we are committed to providing resources to help."
The Access Trax story began when co-founders Kelly Twichel & Eric Packard were studying to become Occupational Therapists. As part of their curriculum, they were challenged to create a device that would help persons with disabilities in their daily lives. The duo was inspired to help local adaptive surfers cross the sand to the water's edge in their wheelchairs with dignity and independence. Kelly & Eric came up with their foldable pathway and have since worked to improve upon the design with the input of adaptive surfers and other wheelchair users.
"We are honored to be named the 2020 FedEx Small Business Grant Contest Grand Prize Winner," said Kelly Twichel & Eric Packard, Access Trax owners. "We set out to empower people with disabilities, by allowing them to experience the joy of the outdoors. We are thrilled the funds will help Access Trax grow during this uncertain economic time."
FedEx also awarded a silver prize of $30,000, plus a $5,000 credit in FedEx Office Services, to MANCAN Wine of Cleveland, Ohio. Childhood pals Graham Veysey & Fisk Biggar founded MANCAN in 2015 as one of the first exclusively canned wine companies in the United States. The business concept was formed a year prior when Graham was sitting in a bar in Cleveland and wanted wine, but not from any of the half-open bottles that had been sitting behind the bar for weeks. He purchased the domain mancanwine.com that night. Five years later that barstool idea has grown into a national brand with distribution partners in 35+ states.
Additionally, FedEx awarded each of the following 10 businesses a bronze prize of a $15,000 grant and $1,000 in FedEx Office services: (listed in alphabetical order)

"We are honored to award our print and business services to this year's winners," said Kim Dixon, executive vice president and chief operating officer, FedEx Office. "During these unprecedented times, small businesses have faced unexpected challenges and still continue to serve their communities and beyond. We are proud to support these resilient businesses."
The 2020 contest garnered more than 4,100 entries from candidates across the United States and more than 720,000 votes. Over the past eight years, 38,000 businesses have entered the contest in the United States alone.
Details about the FedEx #SupportSmall grant will be announced in the coming days. Small-business owners can always access the FedEx Small Business Center for help adapting to COVID-19 impacts. Entrepreneurs can find ideas and insights on services and tools that can help them tackle challenges head on as well as information and resources that cover everything from financial relief to operational assistance.