FedEx Awards Artisanal Leather Shop Small Business Grant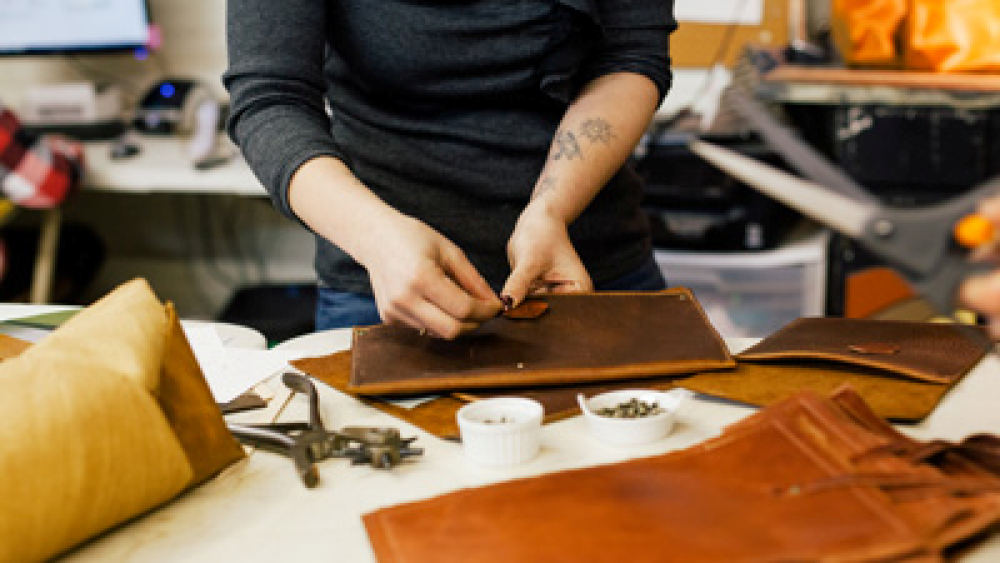 Asheville, North Carolina-based 'In Blue Handmade' wins third-annual grant contest
MEMPHIS, Tenn., April 21, 2015— FedEx announced today that In Blue Handmade—a boutique maker of handmade leather products—is the grand prize winner of its third annual FedEx Small Business Grant Contest. Based in Asheville, North Carolina, In Blue will receive a $25,000 grant to invest in new tools and upgrade its studio, allowing the small team to fulfill larger contracts and meet growing demand.
"This year it was very inspiring to see such a depth of tenacious and talented entrepreneurs from a variety of industries entering the FedEx Small Business Grant Contest," said Becky Huling, vice president of Customer Engagement Marketing. "Every day we are introduced to more small businesses that are seeking support to grow their enterprise by reaching new customers."
In Blue is an artisanal leather shop run by a small team of ten. Each day, the team hand-cuts, sews and individually prints custom leather goods, including notebooks, tote bags, guitar straps and more from a converted warehouse studio in Asheville. Beginning with just two hands and a sewing machine in 2008, owner Mary Lynn Schroeder has since expanded her team of "leather working magicians" and grown her business to achieve over $500,000 in sales annually.
"Winning the FedEx Small Business Grant Contest is a huge boost for In Blue Handmade," said Schroeder. "We'll be using this money to upgrade In Blue's studio and invest in new tools. This will allow us to diversify our product line and drive further growth for the business."
In addition to the $25,000 grand prize, FedEx awarded one $10,000 grant and eight $5,000 grants:

The FedEx Small Business Grant Contest offers significant opportunity for small businesses across the United States to share their inspirational stories and achieve national recognition while simultaneously rallying support from local communities to grow their businesses.
FedEx . Solutions that Matter.® for Small Businesses
The FedEx portfolio of services allows small businesses to gain access to the global marketplace and to shipping, logistics and printing solutions. FedEx has recently introduced two new options that make shipping even easier for small business customers, including:



FedEx One Rate®, a U.S.-based flat-rate shipping option that combines simplified, predictable pricing with the same reliable delivery and excellent service customers expect from FedEx.

FedEx Delivery Manager®, allowing U.S. package recipients to customize home deliveries to fit their schedule.
For more information on how FedEx helps small businesses, please visit the FedEx Small Business Center at fedex.com/us/small-business.