The American Red Cross Presents FedEx Corp. With the Prestigious Circle of Humanitarians Award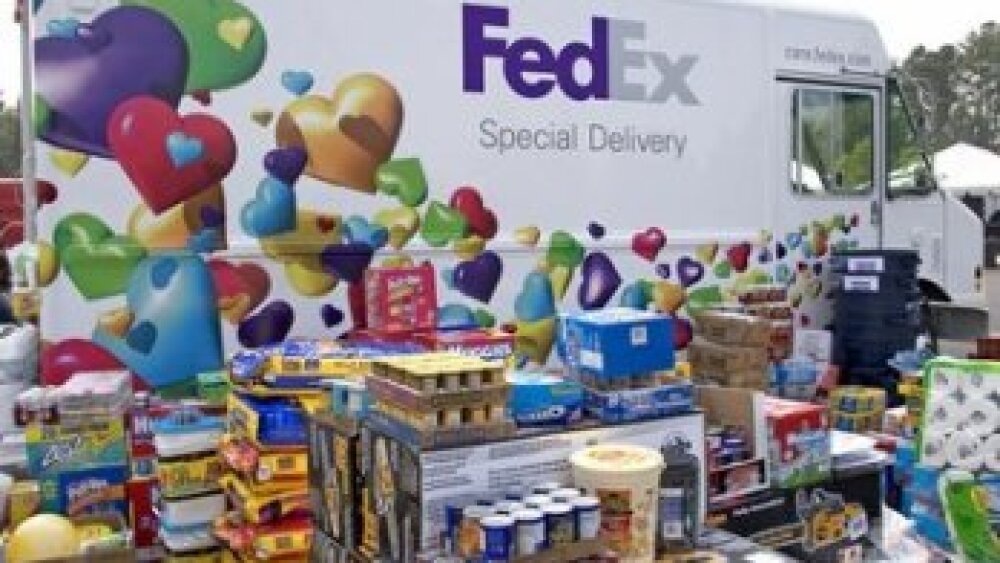 WASHINGTON, Aug. 30 /PRNewswire-USNewswire/ -- The Red Cross has proudly presented FedEx with a Circle of Humanitarians award in gratitude for its generous contributions and longstanding commitment to the humanitarian mission of the organization. The Circle of Humanitarians award, one of the organization's highest honors, recognizes companies and individuals whose contributions provide life-saving support through Red Cross programs.
FedEx Corp. has provided support for the American Red Cross for more than a decade. Most recently, FedEx committed $6 million over the next five years to support the American Red Cross and the International Federation of Red Cross and Red Crescent Societies (International Federation). Around the world, the International Federation carries out relief operations to assist victims of disasters, and works to strengthen the capacities of its member National Societies, which includes the American Red Cross.
Domestically, FedEx is donating $350,000 annually to the Disaster Relief Fund and to the Red Cross Mid-South Chapter in Memphis, Tenn., and is donating $850,000 annually with in-kind disaster shipping. On the international level, FedEx is donating two $95,000 grants, one in support of the International Federation Climate Center and the second to the American Red Cross for Disaster Management Units located in Dubai, Panama and Malaysia. FedEx has also generously contributed a $25,000 grant to the International Federation Global Disaster Management and Coordination Appeal, which is an international disaster preparedness training initiative.
" FedEx's relationship with the Red Cross enables us to have resources in place to provide disaster relief and to educate communities at home and abroad about disaster preparedness," said Kathleen Loehr, interim senior vice president of Development at the American Red Cross. "We look forward to continuing working together with FedEx to provide rapid and effective disaster assistance around the world."
On a local level, FedEx employees are directly involved with the organization as trained volunteers and instructors in their communities working to build awareness and increase preparedness among community members.
"As a global business, FedEx is committed to supporting communities we serve through our relationship with the American Red Cross," said Rose Flenorl, manager of Social Responsibility at FedEx. "We know that disasters can quickly devastate communities and we are pleased to be able to use our resources to help heal and rebuild lives."
About FedEx Corp.
FedEx Corp. provides customers and businesses worldwide with the broadest portfolio of transportation, e-commerce and business services. With annual revenues of $35 billion, the company offers integrated business applications through operating companies competing collectively and managed collaboratively, under the respected FedEx brand. Consistently ranked among the world's most admired and trusted employers, FedEx inspires its more than 280,000 employees and contractors to remain "absolutely, positively" focused safety, the highest ethical and professional standards and the needs of their customers and communities. For more information, visit http://news.van.fedex.com .
About The American Red Cross
The American Red Cross helps people prevent, prepare for and respond to emergencies. Last year, almost a million volunteers and 35,000 employees helped victims of almost 75,000 disasters; taught lifesaving skills to millions; and helped U.S. service members separated from their families stay connected. Almost 4 million people gave blood through the Red Cross, the largest supplier of blood and blood products in the United States. The American Red Cross is part of the International Red Cross and Red Crescent Movement. An average of 91 cents of every dollar the Red Cross spends is invested in humanitarian services and programs. The Red Cross is not a government agency; it relies on donations of time, money, and blood to do its work.
SOURCE American Red Cross
Mary Havell of the American Red Cross, +1-202-303-8037, HavellM@usa.redcross.org