Second Annual FedEx Office Survey Finds Small Businesses Keenly Aware of Challenging Economic Realities, Yet Optimistic About the Future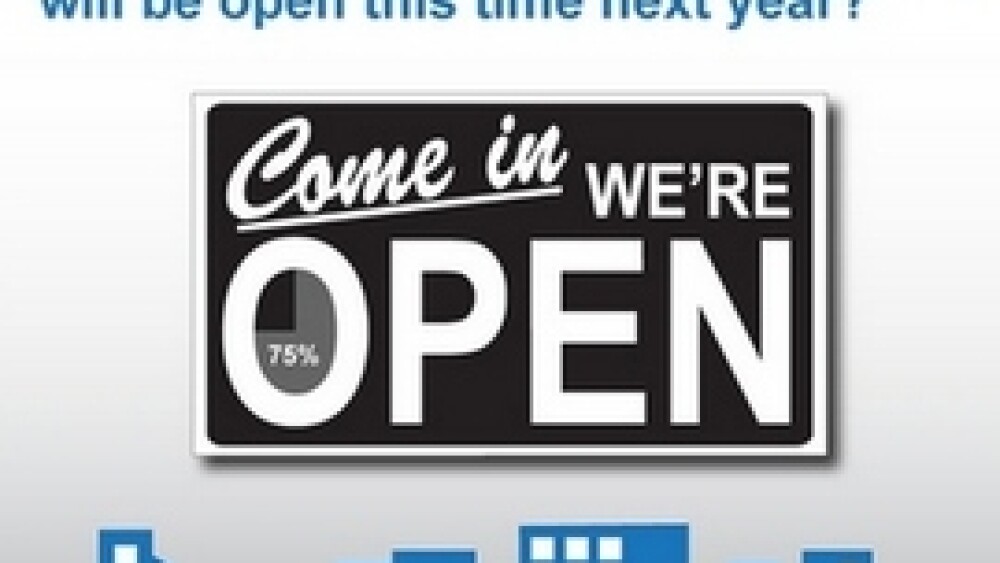 DALLAS, April 14, 2009—FedEx Office (formerly FedEx Kinko's), an operating company of FedEx Corp. (NYSE: FDX), today released the results of its second annual Signs of the Times national small business survey. The findings show 54 percent of respondents were very concerned about the current economy's impact on their business, up from 40 percent in 2008. Another 39 percent reported they were moderately concerned. Despite this anxiety, 75 percent of those polled were confident they will be open for business at this time next year and almost half (46 percent) said they would be willing to open another small business today if they had the proper financial backing.

This year's survey, which was conducted online in February, also found decreased consumer spending has taken its toll on small businesses. Seventy percent reported their 2008 profits were negatively affected due to a decline in consumer spending. Of that group, nearly two-fifths (39 percent) have seen their year-over-year profits drop by more than 25 percent. In addition, 73 percent of small businesses anticipate flat or falling profits this year, up from 66 percent in 2008.

"Given the continued contraction of the marketplace, it's not surprising the small business outlook has worsened over the past year," said Brian Philips, president and CEO of FedEx Office. "Yet, despite increased concerns, many small businesses are cautiously optimistic and that is a positive sign that Main Street can emerge from this downturn."

This optimism is also reflected by the 45 percent of small businesses that confirmed they would choose to open for business today, even if they had to do it all over again in the current economy. Moreover, the survey shows a greater number of those polled plan to invest in themselves with nearly half (47 percent) planning to increase their marketing and advertising spending this year as a result of the economy, compared to 38 percent who considered the change last year.
Signs Mean Business
When budgets are tight, many small businesses turn to the basics of marketing, and the use of signs and banners to grab customer attention is a time-tested technique. In fact, 74 percent of small businesses polled believe signs, banners and posters help drive customers to businesses. Another 55 percent indicated they use them regularly in their current strategy, and 79 percent said they agreed or strongly agreed that they are cost-effective marketing and advertising tools.

"At FedEx Office, we understand some customers have modest budgets so we have a variety of affordable sign and banner offerings that deliver an immediate impact," explains David Sabado, senior center manager of the top sign-producing FedEx Office Print and Ship Center in the country. "Our experienced team members work with small businesses almost every day to help them find sign solutions that will resonate with customers and generate real results for their bottom line."

For small businesses looking to maximize sales with new signage, FedEx Office has specialists throughout the country ready to help. The company's network of centers provides access to an extensive range of professional sign and banner services, including full-color indoor and outdoor banners, durable cut vinyl banners, prints, posters, plastic and metal signs, ready-to-apply lettering and decals, promotional/vehicle magnets and more.
About this Survey
FedEx Office, in conjunction with the Ketchum Global Research Network, worked with Braun Research to conduct the second annual FedEx Office Signs of the Times Small Business Survey. The survey polled small business owners who employ 5 to 100 employees and own firms that generate over $100,000 in annual revenue. A total of 500 interviews were conducted; the margin of error is +/-4.38% at the 95% confidence level. Online interviews were conducted February 3 - 10, 2009.

About FedEx Office
FedEx Office (formerly FedEx Kinko's) provides access points to printing and shipping expertise with reliable service when and where you need it. The Dallas-based company has a network of more than 1,900 digitally-connected locations. FedEx Office services include copying and digital printing, professional finishing, document creation, direct mail, signs and graphics, Internet access, computer rental, FedEx Express and FedEx Ground shipping, and more. In addition, the company offers FedEx OfficeSM Print Online, an online printing solution for business and personal printing, at home, at the office or on the go. Products, services and hours vary by location. For more information, please visit www.fedex.com.
About FedEx Corp.
FedEx Corp. (NYSE: FDX) provides customers and businesses worldwide with a broad portfolio of transportation, e-commerce and business services. With annual revenues of $38 billion, the company offers integrated business applications through operating companies competing collectively and managed collaboratively, under the respected FedEx brand. Consistently ranked among the world's most admired and trusted employers, FedEx inspires its more than 290,000 employees and contractors to remain "absolutely, positively" focused on safety, the highest ethical and professional standards and the needs of their customers and communities. For more information, visit news.fedex.com.