Online Shopping Boosts FedEx Holiday Volume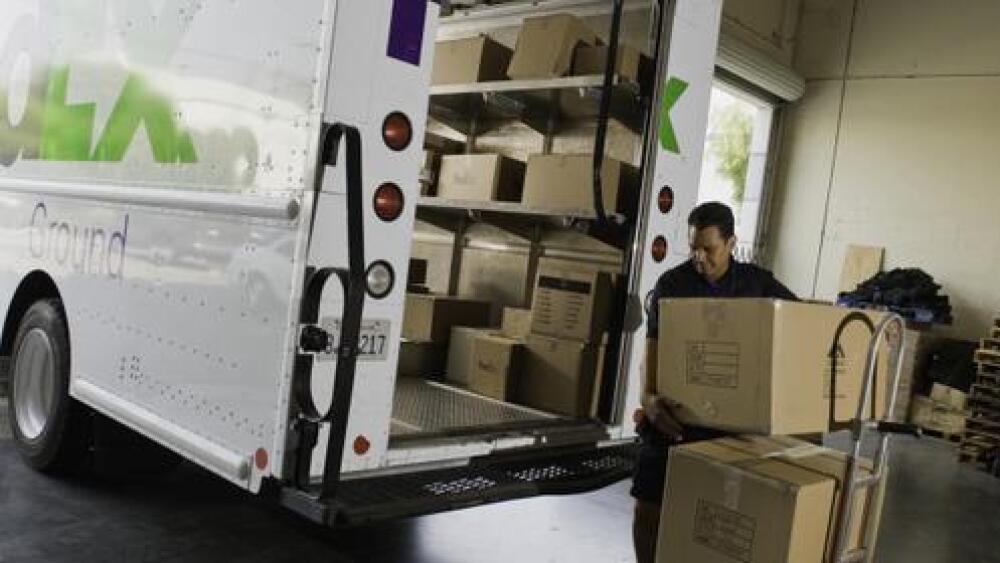 MEMPHIS, Tenn., Oct. 23, 2013 –FedEx Corp. (NYSE: FDX) expects to see its busiest day in company history when it moves more than 22 million shipments around the world on Cyber Monday, December 2, 2013. The 11 percent year-over-year increase will be driven by online retailers feeding the FedEx Ground® and FedEx SmartPost® networks.
During the busiest week of the year, December 1 – 7, FedEx expects more than 85 million shipments to move through its global networks. This is a 13 percent increase compared to last year's busiest week. In addition to e-commerce, retail inventory such as personal consumer electronics, apparel and luxury goods will drive this increase in FedEx holiday volumes.
"Our workforce of more than 300,000 team members worldwide is ready to deliver the holidays once again this year," said Frederick W. Smith, chairman, president and CEO of FedEx Corp. "FedEx's vast global network coupled with our broad suite of shipping solutions enable us to meet our customers' every need during this busy time of the year."
E-commerce is thriving globally at three to four times the rate of traditional retail buying in brick and mortar stores. FedEx is responding to this continued boom in online purchasing with several new tools and solutions, such as:
FedEx One RateSM, a U.S.-based flat rate shipping option that combines simplified, predictable pricing with the same reliable delivery and excellent service customers expect from FedEx.
FedEx Delivery ManagerSM, a service which allows U.S. package recipients to customize home deliveries to fit their schedule.
FedEx expects to increase its workforce with tens of thousands of seasonal positions to help handle the surge in holiday shipments.
The impact of the expected higher volumes was included in the company's earnings guidance issued in September.
The Holiday Retail Outlook
According to the National Retail Federation (NRF), holiday sales are expected to grow 3.9 percent to $602 billion. This is higher than the average increase of 3.3 percent over the last 10 years.
Online holiday sales are expected to increase 15.1 percent year-over-year to $61.8 billion, according to eMarketer.
Enabling E-Commerce – FedEx SmartPost
FedEx SmartPost is designed for online retailers and cataloguers who ship high volumes of low-weight shipments to residential customers. FedEx SmartPost has an integrated national network that picks up, sorts and delivers packages directly to the U.S. Postal Service facilities for final delivery to residences. The affordable rate structure of FedEx SmartPost enables retailers to offer discounted or free shipping for the holidays and beyond.
The service continues to grow in line with e-commerce trends. As reported in first quarter earnings ended August 31, FedEx SmartPost average daily volume increased 26 percent primarily due to growth in e-commerce.
In the Fast Lane – FedEx Ground
FedEx Ground is faster to more locations than UPS Ground. FedEx Ground also continues to improve its small package pickup and delivery network to provide faster delivery times and innovative shipping solutions for customers during the holidays and beyond. These network enhancements have accelerated FedEx Ground delivery by one day in more than half of the United States.
FedEx Volume Over the Years
FedEx has experienced steady growth in holiday volumes over the years. A breakdown of the busiest days since 2007 follows:
Dec. 17, 2007 – 11.5 million shipments
Dec. 15, 2008 – 12 million shipments
Dec. 14, 2009 – 14.2 million shipments
Dec. 13, 2010 – 15.6 million shipments
Dec. 12, 2011 –17.2 million shipments
Dec. 17, 2012 –19.9 million shipments