One Year In, FedEx Continues to Build Toward a More Sustainable Future for All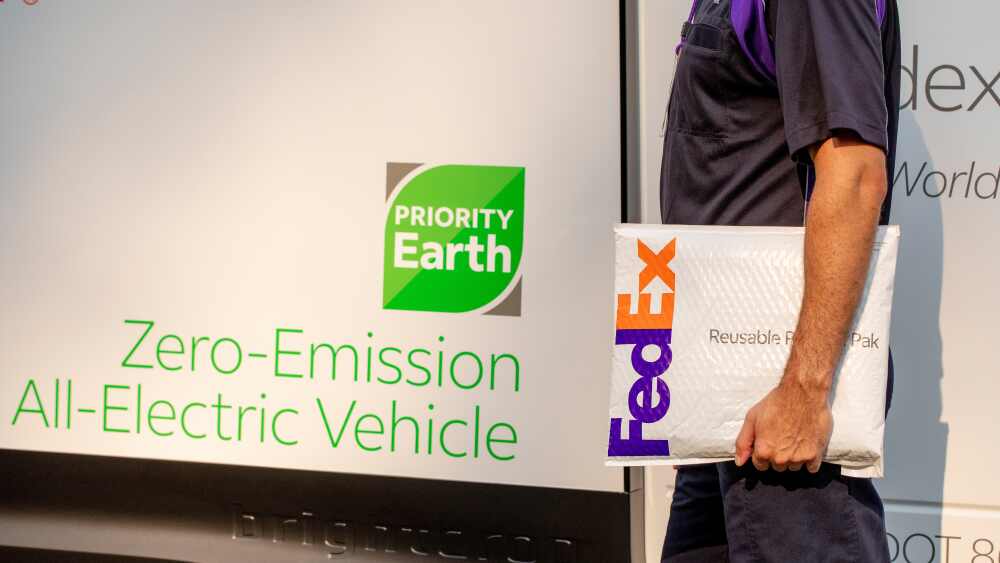 When FedEx set its 2040 carbon-neutral operations goal on March 3, 2021, we knew we were blazing a path that would impact not only our industry, but generations to come.
Over the past year, we've been mapping our path forward, including launching Priority Earth, our ambitious, comprehensive initiative to deliver a more sustainable future. To help move this ambitious 2040 carbon-neutral operations target forward, FedEx designated more than $2 billion of initial investment in three key areas: vehicle electrification, sustainable energy, and carbon sequestration. The investment included a pledge of $100 million to Yale University to help establish the Yale Center for Natural Carbon Capture, which is focused on identifying strategies that can scale to remove carbon dioxide from our atmosphere.
We've been working hard to advance our sustainability mission, which has included enterprise-wide initiatives, as well as collaborations with NGOs and other companies leading the charge on sustainability. We've also navigated ongoing obstacles from the supply chain crisis to keep delivering for our valued customers.
As we mark the one-year anniversary of announcing our 2040 goals, we want to reflect on some of the highlights from the past twelve months, as we also look ahead to how we can help deliver on a more sustainable future.
Here's what we're especially proud of from the last year:
Delivered on a Critical Component of our Electrification Strategy
On December 15, FedEx received its first few all-electric, zero-tailpipe emissions delivery vehicles from BrightDrop, a new business from General Motors. In early 2022, we also expanded on our initial agreement with an intent to purchase an additional 2,000 more EVs. Prior to the first EV600 deliveries, DOT Secretary Pete Buttigieg and USDOT Leadership got a firsthand look at the all-electric, FedEx-branded BrightDrop EV600 during an electrification innovation event with the Electrification Coalition, held in front of U.S. Department of Transportation headquarters in Washington, D.C.
Financed a More Sustainable Future
We issued an eight-year, €600M sustainability bond tranche in Europe. This moment marked the first sustainability bond issued by a North American transportation and logistics company and is one of the ways we will fund our efforts toward our goal of carbon neutral operations. In addition, we proudly joined a diverse coalition of investors in the inaugural fund of TPG Rise Climate, which is designed to help entrepreneurs and businesses grow viable climate technologies.
Expanded Sustainable Customer Solutions
We expanded our reusable packaging offerings to empower consumers in their own sustainability journeys. This solution allows FedEx Express customers to ship more than once using the same packaging, which is also recyclable and made from recyclable content.
Convened Industry Voices to Chart a Path Ahead
We understand we cannot chart this course alone. Throughout the year, FedEx engaged stakeholders in a multitude of thought leadership forums to advocate for innovation, policy, and collaboration that will support our business, our industry, and our planet.
At Netting Zero, a virtual event series hosted by The New York Times, FedEx Chief Sustainability Officer Mitch Jackson addressed how the industry needs to be thinking about transportation and logistics in a post-Covid, net-zero carbon emissions world.
Richard Smith, regional president and executive vice president of the Americas, and Russ Musgrove, managing director global vehicles, both of FedEx Express, spoke, respectively, at Verge21 and The Hill's "Road to Zero-Emission Trucks: Fleets & Shippers" events on the opportunities within fleet electrification to support last mile deliveries, a critical component of our 2040 goal.
At FedEx, we believe our role in global trade and commerce is vital – and one we must continue to pursue with Priority Earth as our focus. Our path to 2040 will likely involve a number of challenges, opportunities, milestone achievements, and a few unknowns. What we do know is that we're all in on helping deliver a more sustainable future, for all.