On 75th Anniversary of Amelia Earhart's Disappearance, Search for Answers Continues with Departure of TIGHAR Expedition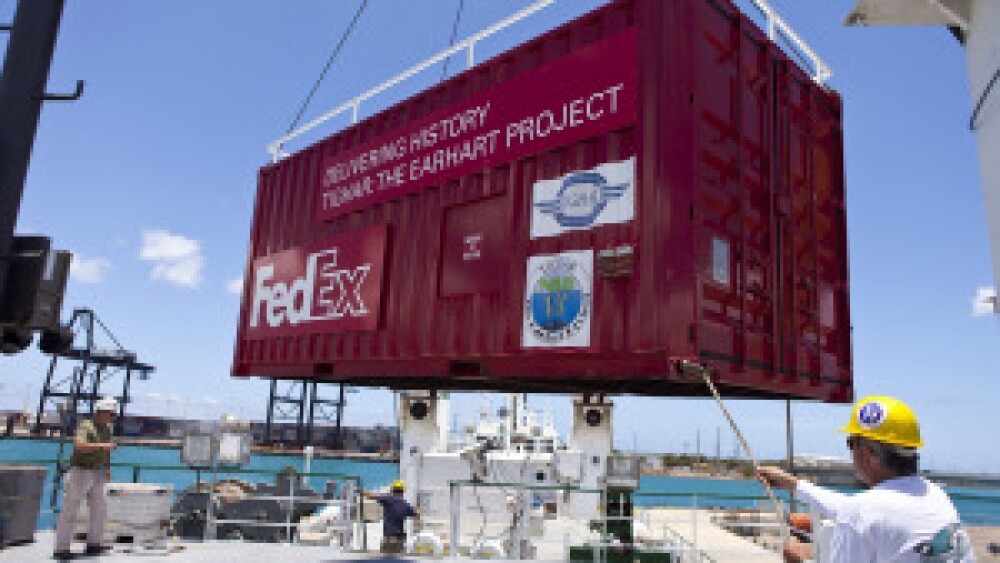 HONOLULU, June 29, 2012 — Monday, July 2, 2012, marks the 75th anniversary of the disappearance of Amelia Earhart and start to one of aviation's greatest mysteries. TIGHAR (The International Group for Historic Aircraft Recovery), is marking this historic milestone with the departure of its 10th expedition searching for evidence of Earhart's long-lost Lockheed Electra aircraft. The 18-person research crew aims to locate, identify, and photograph any and all surviving aircraft wreckage that they believe may be in the deep waters surrounding Nikumaroro (formerly Gardner Island), an uninhabited coral atoll in the southwestern-Pacific Republic of Kiribati. The 26-day expedition and its findings will be captured by a film crew from Discovery Channel and aired as a documentary in August 2012.
The underwater search will focus on the reef slope off the west end of Nikumaroro, where waters can reach depths of up to 1,500 meters (4,921 feet). This deep-water search is made possible by the use of specialized robotic equipment brought in from the continental U.S. courtesy of FedEx Corp. (NYSE: FDX), itself an aviation history-maker as the pioneer of overnight delivery.
"The search for answers in the Earhart mystery has been a decades-long passion for all the members of TIGHAR," said Richard Gillespie, TIGHAR Executive Director & Expedition Leader. "The exhaustive research leading up to today's departure gives us great hope that the Niku VII expedition will provide conclusive answers in the search for Earhart's final landing place."
Robotic Search Equipment on the Move
The sensitive nature and oversized scale of the robotic equipment set for use in the search required a specialized FedEx delivery solution. Covering more than 22,000 miles roundtrip over land, air and sea, three FedEx operating companies came together to create a seamless end-to-end delivery solution for TIGHAR.
The transportation began June 15, 2012, with FedEx Truckload Brokerage, an offering of FedEx Custom Critical, and the pick-up of three containers weighing 25,890 pounds consisting of the expedition's underwater Remote Operated Vehicle (ROV), winch and control unit. Departing from Patterson, La., the containers arrived in Los Angeles on June 18. With more than 2,200 nautical miles between Los Angeles and Honolulu, FedEx Trade Networks and its ocean freight forwarding expertise stepped in to arrange for the three containers to travel by ocean freighter, arriving in Honolulu on June 24. FedEx Express, the world's first express delivery cargo airline, flew in nearly 6,000 pounds of additional equipment from Massachusetts, including the Autonomous Underwater Vehicle (AUV) that will utilize sonar to continuously search the deep waters for signs of the aircraft.
"Every box, package and pallet we deliver at FedEx holds meaning for the recipient, but the deliveries we made to TIGHAR hold the promise to be meaningful on a grander scale – potentially providing answers for millions of history buffs, aviation aficionados and Earhart fans worldwide," said Laurie Kimura, a senior manager at FedEx Express based in Hawaii. "We're proud to put our delivery networks and logistical expertise to use in support of the search for history, and wish the TIGHAR team the best of luck in their expedition."
Capturing the Search for History
The on-board activities and underwater findings of the Niku VII expedition will be captured exclusively by a Discovery Channel video team and broadcast as a documentary in August 2012.
"This is when Discovery truly embodies its namesake. We are excited and proud to be working with TIGHAR, paying tribute to an American icon and hero while developing new technologies to reach back into the past and solve one of the last great mysteries of the 20th century," said Eileen O'Neill, president of Discovery Channel and TLC Networks.
Multimedia Content:
For the latest information, downloadable photos and infographics on The Earhart Project, check out the FedEx Blog at http://blog.fedex.com/EarhartProject.
B-roll of the expedition preparations and sound bites from TIGHAR and FedEx will be available starting Saturday, June 30, 2012. Archival footage from Discovery Channel of the search for Earhart will also be available. For links and download passwords required to access the footage, please contact FedEx Media Relations at 901-651-3183 or parul.bajaj@fedex.com.
About TIGHAR
The International Group for Historic Aircraft Recovery (acronym TIGHAR, pronounced "tiger") is the world's leading aviation archaeological foundation. A full-time professional staff guides an international membership of researchers and supporters in the non-profit organization's efforts to find, save, and preserve rare and historic aircraft. More details are available at http://tighar.org/about on the mission and structure of the organization.
About Discovery Channel
Discovery Channel is dedicated to creating the highest quality non-fiction content that informs and entertains its consumers about the world in all its wonder, diversity and amazement. The network, which is distributed to 100.8 million U.S. homes, can be seen in 210 countries and territories, offering a signature mix of compelling, high-end production values and vivid cinematography across genres including, science and technology, exploration, adventure, history and in-depth, behind-the-scenes glimpses at the people, places and organizations that shape and share our world. For more information, please visit www.discovery.com.
About FedEx Corp.
FedEx Corp. (NYSE: FDX) provides customers and businesses worldwide with a broad portfolio of transportation, e-commerce and business services. With annual revenues of $42 billion, the company offers integrated business applications through operating companies competing collectively and managed collaboratively, under the respected FedEx brand. Consistently ranked among the world's most admired and trusted employers, FedEx inspires its more than 300,000 team members to remain "absolutely, positively" focused on safety, the highest ethical and professional standards and the needs of their customers and communities. For more information, visit news.fedex.com.