New FedEx Small Business Trade Index Survey Says Trade Boosts the U.S. Economy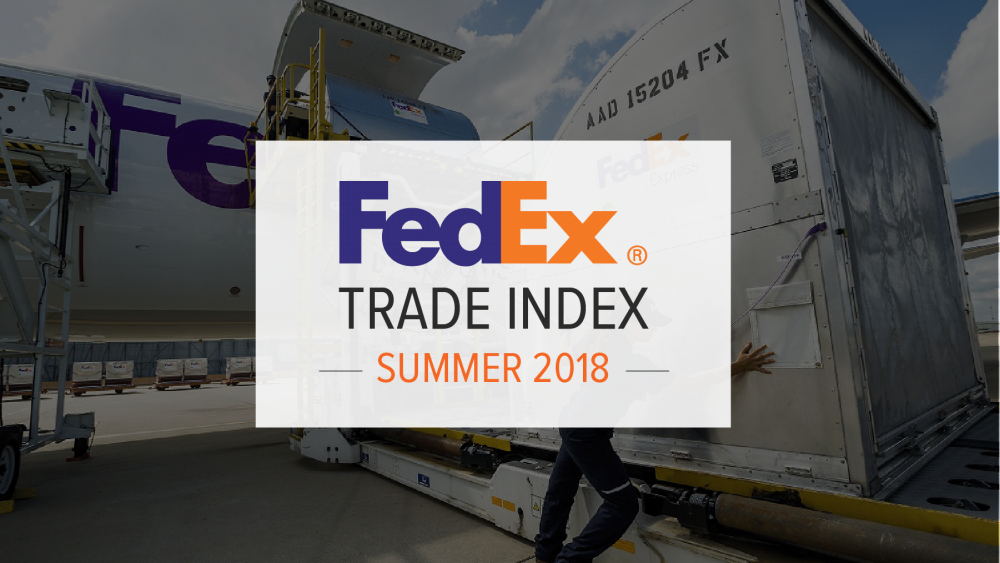 WASHINGTON, August 7, 2018—Small business leaders increasingly view U.S. participation in global trade as the way to improve the overall economy and create American jobs, according to results of the fourth FedEx Trade Index(1), a survey of more than 1,000 small business leaders which tracks the impact of international trade among the small business segment of the U.S. economy.
The nationwide survey*, commissioned by FedEx Corp. (NYSE: FDX) and conducted by Morning Consult, finds a substantial majority of U.S. small business leaders (82%) see increasing U.S. trade as beneficial to the overall economy, up from 76% earlier this year, and two out of the three also say the U.S. risks falling behind if not included in trade agreements.
When asked about the impact of tariffs on imports from China, two out of three small business leaders worry the tariffs will mean higher prices on consumer items, and three out of five say the impact on business will be negative.
"Tariffs can restrict global trade and economic growth," said Raj Subramaniam, executive vice president, Chief Marketing and Communications Officer, FedEx Corp. "FedEx supports lowering trade barriers so our customers can remain competitive in an increasingly global marketplace."
[1] The FedEx Trade Index is a national survey of 1004 small business leaders conducted by Morning Consult. Respondents included business owners and executives at companies with between two and 500 employees. It was conducted July 9-10, 2018. The margin of error for the full sample is +/-3%.
*FedEx SME Trade Index #1 Fall 2016
*FedEx SME Trade Index #2 Spring 2017
*FedEx SME Trade Index #3 Winter 2018
*FedEx SME Trade Index #4 Summer 2018