The New FedEx Freight CNG Fleet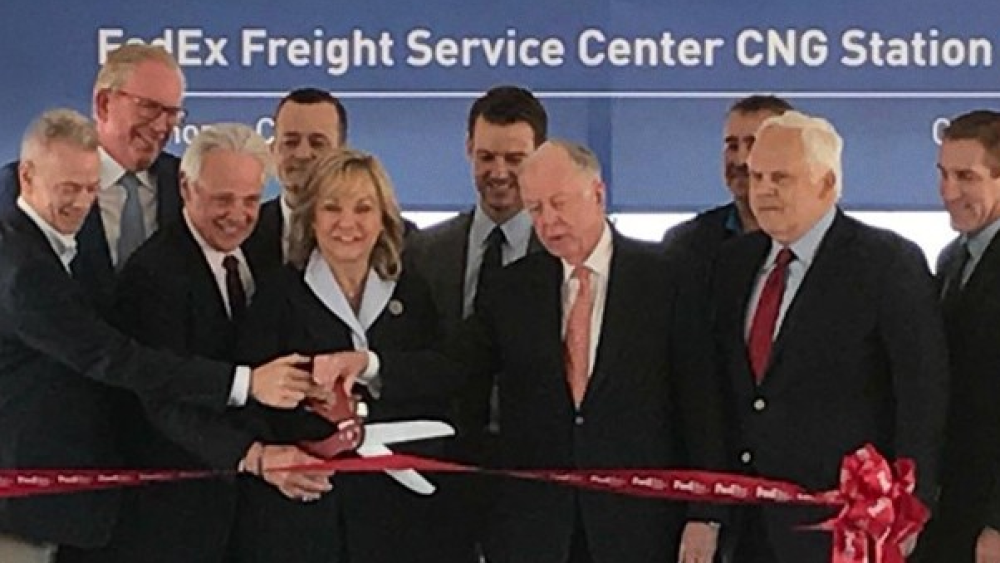 Today, FedEx Freight, a wholly owned subsidiary of FedEx Corp (NYSE: FDX) celebrated the addition of a compressed natural gas (CNG) tractor fleet and fueling station to their expanded Oklahoma City Service Center. FedEx chairman and CEO Frederick W. Smith and FedEx Freight President and CEO Michael Ducker were joined by Oklahoma Governor Mary Fallin, Congressman Steve Russell, Clean Energy co-founder T. Boone Pickens, and CEO and President of Clean Energy Andrew J. Littlefair.
FedEx Freight has purchased more than 100 CNG tractors, and has contracted with Clean Energy Fuel Corp (Nasdaq: CLNE) to design, build and maintain the CNG fueling station in Oklahoma City. The new fueling station provides fleet efficiency through two different methods -- a four-lane "fast fill" station and a "time fill" station which has six zones and 18 hoses. In time-fill applications, drivers connect their vehicles to an automated system where they are fueled over an extended period of time, typically overnight. The fueling station is estimated to dispense approximately 2.5 million gasoline gallon equivalents (GGEs) per year.
The Oklahoma City Service Center is part of the FedEx Freight network of more than 350 facilities. It is the first service center in the FedEx Freight network of facilities to have a fleet of compressed natural gas (CNG) tractors and a CNG fueling station to service the fleet.
The FedEx Freight CNG fleet and fueling station are examples of FedEx commitment to connecting the world responsibly and resourcefully. Through upgrading its air and ground fleets to pioneering biofuel and empowering team members through programs like FedEx Fuel Sense and EarthSmart, FedEx delivers industry-leading innovations to reduce environmental impact.