JUNIOR ACHIEVEMENT OF CLEVELAND, OHIO, TEENS WIN 2010 FEDEX ACCESS AWARD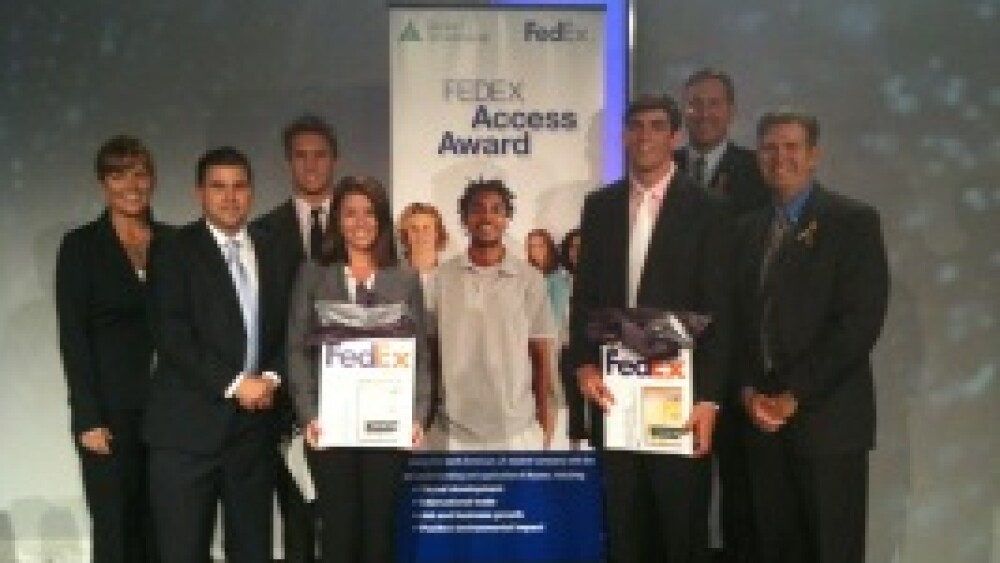 Colorado Springs, Colo. August 4, 2010 – At the 2010 North American Junior Achievement Company of the Year Competition held recently in Minneapolis, student-run company, "The Green Dream," won the annual FedEx Access Award. The students, who represented Junior Achievement of Greater Cleveland, Ohio, successfully marketed t-shirts using an eco-friendly trade expo– as evaluated by a special FedEx jury – and presented the best business plan with the potential to create jobs, grow small business, expand global development and improve the environment.
"When you give people access to more products and goods around the world, the pie expands and people's living standards increase," says FedEx Chairman and JA Business Hall of Fame inductee Frederick W. Smith. "The FedEx Access Initiative helps Junior Achievement students understand the impact of global access to create high-paying jobs, grow small and medium-sized business, and to benefit our world's environment."
The competition is part of Junior Achievement's annual celebration of the accomplishments of JA Company Program® students, ages 15-19, in the United States and Canada. During participation in JA Company Program, students start and run their own businesses with support from volunteers from their local business community. They develop and market a product or service with the goal of realizing a profit for their shareholders. The program currently impacts more than 360,000 students a year globally.
The Green Dream is a service provider, essentially a trade show-planning company now in its third year of operation. The Green Dream hosted "Ohio's Largest Eco-Friendly Showcase," which included more than 80 vendors and featured everything "green" from electric cars to recycled jewelry. The student company created the "Coming Together…One Shirt at a Time" t-shirt campaign to generate seed money for the operating budget, selling nearly 1,400 units through a promotional mix that emphasized social networking, direct mail, e-commerce, and personal selling.
The Green Dream 2010 yielded a 21-percent net profit. The company donated $2,000 to the Blue Planet Run Foundation for clean drinking water for the victims of Haiti's earthquake. The remaining balance was used to send a small delegation of students to New York City for the Heart of Green Awards and to launch The Green Dream 2011. The company's mission highlights its grassroots approach: "To begin creating a 'greener' tomorrow ...TODAY. One decision, one person, one day at a time—a plan so simple, it starts with one."
Hillary Sadler, 18, chief executive officer of The Green Dream, said, "The Green Dream's mission fit perfectly with the mission of FedEx and the Access award. The Green Dream utilized access in numerous ways. We provided small businesses with access to larger and well-established businesses through our trade show services. The Green Dream utilized social networking sites to market and sell our product, "The Classic Beachwood T-Shirt." Through this approach, we were able to sell products to Beachwood residents, past and present, all around the world. The Beachwood t-shirt made it into 17 countries outside of the US."
To be eligible for the FedEx Access Award, a student company must be one of the 24 finalists selected to compete at the North American JA Student Company of the Year Competition. Company members completed additional sessions on the concept and impact of global access, a program developed by FedEx to supplement the JA Company Program. The JA student company that best demonstrates a comprehensive understanding of global access takes top honors.
About Junior Achievement (JA)
Junior Achievement is the world's largest organization dedicated to inspiring and preparing young people to succeed in a global economy. Through a dedicated volunteer network, Junior Achievement provides in-school and after-school programs for students which focus on three key content areas: work readiness, entrepreneurship, and financial literacy. Today, 126 individual area operations reach more than four million students in the United States, with an additional 5.7 million students served by operations in 122 other countries worldwide. For more information, visit www.ja.org.
About FedEx Corp.
FedEx Corp. (NYSE: FDX) provides customers and businesses worldwide with a broad portfolio of transportation, e-commerce and business services. With annual revenues of $35 billion, the company offers integrated business applications through operating companies competing collectively and managed collaboratively, under the respected FedEx brand. Consistently ranked among the world's most admired and trusted employers, FedEx inspires its more than 280,000 team members to remain "absolutely, positively" focused on safety, the highest ethical and professional standards and the needs of their customers and communities. For more information, visit news.fedex.com