FedEx Pledges $1 Million to Support Hurricane Harvey Relief Efforts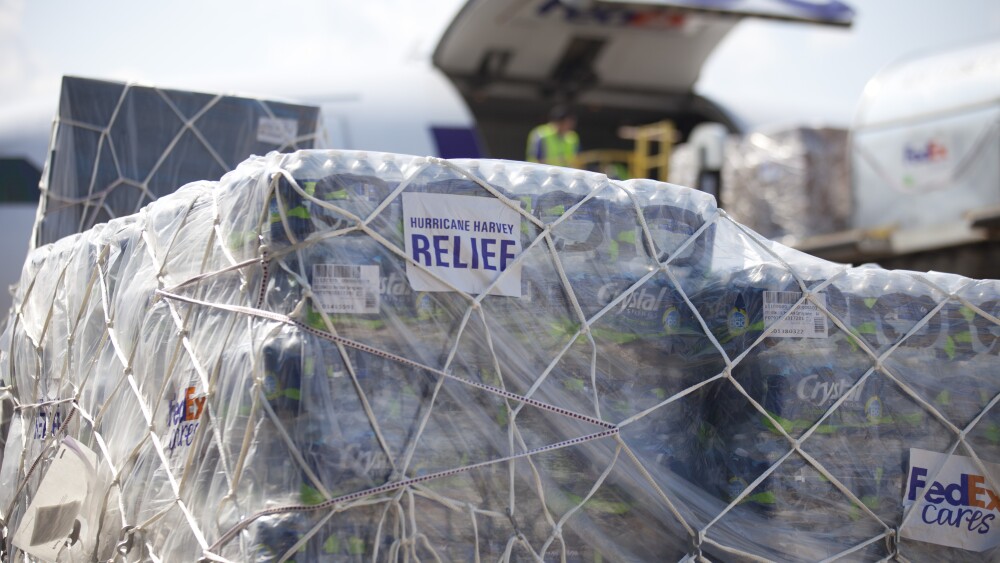 FedEx Corp. (NYSE: FDX) has committed $1 million in cash and transportation support to deliver critical medical aid and supplies in the wake of Hurricane Harvey. FedEx is proud to support disaster relief efforts through our humanitarian organization relationships with American Red Cross, Direct Relief, Heart to Heart International, Salvation Army and Team Rubicon.
This collaboration is part of the FedEx Cares "Delivering for Good" initiative. The company uses its expertise in shipping and logistics to connect organizations, communities and individuals with the resources they need through charitable shipping and cash donations.
"Our thoughts and prayers are with the millions of people affected by this unprecedented storm," said David J. Bronczek, president and chief operating officer of FedEx Corp. "FedEx will continue to work closely with humanitarian and disaster relief organizations to provide support and deliver supplies to assist those hardest hit by the storm."
[addvideo video_id="232100029" video_name="Hurricane Relief B-Roll" image_url="https://newsroom.fedex.com/wp-content/uploads/2017/09/FedEx-Cares-Hurricane-Irma.jpg" video="Vimeo"]
[addvideo video_id="232108026" video_name="Hurricane Relief Soundbites" image_url="https://newsroom.fedex.com/wp-content/uploads/2016/10/IMG_4797.jpg" video="Vimeo"]
[gallery columns="1" link="file" size="full" use_filmstrip="true" disable_autoplay="false" ids="22901,22895,22896,22897,22898,22902,22899,22900"]
FedEx has a long history of working with nonprofit and government entities to support communities and economies during times of crisis. In the past year, the company donated $7 million in cash and in-kind assistance to support humanitarian organizations.



FedEx supported the Red Cross in its response to 190 large-scale disasters in 2016, through a combination of financial contributions and charitable shipping.


In the wake of Hurricane Matthew last year in Haiti, FedEx joined with Direct Relief to fill a charter flight full of supplies including medication, medical equipment, hygiene kits and tents that could be used as pop-up health facilities. FedEx has been working alongside Direct Relief since 2003, helping to provide medicine and other critical supplies to communities affected by disaster.


In 2016 FedEx collaborated with Heart to Heart to deliver more than 30,000 hygiene kits and other response supplies to refugees in Turkey, hurricane survivors in Haiti and flooding survivors in West Virginia and Louisiana. FedEx has supported Heart to Heart International in responding to disasters around the world since 1995.