Fourteen FedEx Drivers Earn Honors at National Truck Driving Championships
Competitors Reflect FedEx Commitment to Safety and Professionalism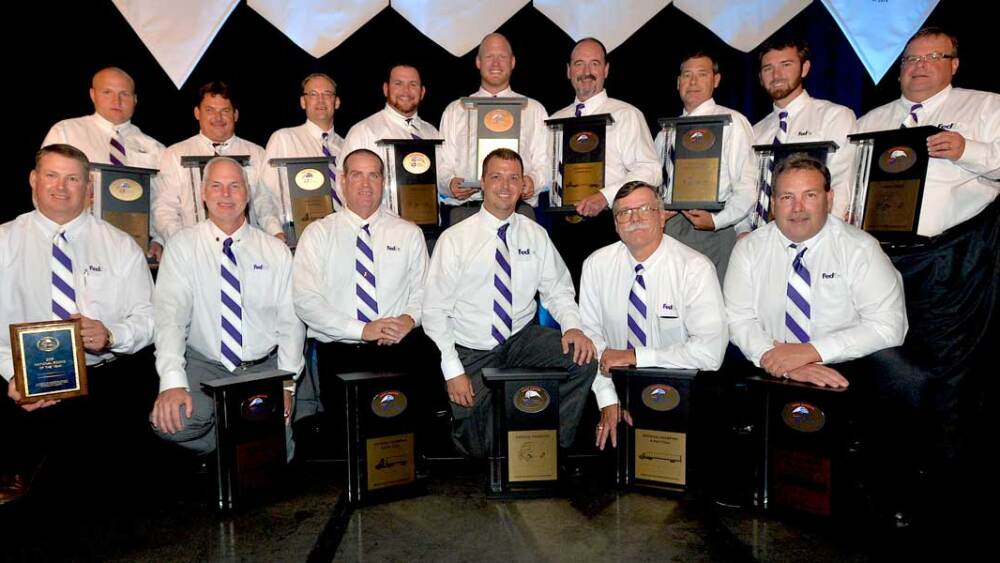 MEMPHIS, Tenn., Aug. 17, 2015 – Five drivers representing FedEx Corp. (NYSE: FDX) operating companies were crowned National Champions in their respective driving classes at the 2015 National Truck Driving Championships (NTDC) in St. Louis, Missouri, Aug. 11-15. In addition, a FedEx Freight driver was named National Rookie of the Year.
Don Logan, a FedEx Freight driver based in Topeka, Kansas, is now a four-time National Champion after winning the 3-Axle trophy. He is a nine-time Kansas state champ, a former captain on the American Trucking Associations (ATA) America's Road Team and the 2012 National Grand Champion. He has exceeded the 2.3 million accident-free miles.
Brad Lester, a driver for FedEx Freight based in Portland, Oregon, captured the National 4-Axle Champion trophy in just his first appearance at the NTDC. A professional driver for 38 years, he has accumulated more than 2.2 million accident-free miles during his career.
Fellow FedEx Freight driver Dave Mogler (Denver, Colorado) earned the National Champion title in the Twins class – the same class in which he finished third in 2010. He is a 12-time Colorado state champ and has surpassed the 3 million-mile accident-free milestone during his 33-year career.
Andrew Tuck, of Addison Transportation Inc., domiciled out of the FedEx Ground station in Dayton, Ohio, won the National Step Van Champion trophy. A three-time Ohio Step Van champ, he has been driving professionally for nine years.
FedEx Freight driver Scott Woodrome (Dayton, Ohio), who has captured an Ohio state title for 10 consecutive years, won the National Flatbed Champion honor – improving upon his third-place finish in this class at the 2010 NTDC. A current America's Road Team Captain, he has accumulated more than 1.8 million safe-driving miles in his 22-year career.
Nine other FedEx drivers placed among the top finishers in their respective truck classes:
Roland Bolduc, FedEx Express (Windsor, Connecticut); 2nd place, Flatbed
Nick Frazier, FedEx Ground (Joplin, Missouri): 2nd place, Step Van
Dwayne Heaverin, FedEx Express (Hebron, Kentucky): 2nd place, 3-Axle
Chad Rudesill, FedEx Ground (Lafayette, Louisiana): 2nd place, 5-Axle
Paul Butkowski, FedEx Freight (St. Cloud, Minnesota): 3rd place, 3-Axle
Eric Courville, FedEx Freight (Lafayette, Louisiana): 3rd place, 5-Axle Sleeper
Dean Harris, FedEx Freight (Kansas City, Kansas): 3rd place, Step Van
Dave Magee, FedEx Freight (Dresden, Tennessee): 3rd place, Tank Truck and Highest Written Exam (perfect score)
Basher Pierce, FedEx Freight (Greensboro, North Carolina): 3rd place, 5-Axle
In addition, Brook Figgins, a driver for FedEx Freight in Springfield, Colorado, earned the National Rookie of the Year award.
"These champions exemplify the superior level of professionalism and safety that FedEx delivers every day," said Frederick W. Smith, chairman, FedEx Corp. "And the performance of the entire FedEx team at the NTDC reflects a commitment to making the roads safe for everyone."
The American Trucking Associations (ATA) sponsor the annual championships, known as the "Super Bowl of Safety," to recognize industry leadership in safety and to promote professionalism among truck drivers. A record 151 professional drivers from FedEx Freight, FedEx Ground and FedEx Express in 48 states qualified to compete at the NTDC by winning their respective state's competition and driving accident-free for at least one year. Each driver was required to demonstrate his or her driving skills and knowledge of the industry through a series of tests, including a written exam, vehicle pre-trip inspection and driving-skills challenge.
About FedEx Corp.
FedEx Corp. (NYSE: FDX) provides customers and businesses worldwide with a broad portfolio of transportation, e-commerce and business services. With annual revenues of $47 billion, the company offers integrated business applications through operating companies competing collectively and managed collaboratively, under the respected FedEx brand. Consistently ranked among the world's most admired and trusted employers, FedEx inspires its more than 325,000 team members to remain "absolutely, positively" focused on safety, the highest ethical and professional standards and the needs of their customers and communities. For more information, visit news.fedex.com.